Melania Trump Praises Twitter, Facebook as 'True Partners' While Donald Trump Jr. Slams Their 'Political Discrimination'
First lady Melania Trump thanked Twitter, Facebook and Google for their partnerships during the one-year anniversary celebration of her "Be Best" initiative helping children on Tuesday. At the same time, first son Donald Trump Jr. continued a barrage of tweets slamming the three social media giants for apparent "political discrimination" and "censorship campaign" efforts.
At her event at the White House Rose Garden, the first lady named the trio of tech giants as among the organizations that helped her with Be Best, which has the aim of boosting online safety for children as one of its three pillars.
"I'd also like to recognize some of the organizations that have traveled to be here today and have become true partners with my office," Trump said. "They include the Community Anti-Drug Coalitions of America, Students Against Destructive Decisions, Twitter, Nationwide Children's Hospital, Facebook, Nicklaus Children's Health Foundation, Amazon, Lily's Place, SNAP, Google and Cincinnati Children's National Hospital Medical Center, to name a few."
The first lady said there were "so many organizations" that worked alongside her office in the year since she launched her initiative.
"On behalf of our great nation, I cannot thank you enough for all you are doing on behalf of children," Trump said. "Your work is saving lives and helping children and I believe there is no greater gift you can give to this country. Thank you."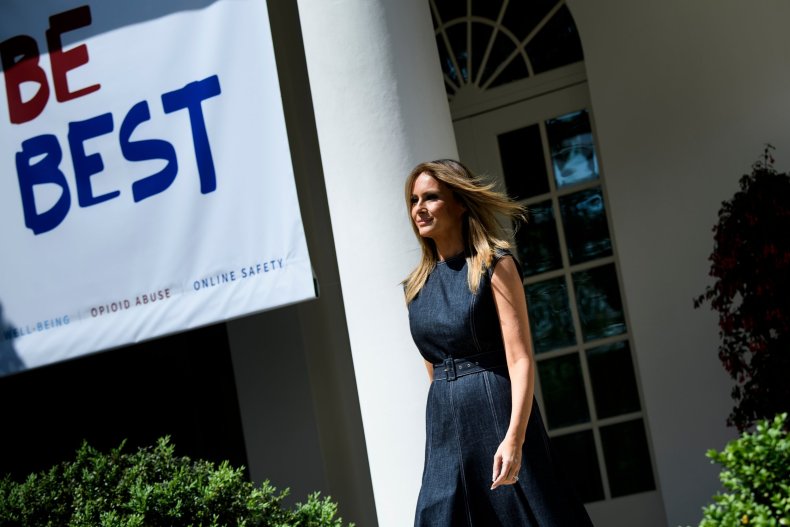 She reiterated the reason she chose to focus on Be Best, which was a concern that today's fast-paced world "can make children less prepared to express or manage their emotions, causing them to turn to forms of destructive actions such as bullying, unhealthy habits, risky online behavior, drug abuse and addiction, or even suicide."
The first lady did not elaborate on how Twitter, Facebook and Google specifically helped her initiative, but her spokeswoman Stephanie Grisham in an email to Newsweek Tuesday afternoon said "they have participated in roundtables and various meetings."
Trump's praise for the tech companies did not stop President Donald Trump's eldest son Donald Trump Jr. from attacking them on Twitter. Trump Jr. in recent days has ramped up his accusations that the social media platforms silence conservatives while not imposing the same level of censorship on the left.
Shortly after the first lady's event, Trump Jr. quote tweeted a post that referenced Twitter banning a parody account of Democratic Representative Alexandria Ocasio-Cortez.
"Just like with @facebook, you can get away with just about anything on @Twitter, no matter how vile, if you're a leftist who opposes Trump," Trump Jr. tweeted. "The bias, censorship and political discrimination coming from Big Tech is only getting worse."
On Monday, Trump Jr., who frequently speaks at his father's campaign rallies, tweeted that "the censorship campaign being waged by @facebook/@Twitter/@Google is politically motivated & all about the 2020 election."
And the day prior, he complained about Twitter shutting down conservative accounts while leaving the accounts of the militant Islamic group Hamas active.
"It's interesting how @twitter and @facebook both seem more concerned with silencing non-violent people who hold political opinions they disagree with, than violent terrorist organizations and the people that support them," Trump Jr. tweeted.
Representatives attended the first lady's event, according to Twitter, and have participated in her cyberbullying roundtable with peer companies and a cyberbullying prevention summit she hosted with the Department of Health and Human Services and government partners. Regarding Trump Jr.'s concerns, a Twitter spokeswoman said the company enforces "rules impartially for all users, regardless of their background or political affiliation."
A Facebook representative declined to comment on the company's work with the first lady's office or Trump Jr.'s criticisms. Google did not immediately respond to a request for comment.