Melania Trump Says She Didn't Know the Capitol Riot Was Happening
Former first lady Melania Trump said that she was not aware that her husband's supporters had attacked the U.S. Capitol on January 6, 2021, as she was fulfilling an official duty at the time.
In late June, Trump's former Chief of Staff Stephanie Grisham tweeted out a screenshot of what she said was a text message exchange from January 6 between her and the former first lady. Grisham in the message asked if Trump wanted to tweet a post saying there is "no place for lawlessness and violence." Trump replied with a simple "no," according to the screenshot.
"Knowing her as well as I did at that point, it was so unlike her to not have condemned it, that that was the moment it all kind of broke me," Grisham told CNN after she shared the post at the end of June. The former Trump administration official said the exchange made her feel "disappointed and discouraged and sickened."
Trump denied Grisham's account to Fox News on Thursday, saying that she did not even know the Capitol was under attack.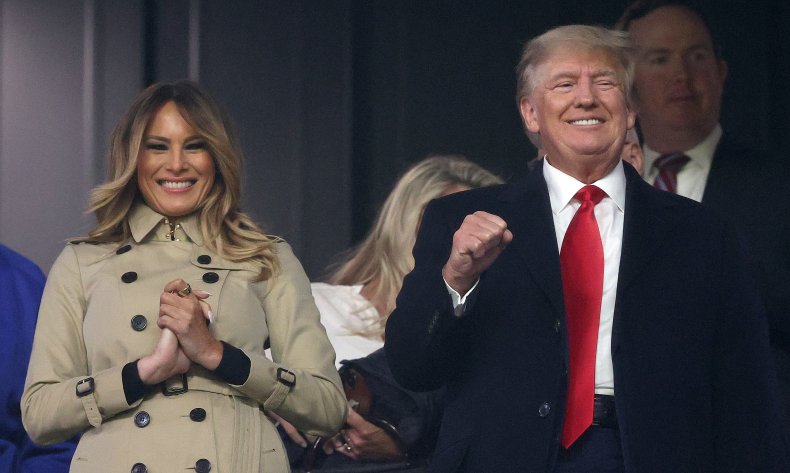 "On January 6, 2021, I was fulfilling one of my duties as first lady of the United States of America, and accordingly, I was unaware of what was simultaneously transpiring at the U.S. Capitol building," she said.
Trump went on to criticize Grisham. "Ms. Grisham was not in the White House on January 6, and her behavior in her role as chief of staff ultimately amounts to dereliction of duty," she said, adding that "traditionally, the first lady's chief of staff provides detailed briefings surrounding our nation's important issues."
Grisham resigned from her White House role on January 6. She has gone on to become a vocal critic of former President Donald Trump and his administration.
Hundreds of then-President Trump's supporters attacked the Capitol during the riot last year in an apparent effort to disrupt the formal certification of President Joe Biden's Electoral College victory. The violence came after Trump at a rally near the White House told his supporters to walk to the Capitol and "fight like hell" to save their country.
The former president and his allies had spent months spreading misinformation about the 2020 election, claiming that it was "rigged" or "stolen." In reality, audits and recounts, including in places where the election was overseen by pro-Trump Republicans, consistently reaffirmed Biden's win. More than 60 legal challenges filed by the former president and his supporters failed in state and federal courts.
Several top Trump administration officials have rejected his claims about the 2020 election.
Former Attorney General William Barr, who was widely viewed as one of Trump's most loyal Cabinet members, has said repeatedly that the claims of widespread voter fraud are "bulls**t."
"I thought, boy, if he really believes this stuff, he has lost contact with—he's become detached from reality if he really believes this stuff," Barr testified before the House select committee investigating the January 6 attack on the Capitol.