Melania Trump is 'Used to Faking It,' Seth Meyers Says, After Mika Brzezinski Attacks Her For Having A 'Fake Job'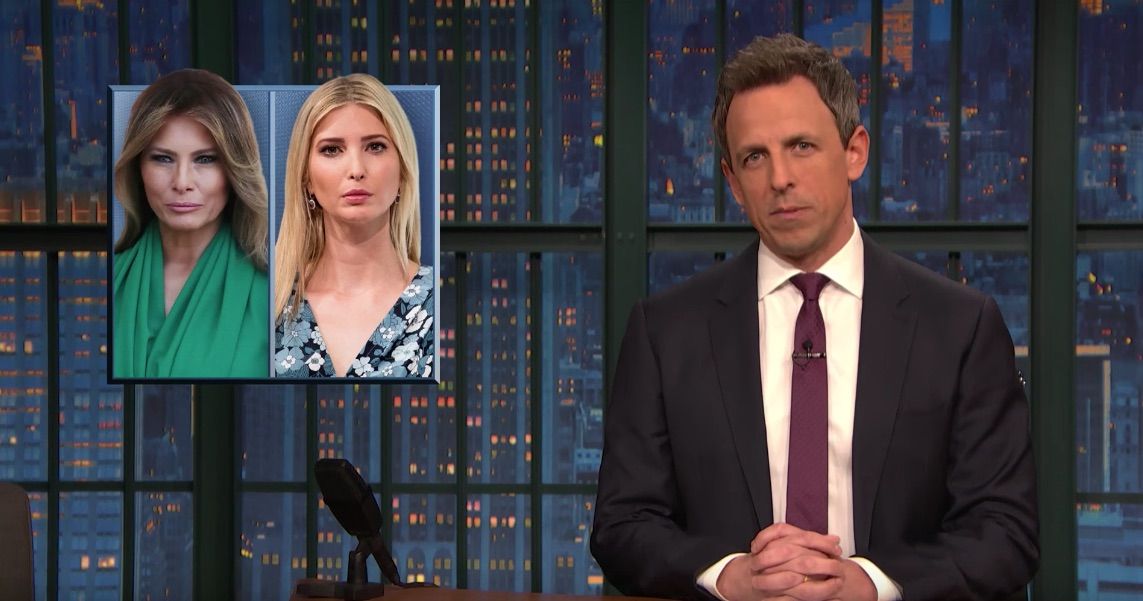 Seth Meyers took a shot below the belt—quite literally—Tuesday night on NBC's Late Night with Seth Meyers .
During his roundup of the day's news, Meyers touched on MSNBC host Mika Brzezinski's scathing critique of First Lady Melania Trump and first daughter Ivanka Trump's roles in the White House. Brzezinski said both women have "fake jobs" that are "insulting to women."
To that, Meyers joked: "But Melania says it's no problem for her, because she's used to faking it."
On Tuesday morning's Morning Joe, which Brzezinski co-hosts with fiance and former Republican politician Joe Scarborough, Brzezinski criticized Ivanka Trump for failing to address accusations of sexual misconduct against her father, President Donald Trump, in an interview that aired Monday.
Ivanka said it was "inappropriate" to "ask a daughter if she believes the accusers of her father when he's affirmatively stated there's no truth to it."
"I don't think that's a question you would ask many other daughters," she added.
But that answer didn't fly with Brezinski, who reminded viewers that Ivanka once vowed to keep fighting for women's issues in the White House.
"She came in there to fight for women, and if she can't handle a question like that, the whole thing is clearly is a joke, an utter joke, just like Melania's role on cyberbullying, which I think is an insult to women, completely," said the MSNBC host.
After entering the White House, first lady Melania chose to use her platform to bring awareness to cyberbullying, especially among younger American citizens.
But Melania has been repeatedly criticized for standing against cyberbullying while her husband has used his Twitter account to name-call and scold his critics.
In fact, Brezinski and Scarborough called out Melania over the "hypocrisy" of her cyberbullying campaign on Morning Joe in November.
"That's an interesting thing for Melania to pick considering...well, I mean, all the insults," said Scarborough. He added that Trump is the "worst bully in America."
Melania Trump is 'Used to Faking It,' Seth Meyers Says, After Mika Brzezinski Attacks Her For Having A 'Fake Job' | Culture