Melania Trump vs. The View: 'Why Shouldn't She Go Along With it? She Was in Slovenia Doing Nothing'
The View's Joy Behar attacked Melania Trump on Saturday for being complicit in the dysfunction and hatred of her husband's administration during an interview on CNN's The Van Jones Show.
While discussing her long acquaintanceship with the Trump family, Behar revealed that Trump was considered a dodgy businessman in New York before he was elected the 45th President of the United States.
"I just thought he was kind of a New York character who ripped off people at his businesses," Behar said. "Which, everybody in New York seemed to know that."
Behar then publicly advised Americans not to feel sorry for the First Lady, citing a 2017 interview, where Melania revealed her birther beliefs while attempting to promote her jewellery line.
"That was the one place where she showed her true colors because she believed in birtherism, just like her husband," Behar said. "She said they didn't have the right birth certificate in Hawaii."
Behar went on to point out that Melania has no reason to not support her husband, suggesting that he saved her from a life of "nothing" in Slovenia.
"She is now enjoying the fruits of the American country," she said. "Her parents are now enjoying chain migration…. why shouldn't she go along with it? She was in Slovenia doing nothing. I don't know what she was doing. What was she doing there? OK, she was a model. Now she's the first lady."
On Friday, the hosts of The View ridiculed the White House and First Lady's reaction to the anonymous New York Times op-ed published earlier that week titled "I Am Part of the Resistance Inside the Trump Administration."
"Everybody in the White House, including the First Lady, have issued denials that they wrote the anonymous op-ed about working against you know who," Whoopi Goldberg said.
"I was struck by Melania's statement," Sunny Hostin added. "[Melania Trump] says, 'People with no names are writing our nation's history. Words are important and accusations can lead to severe consequences. If a person is bold enough to accuse people of negative actions, they have responsibility to publicly stand by their words and people have the right to be able to defend themselves.'"
"Who wrote that, Michelle Obama?" Joy Behar quipped.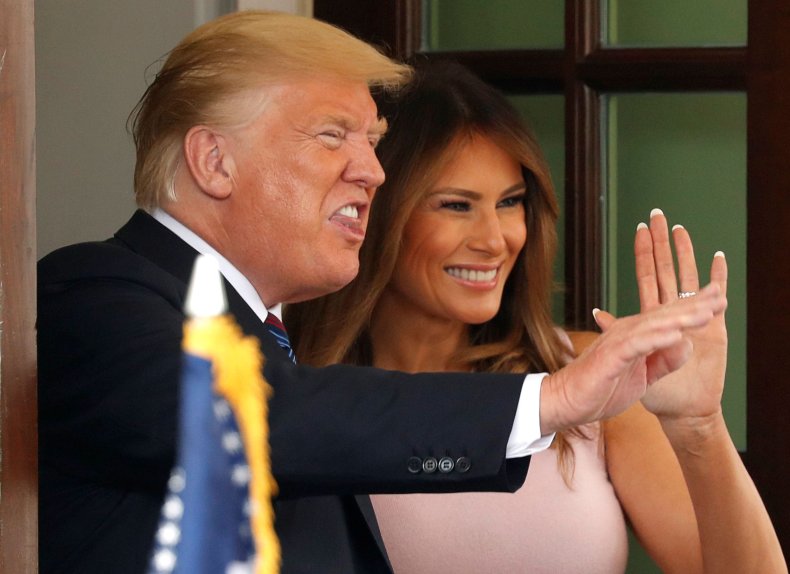 On Friday, Stephanie Grisham, Director of Communications and spokesperson for the First Lady, responded to The View's comments on Twitter, referring specifically to a Raw Story article.
"If by 'destroy' you mean being disrespectful [and] hypocritical while mocking someone's accent, then the 'ladies' of [The View] succeeded," Grisham said.