Melania Trump Wants Americans to Help Puerto Rico, Maybe She Should Tell Her Husband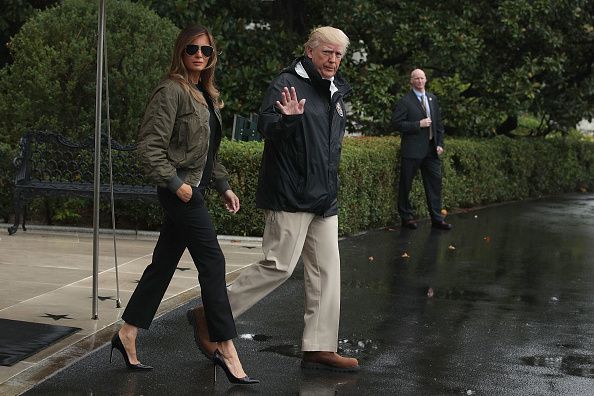 First lady Melania Trump is calling on Americans to help hurricane victims, despite her husband's much-criticized delayed response to helping devastated Puerto Rico after Hurricane Maria.
In the PSA posted to the White House YouTube channel on Tuesday, Melania Trump says she and her husband have been affected by the recent hurricanes Harvey, Irma and Maria, and all Americans need to do more.
"Your help is still needed," she says. "Donate to an organization of your choice, and volunteer to help your fellow Americans."
She also gave the web address of National Voluntary Organizations Active in Disaster, an aid group.
The video represents the first live comments by the first lady on the natural disasters since she and the president traveled to Puerto Rico on October 3 to survey relief efforts. In that much-mocked appearance, President Trump complained that the Caribbean island had "thrown our budget a little of whack" and said Hurricane Maria wasn't a "real catastrophe" like Hurricane Katrina in 2005 because there were only 16 deaths on the island at the time.
He landed in more hot water when he threw rolls of paper towels into a crowd waiting for relief. Melania Trump's choice of footwear also earned criticism after she boarded presidential planes in stilettos before changing into sneakers.
America is noticing. A new CNN poll shows that 47 percent of respondents disapproved of the way the president has handled efforts to aid the island of 3.4 million Americans. Trump had a 25 percent disapproval rating after Hurricanes Harvey and Irma hit the mainland.
Some respondents were no doubt influenced by Trump attack on the San Juan Mayor Carmen Yulín Cruz, whom he called a "nasty woman" in a tweet after she called out the president for his lack of support.
"Such poor leadership ability by the mayor of San Juan, and others in Puerto Rico, who are not able to get their workers to help," he tweeted. "They want everything to be done for them when it should be a community effort."
Virtually the entire island remains without power.