Melania Trump's Plane TVs Reportedly Streamed CNN Over Fox News During First Trip Without President
First lady Melania Trump reportedly was watching CNN during her flight to Africa for her first major international trip without President Donald Trump, despite her husband apparently throwing a tantrum several months ago when he spotted her watching the news channel he despises.
The report that the televisions on the first lady's plane on Monday evening were tuned in to CNN—and not the president's favorite Fox News—came from Associated Press White House reporter Darlene Superville on Monday evening, per her colleague AP reporter Jonathan Lemire.
In late July, the president "caused a bit of a stir" onboard Air Force One when he saw his wife watching CNN, The New York Times reported based on an email. The email stated that televisions should be on Fox News as a standard protocol moving forward.
The morning Melania Trump arrived in Ghana, Superville tweeted on Tuesday: "During flight, TVs were later tuned to Fox News Channel and then MSNBC."
The first lady's spokeswoman Stephanie Grisham did not immediately respond to a request for comment from Newsweek on Tuesday.
However, Grisham in a July email addressing the president's reported tantrum over his wife watching CNN said there were more important matters at hand.
"Did you know that every 15 minutes a baby is born with NAS [neonatal abstinence syndrome]? Maybe you'd like to talk about the 160,000 kids who skip school every day for fear of being bullied, or that 280,000 students are physically attacked in schools every month," Grisham wrote, referring to Melania Trump's "Be Best" initiative to help children, which she traveled to Africa to promote.
"Seems kind of silly to worry about what channel she watches on TV (any channel she wants, by the way)," Grisham added.
The president has repeatedly called CNN, among other media outlets, "fake news," and frequently touts the coverage of Fox News, a channel that favors him.
His wife's decision to visit Ghana, Malawi, Kenya and Egypt over five days, has been interpreted by some as a slight to the president, who reportedly called African nations "sh**hole countries" in a meeting with lawmakers in the Oval Office in January.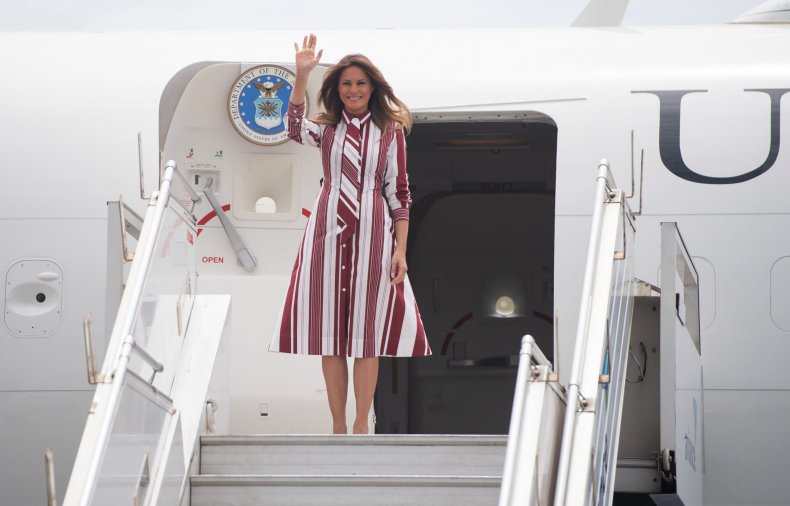 Upon touching down in Ghana after an overnight flight, Melania Trump held a Ghanian baby in her arms and set out to promote children's well-being as part of her initiative, which has also been seen as a jab at her husband because it attacks cyberbullying.
"So looking forward to visiting #Ghana #Malawi #Kenya & #Egypt as I take #BeBest international," Melania Trump tweeted late afternoon Monday.