Melania Trump Watches 'Any Channel She Wants' on TV, First Lady's Spokeswoman Says, Refuses to Discuss Cohen Tape
First Lady Melania Trump's spokeswoman responded to a report that President Donald Trump threw a tantrum after spotting his wife watching CNN onboard Air Force One by saying she watches "any channel she wants," and refused to comment on newly surfaced recordings of the president and his former lawyer.
Stephanie Grisham, in an email to Newsweek Wednesday, said there were more important things to be concerned about when it comes to the first lady.
"Did you know that every 15 minutes a baby is born with NAS? Maybe you'd like to talk about the 160,000 kids who skip school every day for fear of being bullied, or that 280,000 students are physically attacked in schools every month," Grisham said, referencing the first lady's "Be Best" initiative to help children, which she promoted in Nashville on Tuesday.
"Seems kind of silly to worry about what channel she watches on TV (any channel she wants, by the way)," Grisham added, "Or if she heard some recording on the news."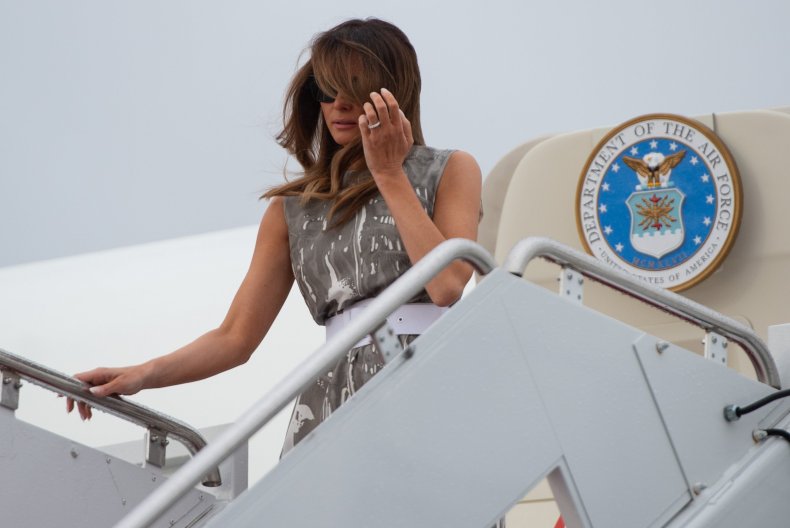 Grisham did not address whether Melania Trump indeed tuned into CNN the previous day, nor did she comment on a tape in which Donald Trump is heard talking with his then-lawyer Michael Cohen about a plan to buy rights to a Playboy model's account of her alleged affair with Trump.
The conversation, aired on CNN, revealed that Donald Trump knew about the proposal to buy rights to former Playboy model Karen McDougal's story, something his campaign subsequently denied shortly before the 2016 election. Some audio from the tape is difficult to make out, and what Trump meant when he said "cash" has become a matter of dispute.
President Trump on Wednesday morning attacked Cohen and suggested that the released recording did not provide a full picture of the conversation and that tapes with information damaging to other people besides himself may exist.
"What kind of a lawyer would tape a client? So sad! Is this a first, never heard of it before?" the president tweeted. "Why was the tape so abruptly terminated (cut) while I was presumably saying positive things? I hear there are other clients and many reporters that are taped—can this be so? Too bad!"
Melania Trump has remained silent as new details around her husband's alleged affairs have emerged. She has avoided some public appearances with him, notably after news of his apparent infidelity. She traveled without him to a children's hospital in Nashville on Tuesday to start pushing her "Be Best" initiative.