Where Is Melania? Conspiracy Theories Abound Following First Lady's Routine Surgery
Conspiracy theories seem to follow first lady Melania Trump around: Does she have a doppelganger who does the jobs she hates? Does she hate her life and wish her husband wasn't president? (Probably.)
The latest question to throw out a whole new burst of wild speculation about the first lady: Where is she?
Melania Trump has not been seen in public for 20 days now, CNN reported. Her last appearance was on May 10, alongside President Donald Trump as he greeted three American hostages returning from North Korea.
Her absence has prompted theories including the story the first lady has moved back to New York, that she is writing a book about her husband, or, more bizarrely, that she is living with Barack and Michelle Obama.
Several days after her last public appearance, the former model underwent treatment at the Walter Reed National Military Medical Center. "The procedure was successful and there were no complications," a statement from the White House said.
The first lady "looks forward to a full recovery so she can continue her work on behalf of children everywhere" the statement added.
But since then, the first lady, 48, has not been seen in public—prompting questions as to her whereabouts. And her spokeswoman, Stephanie Grisham, declined to comment on when the public could expect to see her next, Politico reported on Tuesday.
However, Grisham did say that there was nothing suspicious about the first lady's absence, explaining Melania was simply recovering following her stay in hospital.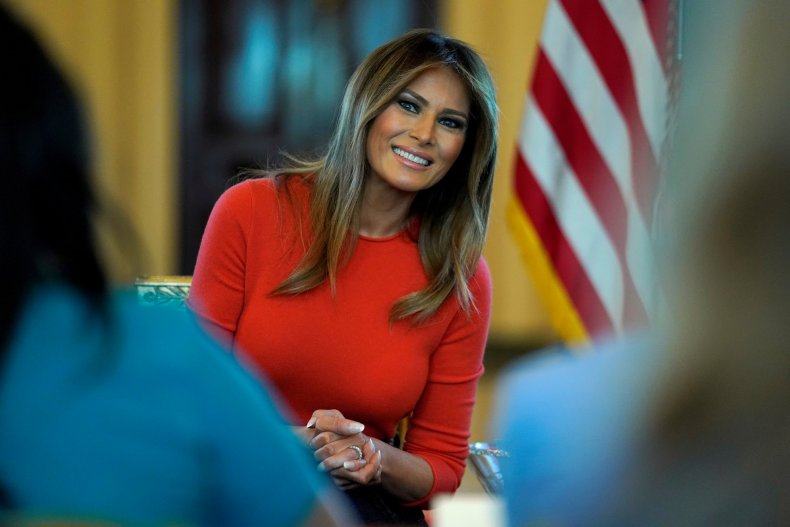 "Sadly, we deal with conspiracy theories all the time, so this is nothing new, just more silly nonsense," Grisham told the publication.
"She is doing great. I wouldn't characterize it as a long absence. She was hospitalized for almost a week and is now home and recovering," she added.
Prior to her treatment, Melania had stepped up her role at the White House, officially announcing her Be Best campaign to tackle cyberbullying and opioid abuse. She is reportedly keen to return to this project following her recovery.
Her Be Best announcement did draw similarities to the Obamas', with the cyberbullying explanation sheet adapted from an Obama-era document on the topic, while the phrase "Be best" was markedly similar to former first lady Michelle Obama's slogan "Be better."
This story has been updated to include additional information about Melania Trump.