Melania Trump's Christmas Decorations Full of 'Be Best' Ornaments as President Continues to Blast People on Twitter
First lady Melania Trump on Monday morning unveiled the White House's Christmas theme this year as "American Treasures," while her video of the decorations revealed a strong presence for her "Be Best" campaign in the form various ornaments.
The 57-second video the first lady tweeted opens with an "American Treasures Christmas at the White House" banner and shows her walking through the halls decked out with red holiday trees and ornaments featuring United States icons like the Golden Gate Bridge and Seattle Space Needle. About midway through, an ornament appears with the logo of her Be Best campaign aimed at helping children and fighting cyberbullying. It is followed by a festive arrangement of "Be Best" pencils.
A news release by the White House on the Christmas theme did not mention "Be Best."
"This is a joyous time of year when we decorate the White House for the Christmas Season," Trump said in a statement. "Our theme honors the heart and spirit of the American people. Thank you to the many volunteers and staff who worked hard to decorate the halls of the People's House in Christmas cheer. On behalf of my family, we wish everyone a very Merry Christmas and a Happy New Year."
The first lady's spokeswoman Stephanie Grisham in an email to Newsweek late last month said, "She has been working on Christmas plans for the White House since June."
Trump launched her "Be Best" campaign just a month prior. But scrutiny of the campaign, which Trump has promoted across the United States and internationally including the United Kingdom and Africa, arrived thick and fast.
Specifically, critics have come down on the first lady for speaking out against cyberbullying when her husband, President Donald Trump, regularly slams opponents on Twitter.
The American Treasures theme, according to the release, "honors the unique heritage of America. Designed by First Lady Melania Trump, the White House shines with the spirit of patriotism. This home, held in trust for all Americans, displays the many splendors found across our great Nation."
Like last year, the East Wing has the Gold Star Family tree recognizing American troops and their families. The China Room features state dinner pieces from different eras. The East Room highlights the skylines of New York City, San Francisco and other major cities. The Green Room showcases the country's harvest.
The White House will host more than a hundred open houses and numerous receptions next month. Public tours will be given to more than 30,000 visitors.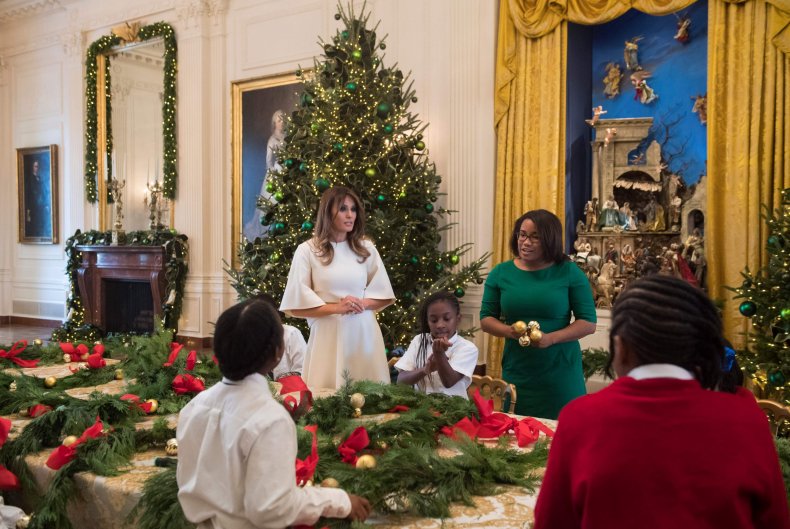 Melania Trump, a former model, has a design background, studied art and architecture and started her own jewelry line.