Melania Trump in the White House: First Lady's Official Portrait Released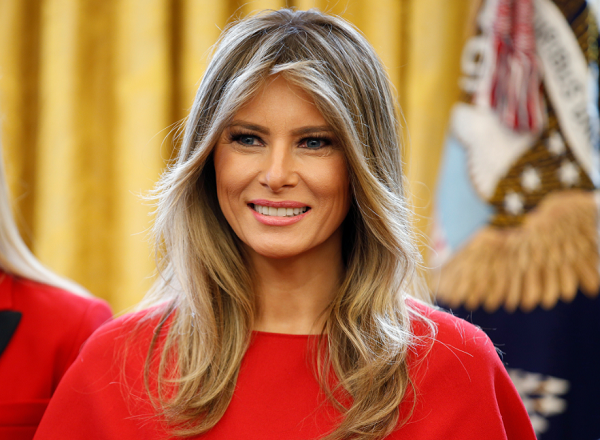 Melania Trump has had her photo taken hundreds of time as a model and the wife of a prominent real-estate magnate.
Now the White House has released the most important picture ever of President Donald Trump's wife—her first portrait as first lady of the United States.
The photograph shows Melania Trump in an all black ensemble and standing, smiling, with her arms crossed.
"I am honored to serve in the role of First Lady, and look forward to working on behalf of the American people over the coming years," Melania Trump said in a statement released Monday.
Although the portrait will hang in the presidential family's new residence, the first lady herself hasn't exactly moved in yet, which has caused a blacklash from some citizens upset that Melania Trump has chosen to remain in the family's New York City home at Trump Towers.
Since Donald Trump won the election, Melania Trump has been living in New York City with the first couple's son Barron Trump, who is attending school there. Melania Trump's newly appointed Director of Communications in Washington D.C., Stephanie Winston Wolkoff, told CNN recently that Melania Trump will begin splitting her time between New York and Washington D.C., at the end of Barron Trump's school year.
"Mrs. Trump is honored to serve this country and is taking the role and responsibilities of first lady very seriously," Winston Wolkoff said. "It has only been a short time since the inauguration and the first lady is going to go about her role in a pragmatic and thoughtful way that is unique and authentic to her."
Some critics oppose U.S. taxpayers having to foot the bill for security at Trump Towers as well as the first lady's security and staff in D.C. NYPD has estimated that it costs between $127,000 and $146,000 per day to cover Melania and Barron Trump's security.
A petition launched on Change.org recently gained more than 500,000 signatures requesting the first lady to move to the White House or force the Trump's to cover the security bill.
"The U.S. taxpayer is paying an exorbitant amount of money to protect the First Lady in Trump Tower, located in New York City," the petition reads. "This expense yields no positive results for the nation and should be cut from being funded."