After less than a year at the epicenter of the turbulence around the White House, first lady Melania Trump would much rather spend the winter holidays somewhere far away.
While visiting the Children's National Hospital in Washington, D.C., the FLOTUS took questions from children and staff. When asked by 10-year-old Andy where she wished to spend the holiday season, she replied, "I would spend my holidays on a deserted island, tropical island, with my family."
Read more: Catholic Church clashes with D.C. Metro over Christmas ad
The answer triggered laughter around the hospital, including from FLOTUS herself.
Trump paid a visit to the hospital as continuation of a December tradition started more than 60 years ago by first lady Bess Truman. Besides dreaming of a yuletide worthy of Robinson Crusoe, the current first lady had a few other wishes for Christmas, though they failed to excite the crowd as much.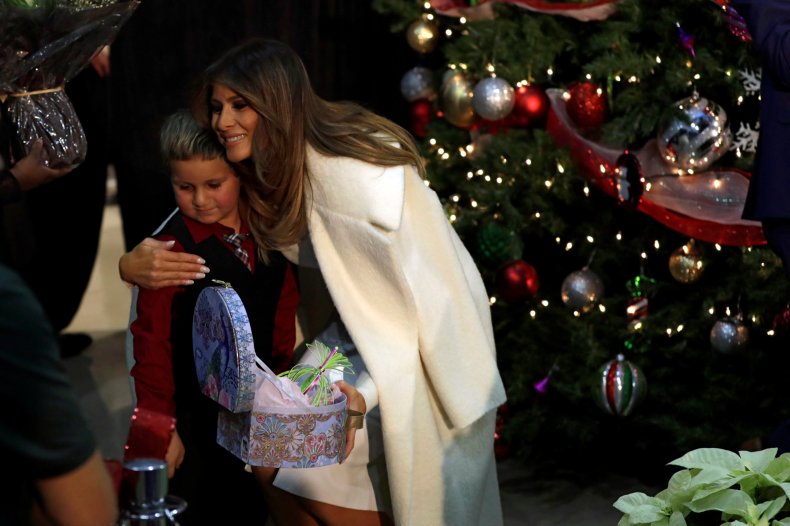 "I asked Santa for Christmas… peace on the world, health, love and kindness," she said; when asked about her favorite part of Christmas dinner, she said "healthy food," the Associated Press reported. "You feel very good after. Not too much eating," she said. "The most important part is to spend time with the family."
That is her favorite Christmas tradition, before attending midnight Mass on Christmas Day, followed by another dinner.
Melania Trump's favorite caroling song is "O Holy Night," and the story she chose to read to the children and staff of the hospital was The Polar Express.
The White House's Christmas preparations courted controversy when broadcaster CNN announced it would boycott the presidential Christmas party, to which White House spokeswoman Sarah Huckabee Sanders replied, "Christmas comes early! Finally, good news from CNN," on Twitter.
The White House clip of Melania Trump overseeing seasonal decorations in the White House became the subject of parody by The Daily Show, which doctored the video in the style of horror films, splicing in a sinister soundtrack and clips of the president's speeches.
A photo of the hallway decorations shared by the first lady's director for communications last month featured such heavy under lighting that social media users lampooned the creepy atmosphere.