Melania Trump's Pantsuit Sparks Comparisons to Hillary Clinton and Resistance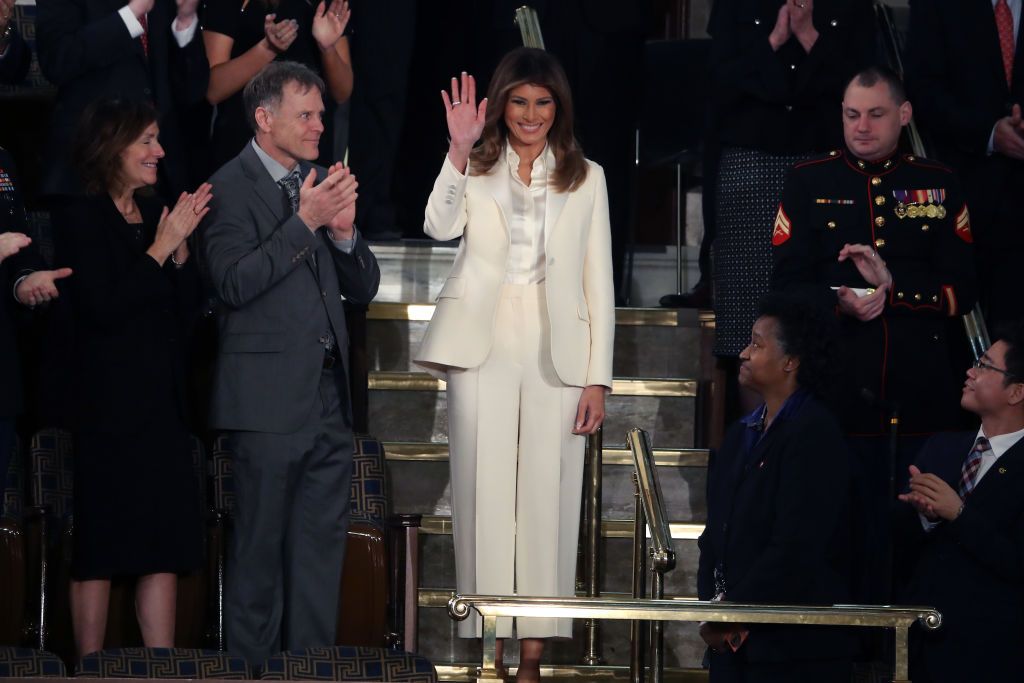 All eyes were on first lady Melania Trump as she entered the House chamber of the United States Capitol Tuesday night, ahead of her husband's first State of the Union speech. She entered through a door at the back of the balcony and made her way down the stairs to a seat in the front row overlooking members of Congress and Donald Trump's administration.
It her first public appearance at an event with her husband since reports that Trump's campaign paid $130,000 to hush up porn star Stormy Daniels, who claims to have had sexual encounter with the president in 2006. Some wondered if she would show up at all. But she did. And to some observers on Twitter, the most remarkable thing about her entrance was her outfit. Dressed in a cream-colored pantsuit, the first lady seemed pointedly reminiscent of Trump's Democratic opponent from the 2016 presidential election, Hillary Clinton.
Clinton has chosen variations on the white pantsuit as her uniform for significant events—frequently enough that it has become inextricably linked to her. She wore a bright white pantsuit by Ralph Lauren the night she became the first woman to accept a major political party's nomination for the presidency at the Democratic National Convention in Philadelphia in July 2016. The choice seemed to be a clear reference to the suffrage movement of the previous century, when suffragettes wore white to marches as they lobbied for women's right to vote.
"This was a way of using clothing to speak through a visual message," Valerie Steele, director of New York City's Museum at FIT (Fashion Institute of Technology), told The Guardian at the time. "It does reinforce the historical importance of Hillary hopefully becoming the first woman president."
Clinton wore white for the third presidential debate in October 2016, then again for Trump's inauguration. The Los Angeles Times called it her "familiar armor," while Vanity Fair reminded readers of the connection to the suffragettes, for whom white signified "purity, in an effort to protect them their opponent's claims of immorality." The magazine speculated that it "could very well be a sign of support for the anti-Trump Women's March on Washington."
The pantsuit became a symbol of Clinton's bid to shatter the glass ceiling and become the first female president, inspiring the Facebook group and Twitter hashtag "Pantsuit Nation." The white pantsuit, in particular, has also been adopted by other politically-minded women since. Democrats, for example, consciously chose to wear white to Trump's address to Congress in February.
"We wear white to unite against any attempts by the Trump administration to roll back the incredible progress women have made in the last century, and we will continue to support the advancement of all women," Representative Lois Frankel (D-Florida) said in a statement at the time.
As missives flew about Melania's fashion choice for Tuesday's State of the Union address—the cream Christian Dior pantsuit, a silk top by Dolce & Gabbana, and heels by Christian Louboutin—observers speculated about whether the resemblance was a coincidence or not, and what the current first lady might be trying to say if it was in fact a purposeful nod to a former first lady and recent presidential candidate, or at least to the suffragettes or women's rights.
Even the far-right Breitbart News, which until recently was run by Trump's former adviser Steve Bannon, acknowledged the reference to women's rights, calling her outfit "a suffragist ensemble that harped back to women's voting rights movement." Notably, however, it left out any comparison to Clinton.
The New York Times's Vanessa Friedman suggested a long list of possible reasons for how Melania chose to dress to attend the important speech. But the fact "that Mrs. Trump did so in a white pantsuit with a glowing white blouse," she wrote, "seemed to be about as subtle a slap in the face as could be contained in a garment."
"Given that clothes became a symbolic dividing line during this State of the Union like seemingly never before," she wrote, "it's hard to believe that the potential (and, indeed, probable) interpretations of her choice escaped the first lady."