Melania Trump's Parents Visit U.S. Citizenship Office Amid President's Attacks on 'Chain Migration'
First lady Melania Trump's parents were spotted walking with their immigration attorney Wednesday to a federal building where officials process U.S. citizenship applications, suggesting that they are getting closer to becoming Americans their son-in-law President Donald Trump seeks to tighten immigration policies.
Related: How Did Melania Trump Secure 'Genius Visa' For 'Extraordinary Ability' While Dating the Future President?
Viktor and Amalija Knavs, permanent residents from Slovenia, spent about an hour inside the building with their attorney Michael Wildes, according to the Associated Press.
Wildes previously disclosed that the Knavs are lawful permanent residents of the U.S. He declined to comment about Wednesday's visit to Newsweek.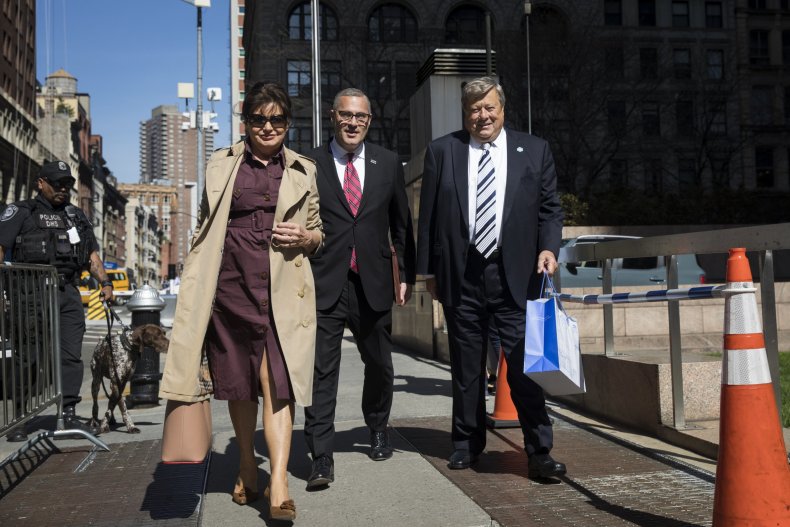 Amalija Knavs said, "Oh, it is beautiful," of the weather, and Wildes commented it was a "gorgeous day," the New York Daily News reported.
Wildes has declined to comment on how the Knavs became legal permanent residents of the U.S., including the likely scenario that it was through "chain migration," a family reunification process that allows U.S. citizens to sponsor immediate family members for legal residency. The couple would have been sponsored by their daughter, Melania Trump.
President Trump, meanwhile, has explicitly favored bills that greatly restrict chain migration. Last summer he supported a proposal that would limit family sponsorship to spouses and minor children of U.S. citizens, and that would reduce the maximum eligible age for a minor to 18 from 21. The proposal could slash legal immigration to the U.S. in half within a decade, experts projected.
"Under the current broken system, a single immigrant can bring in virtually unlimited numbers of distant relatives," the president said in his State of the Union address in January. "Under our plan, we focus on the immediate family by limiting sponsorships to spouses and minor children. This vital reform is necessary, not just for our economy, but for our security, and our future."