Melania Trump's Popularity Soars Amid Reports of the President's Alleged Affairs
First Lady Melania Trump's popularity has soared to its highest ever mark in a CNN poll, as her husband President Donald Trump's alleged extramarital affairs continue to unravel and make headlines.
Related: Melania and Ivanka Trump's Popularity Has Gone in Different Directions Since Entering White House, Poll Finds
Among Americans asked for their opinion from May 2 to 5, 57 percent said they had a favorable opinion of the first lady, while only 27 percent said they had an unfavorable opinion, according to a poll for CNN released Monday and conducted by the research company SSRS.
The figure represents a 10 percent jump in her favorability rating since the poll was last conducted in mid-January, and the highest favorability rating she has received in a dozen times the question has been asked since February 2016.
It is also greater than any favorability score her husband has received since CNN began polling around him in 1999.
Melania Trump's soaring popularity has come over three months in which her husband's alleged infidelities have made headlines. As well as claims of a relationship with former Playboy model Karen McDougal, the fallout from the president's alleged affair with adult film star Stormy Daniels, whose legal name is Stephanie Clifford, has only accelerated in recent weeks.
The Daniels scandal has been the center of national attention since the FBI raided the offices and home of the president's personal lawyer Michael Cohen, for a criminal investigation on business deals including a payment to keep Daniels hush. The president's newest lawyer Rudy Giuliani last week made several controversial statements, including that the payment to Daniels "was made to resolve a personal and false allegation in order to protect the president's family." Giuliani also broke with the president's previous comments by stating that Trump was aware of the payment.
Melania Trump has remained silent as the developments mount.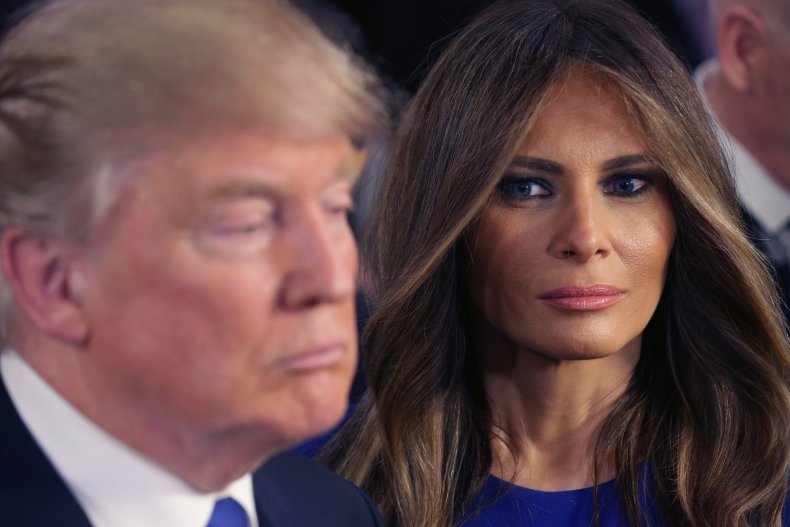 The first lady enjoyed a noteworthy 15 percentage point increase in her favorability rating among Democrats since January—up to 38 percent favorable versus 40 percent unfavorable—and a 6 percentage point jump among Republicans.
She also gained the support of more women, with a 13 percentage point increase in her favorability rating since January, compared to a 7 percentage point increase among men. Most women in the poll, 54 percent, have a favorable opinion of the former model, while only 30 percent have an unfavorable view.
The poll involved a random sample of 1,015 respondents and had a margin of error of plus or minus 3.6 percentage points.