Melania Trump's Spokeswoman Rips 'Fake News' Report First Lady 'Fears' President 'Will Unravel'
Melania Trump's spokeswoman Stephanie Grisham ripped apart an anonymously sourced Hollywood Life story claiming that the first lady "fears" that her husband, President Donald Trump, "will unravel" ahead of the midterm elections and as special counsel Robert Mueller gets closer to finishing his investigation.
Grisham on Tuesday publicly mentioned Hollywood Life and a writer for the celebrity news site in a tweet stating: "Alert … please see below edits from the Office of @FLOTUS. If you ever want to try your hand at actual reporting, please reach out to real sources. #FakeNews."
The tweet included an image of the story, published Monday, covered with pink highlights and Grisham's notes of the information as being "FALSE."
Grisham deemed the entire headline and sub headline as "FALSE," as well as a line in the first paragraph stating, "Many people are concerned for what's going to happen come November – including Melania Trump."
The story then reads: "'Melania is bracing herself for the next couple of months,' a source close to the first lady tells HollywoodLife EXCLUSIVELY." Grisham there noted, "FALSE. If this 'source' exists, they are lying."
On another section—"Our insider adds: 'Whenever Donald feels painted into a corner he goes on the serious attack, and there's one hell of a lot of pressure in the building right now.'"—Grisham noted, "If this 'insider' exists, they should give their name."
Grisham also reiterated that another sentence "is just speculation." "Late last week, there was an increased speculation that Mueller could be dropping something big from his investigation very soon," the Hollywood Life story states.
Regarding a line stating that Trump's former lawyer Michael Cohen last month also made a deal with federal prosecutors and pleaded guilty to eight criminal counts, Grisham wrote, "What does this have to do with anything?"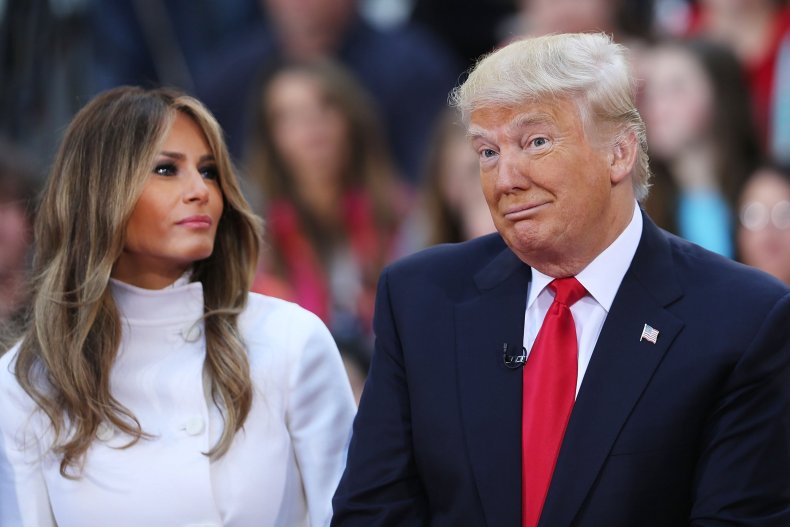 The Hollywood Life story as of Wednesday afternoon was still online, did not address Grisham's tweet, and had the byline, "HL Intern." The celebrity news site has published several other stories on Melania Trump with unnamed sources. Last weekend, Hollywood Life reported that she "dreads the possibility" that her husband will be re-elected in 2020, and that she is "weighing" divorce.
Melania Trump has remained silent as Mueller's probe, and investigations into Cohen's hush payments to women who allege they had affairs with Donald Trump, continue. Grisham has shot down some reports speculating the first lady is unhappy at the White House.