Is Kathleen in 'The Last of Us' Game? Melanie Lynskey's Character Explained
Warning: This article contains some spoilers for 'The Last of Us' episode 4.
The Last of Us has many iconic characters for Joel Miller (Pedro Pascal) and Ellie Williams (Bella Ramsey) to contend with, and now the pair are about to meet their most chilling adversary yet: Kathleen.
Played by Melanie Lynskey, Kathleen is introduced in the HBO show's fourth episode. Though Joel and Ellie have yet to meet her during their journey through Kansas City, the character's ruthlessness is already clear to viewers.
Here is everything that viewers need to know about the character, her origins, and what Lynskey has said about her.
Is Kathleen in 'The Last of Us' Game? Melanie Lynskey's Character Explained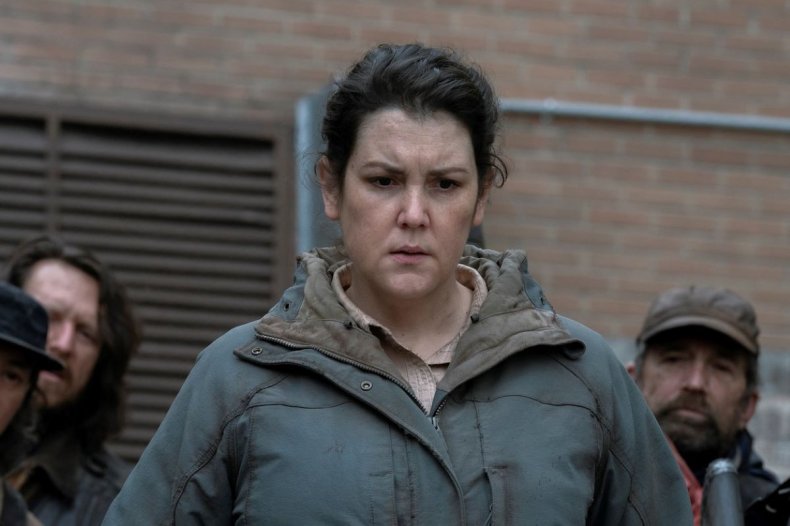 Kathleen is a wholly original character created for the purposes of the HBO show. So, viewers who decide to give the game a try should not expect to see the character during their playthrough.
Although Kathleen does not appear in the game, the character does have a close connection with the original source because she is trying to seek out Henry (Lamar Johnson), who had a part in her brother's death.
In The Last of Us Part I game, Joel and Ellie encounter Henry and his younger brother Sam (Keivonn Woodard) during their journey, and so Kathleen is linked to an important character from the game even if she is new herself.
In an interview with Variety, Lynskey said that Craig Mazin, co-creator with Neil Druckmann, had asked her if she wanted to "play a war criminal" for the show. He described Kathleen as being driven to inhumanity because of her loss.
The Yellowjackets star said of Mazin: "He basically said, 'Imagine if you were Jesus' sister. Your brother was the greatest man, who was just so wonderful to everybody, who you loved and revered, and then he was brutally murdered. And you're just this ordinary person who knows that they're not that great of a person, who has to then step into this role and is sort of consumed with wanting to adventure.'"
Of her character being new, Lynskey added: "I know how committed the fandom is. People can be like, 'That doesn't look like the person I imagined!' So I was grateful to not have that.
"I guess there's a different level of scrutiny where people are like, 'We don't need this character. We played the game without this character. Why is she here?' But also, none of that is my responsibility. I'm there because I trust Craig."
She added that Druckmann, who is co-president of video-game company Naughty Dog, signs off on every change made to the original's story. So, he is "on board" with everything that happens in the drama.
The Last of Us episode 5 will be available to watch early on HBO Max and HBO on Demand on Friday, February 10, before it airs on HBO on Sunday, February 12.