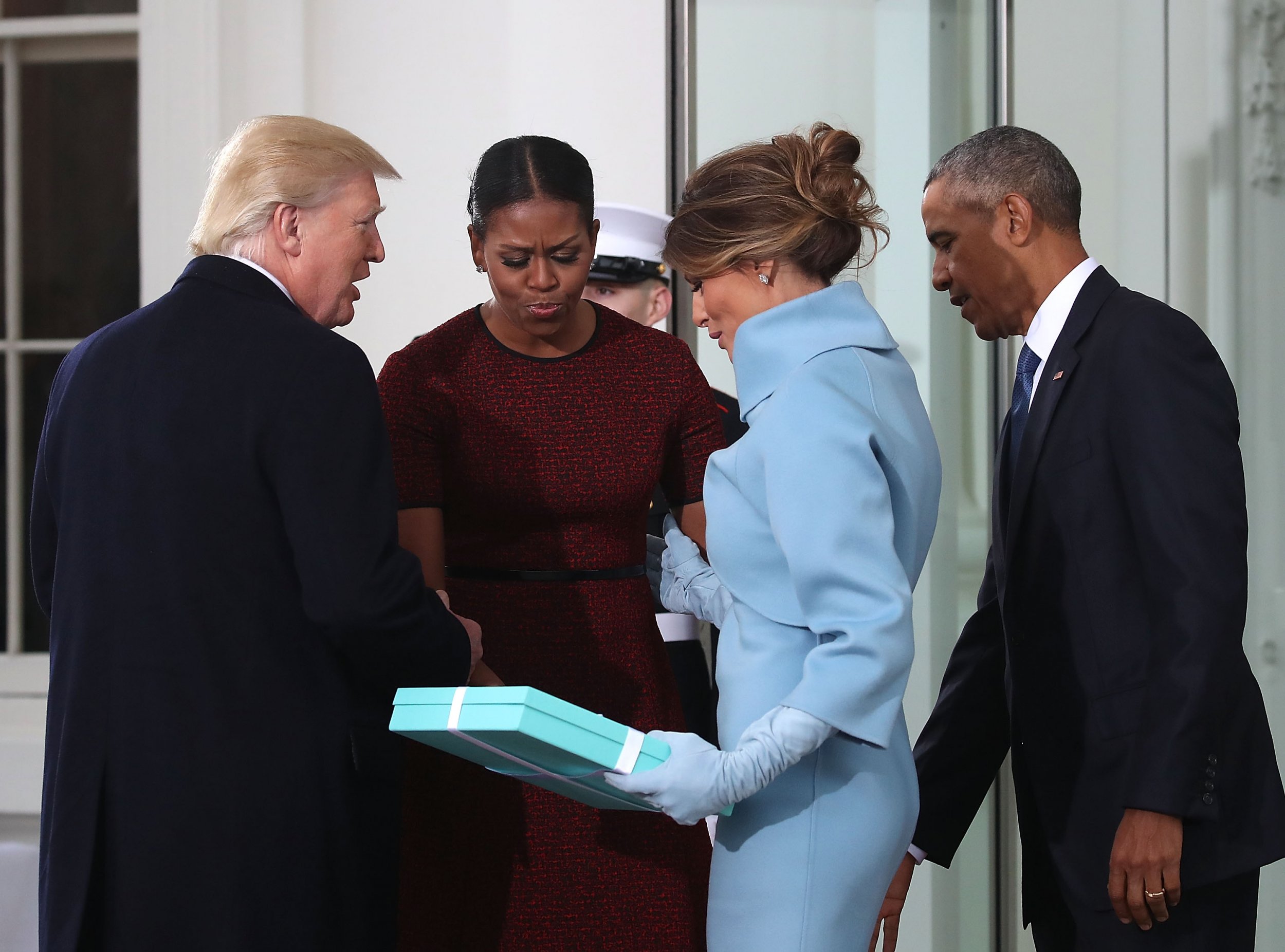 First lady Melania Trump had everyone channeling Brad Pitt and asking, "What's in the box?" last January when she gave outgoing first lady Michelle Obama a Tiffany & Co. box on Inauguration Day.
Well, Ellen DeGeneres has the answer.
In her first televised interview since leaving the White House, Obama, 54, revealed to DeGeneres that Trump gave her a "lovely frame"—presumably of the photo variety. People has a clip from the gabfest, which will air Thursday on The Ellen DeGeneres Show.
The former first lady also spoke to DeGeneres about how the gift exchange broke from inauguration protocol and resulted in an awkward moment on the steps of the White House.
On the morning of the inauguration, Donald Trump stepped out of his car and greeted the Obamas—leaving wife Melania to make her way up the steps herself. The first lady then gave her gift to Obama, which prompted some confusion before the couples posed for a photo op together.
"There's all this protocol," Obama explained. "This is like a state visit. They tell you you're gonna do this, you're going to stand here. Never before do you get this gift, so I'm sort of like, 'OK, what am I supposed to do with this gift?'"
"Everyone cleared out, and no one would come and take the box. I'm thinking, do we take the picture with [it]? Then my husband saved the day. He grabbed the box and took it back inside."
News footage of the Trumps' White House arrival from January 2017 shows President Barack Obama directing traffic for the photo op, instructing the Trumps where to stand. Faced with the errant box, Michelle looks stumped at what to do with it—until the 44th president intervenes.
He can be heard saying: "We will take care of the protocol."
So, there we go, folks. The mystery of the Tiffany box is solved.