Melissa McCarthy to Play Sean Spicer on SNL, Offering Distressed, Exhausted Nation Comic Relief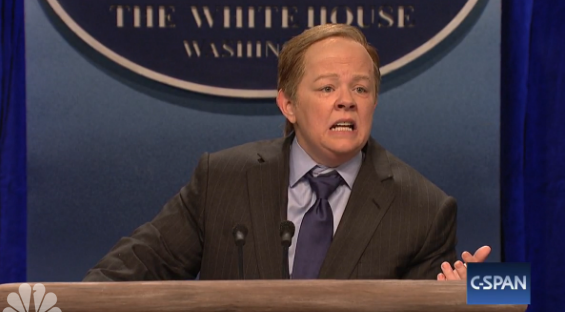 If the nation is going to plunge into a constitutional crisis, it should at least do so with a little laughter.
On Wednesday night, Saturday Night Live strongly suggested on Twitter that Melissa McCarthy would reprise her much-loved imitation of Sean Spicer, the eternally beleagured, endlessly mocked White House press secretary. She will be the show's host. The musical guest will be the trio HAIM.
In the promotional video for Saturday's episode, McCarthy sings "I Feel Pretty" from West Side Story. The video ends with her made up and dressed as Spicer, as opposed to a character in the Stephen Sondheim musical.
The news that McCarthy has him in her sights once more spells a potentially unfortunate development for Spicer, who dealt with Tuesday's surprise firing of James Comey, the director of the Federal Bureau of Investigation, by holding a consultation with his staff in White House shruberry. Wednesday's press briefing was handled (quite capably) by his deputy, Sarah Huckabee Sanders, in what has widely been called an audition for Spicer's job.
Trump is known to have expressed displeasure at seeing his press secretary played by a woman. Others, though, delight in McCarthy's portrayal of Spicer as an unhinged, angry purveyor of the president's lies.
Twitter was thrilled at the prospect of seeing McCarthy play Spicer once more, especially after a week that some said had led to American democracy being imperiled as it has not been since the darkest days of Watergate.