What Happened to Melyssa Ford? Former Bravo Star Involved in Serious Car Crash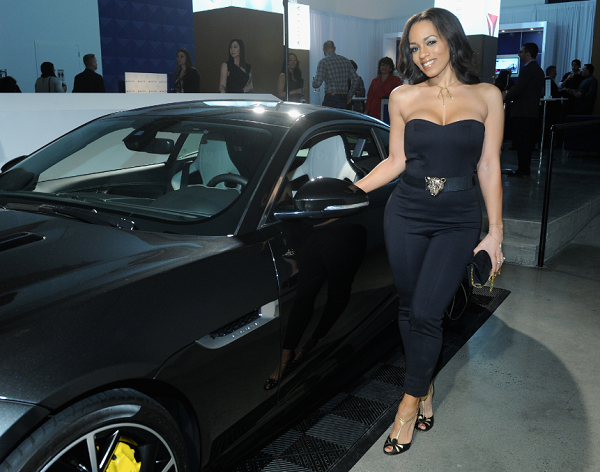 Former reality star Melyssa Ford suffered injuries in a nearly fatal car crash on Thursday, according to People magazine.
The star of Bravo's 2014 series Blood, Sweat and Heels was driving on a Los Angeles freeway when an 18-wheeler truck clipped her back right tire while merging, causing Ford's 2017 Jeep Wrangler Sahara Unlimited to flip over three times before eventually landing on the highway upside down.
The 41-year-old suffered a fractured skull, bleeding on the brain and bodily abrasions. Ford's face and head sustained a 10-inch cut, which doctors had to surgically close with stitches and staples.
Ford's friend and fellow reality star Claudia Jordan, who formerly appeared on Bravo's Real Housewives of Atlanta, shared photos of the horrific accident on Instagram, including one image in which Ford's vehicle is seen overturned. "It's actually a miracle she survived," Jordan wrote. "She doesn't even remember this as she has a huge gash in her head and blood on the brain."
Ford's family members shared graphic photos of the accident with People magazine.
In one photo, Ford's Jeep is standing right-side-up with a smashed-in roof and front windshield. Another photo shows Ford with an incredibly bloody face lying limp on the concrete while witnesses and EMS workers attend to her. The photos were captured by James Harris, a man who stopped to help Ford as he passed by the scene of the accident.
Ford's mother, Barbara Ford, who lives in Toronto, told People that her family would do all they could to help the former model recover. "It's so difficult in circumstances like these to live 2,500 miles away from my only daughter," Barbara Ford said. "Melyssa is strong, always has been. We are going to get through this together."
The Canadian model first rose to fame after appearing in hip-hop music videos, including Jay-Z's 2000 hit, "Big Pimpin." She later went on land a number of small roles in independent films and guest spots on TV series including Showtime's Soul Food and Entourage on HBO before appearing on two seasons of the Bravo reality show.
Ford's family and friends are asking members of the public to come forward with any information they may have on the truck driver, who has not been identified. A GoFundMe page was also launched to help cover Ford's medical care.