A member of the Ohio National Guard was removed from duty after the Federal Bureau of Investigation discovered ties the individual allegedly had to white supremacist ideologies, Governor Mike DeWine said Friday.
The individual, who the governor identified as a man, was one of 100 National Guard members sent from Ohio to Washington, D.C. earlier this week as protesters responding to the death of George Floyd--a black man who died while in police custody in Minneapolis on Memorial Day--gathered in the nation's capital and in cities around the country.
"While I fully support everyone's right to free speech, Guardsmen and women are sworn to protect all of us, regardless of race, ethnic background or religion," DeWine said during a news briefing Friday.
"Our Ohio National Guard members are in a position of trust and authority during times of crisis, and anyone who displays malice toward specific groups of Americans has no place in the Ohio National Guard," DeWine said.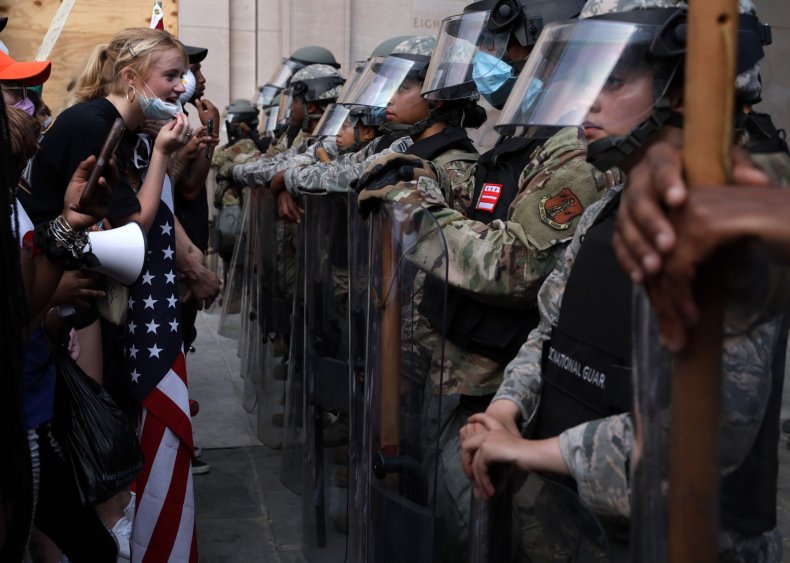 States across the U.S. have in recent days deployed their National Guard units to help local law enforcement officials mitigate what has quickly become one of the country's farthest-reaching calls for justice reform in recent memory. Though protest leaders and Floyd's own brother called on demonstrators to keep proceedings civil, clashes between protesters and police from coast to coast have kept tensions high.
The Ohio National Guard member under investigation for potential white supremacy ties was removed from all missions effective immediately, the governor said. The items online that caught the FBI's attention were posted before the individual traveled with other members of the state's National Guard to Washington, D.C., DeWine said.
The FBI would conduct the investigation into the individual's relevant internet posts with cooperation from the Ohio National Guard and the Ohio Department of Public Safety, the governor said.
The Ohio National Guard did not respond to Newsweek's request for comment in time for publication.
"Due process will take place—whatever that is," DeWine said. "It is highly likely when these facts are confirmed that he will be permanently removed from the Ohio National Guard."
The governor stated that, after learning of the FBI's findings, he began taking steps with the state National Guard's adjutant general to prevent similar incidents from happening in the future. "I have, because of this incident, directed General Harris to work with our public safety director, Tom Stickrath, to set up a procedure so that occurrences like this cannot and do not occur in the future," he said.
"The public must have faith in our Ohio National Guard," DeWine also said.