Members-Only MoMA Event Reveals $450 Million Renovation and Unwanted Activists
The members-only preview party of the $450 million renovation at the Museum of Modern Art in New York commenced Friday night amidst a protest of approximately 100 people.
The organizations that gathered inside and outside the museum were there to protest MoMA's connection to private prisons and demand that board member, Larry Fink, divest all assets from weapons manufacturers and private prisons, including Immigrations and Customs Enforcement (ICE).
In the initial open letter to the museum from over 220 artists, academics and curators, they alleged that MoMA's pension fund is through Fidelity Investments, which is also one of the largest owners of these private prison companies.
Larry Fink, CEO of BlackRock, is the second largest shareholder of GEO Group and Core Civic, two companies who operate private prisons. With over $2 billion in contracts with ICE, these companies have been responsible for 70 percent of all immigration detention including families separated at the border.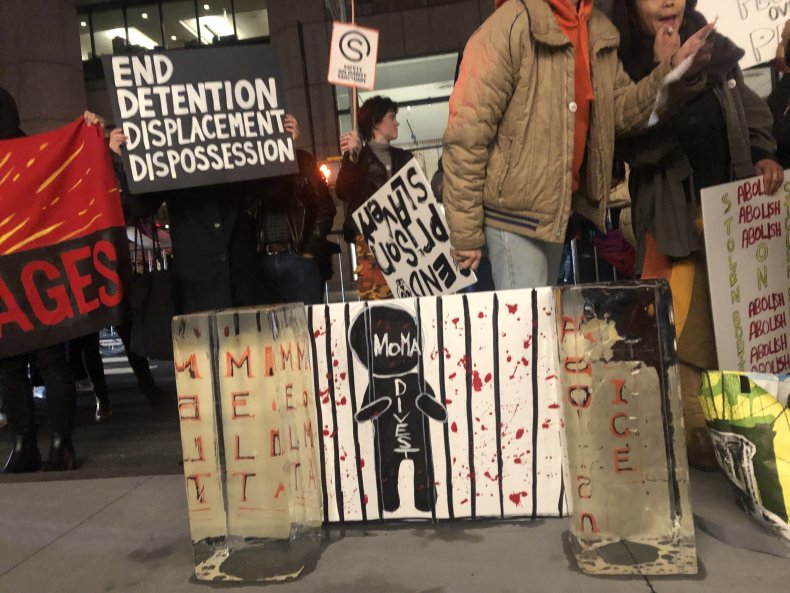 Protesters outside the museum handed out flyers as members arrived, chanting "Stop the U.S. war machine!" Many organizations were represented at the protest, from Codepink and Decolonize This Place, to Art Space Sanctuary and Sin Fronteras.
Once the guests were inside, 15 activists infiltrated the members-only event and unfurled banners in the main space. One banner said "MOMA/FINK Make Sanctuaries Not Prisons," and another one read "Burn prisons, plant trees."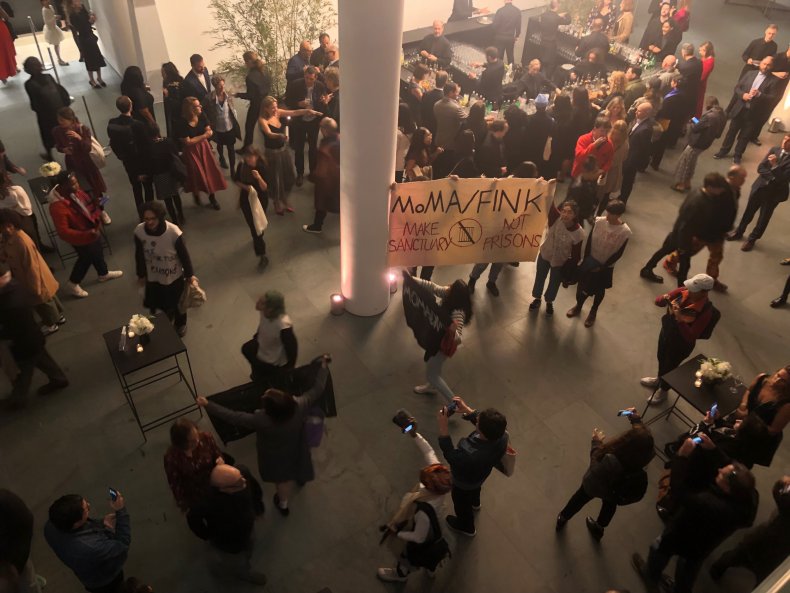 A group employing "the people's microphone" also read the open letter out loud, shouting parts together in unison.
"MoMA has spent over half a billion dollars to remake its image and its building in midtown Manhattan. We suggest instead that funds be redistributed towards alternative models of well-being, community-based creativity, sanctuary, land restitution/defense for indigenous peoples, and the material improvement of dispossessed communities worldwide."
This ended with a loud and organized spectacle that involved a great deal of screaming until the infiltrators were kicked out of the museum. They rejoined the demonstration outside and continued the protest.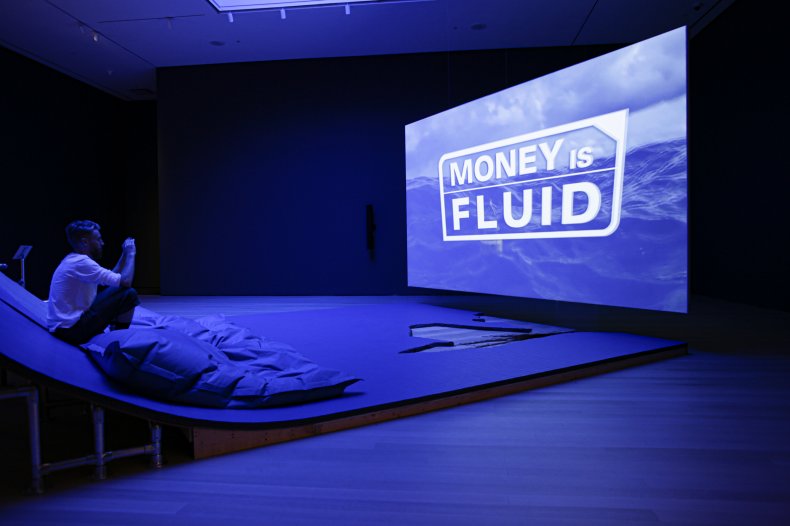 Codepink organizer, Rose Asaf, told Newsweek people outside and within the art world assisted them with logistics, like Abou Farman who is also an Art Space Sanctuary organizer.
The protesters say divesting is possible.
"New York City's pension fund has divested! Even JP Morgan, Bank of America and Wells Fargo have agreed to cut loans to these companies."
In addition to their demands, the organizations have asked that MoMA and Larry Fink meet with concerned artists, community leaders, immigrant rights organizations and detainees to hear the real story about the shares they own and how these funds should be redistributed.