Memorial Day Books: Best-Selling Author Writes to 'Nail Heart and Soul' of Fallen Service Member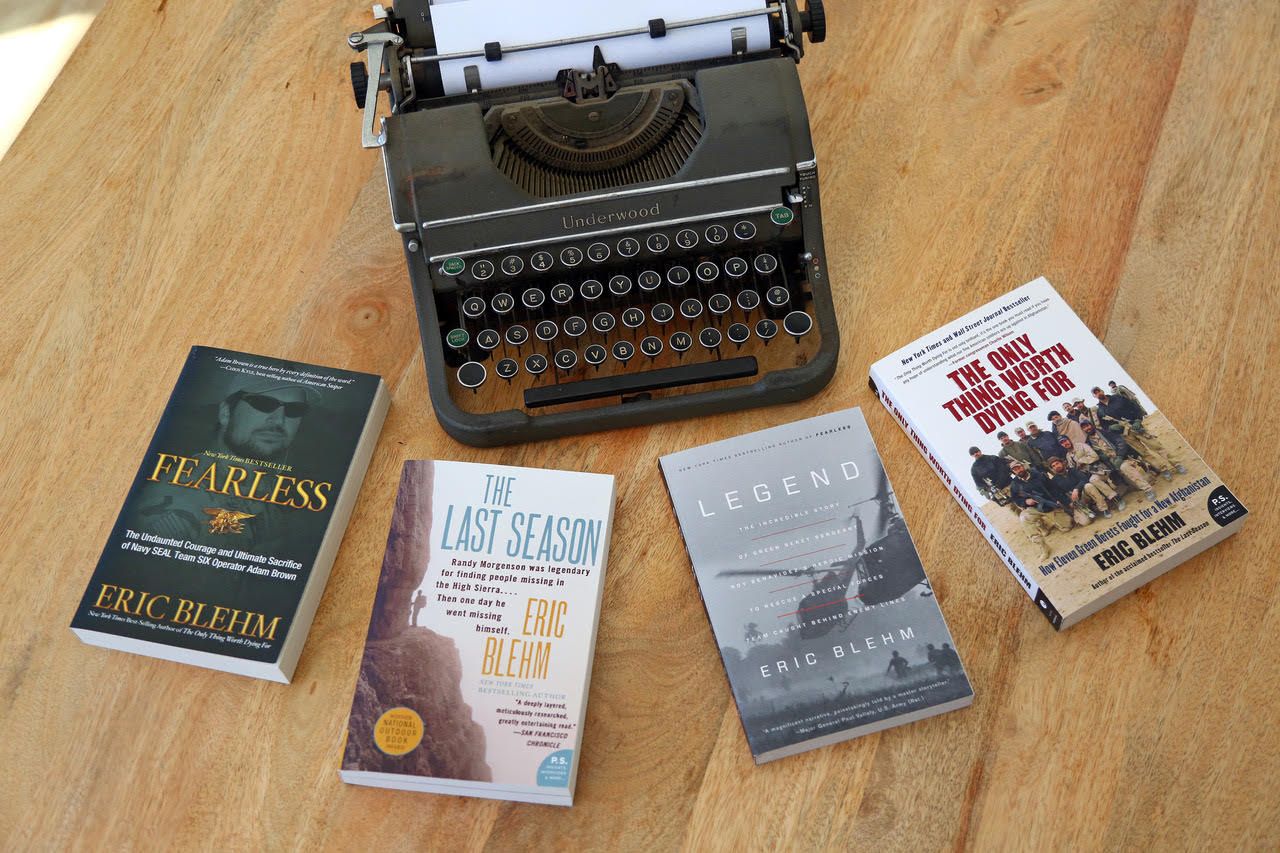 Almost 20 years and three books about service members killed in the line of duty, or nearly killed, later, New York Times bestselling author Eric Blehm's goal remains the same: "nail their heart and soul."
Celebrated annually on the last Monday in May, Memorial Day is a time to pause and pay tribute to those who made the ultimate sacrifice in serving their country. The Only Thing Worth Dying For and Fearless, two of Blehm's books, describe the lives and deaths of Special Forces Army Sergeants Dan Petithory and Jefferson "JD" Davis and Navy SEAL Team SIX Operator Adam Brown, respectively. Legend tells the story of Special Forces Master Sergeant Roy Benavidez who was wounded more than thirty times during the Vietnam War.
"It's a great feeling when you know you've helped somebody who's served their country to not only tell their story of service but to convey their journey to inspire others," Blehm told Newsweek. "That's why their spirits live forever."
Blehm honors the subjects of his books by honoring the truth of their stories, even if parts are difficult to read. It's a guideline, Blehm told Newsweek that Dan's father Lou Pethitory instilled in him during a weekend visit.
"I want you to portray him like he was," Lou told Blehm. "Don't do some over the top hero story. Just tell it like it happened and that's how you can best honor him."
Each of Blehm's four books tells a different person's story, but regardless of the setting, the subject or the details, his central focus doesn't waver. While readers will find technical aspects on the pages between the covers, his stories are about more than explosions and missions, they're about humanity.
"They're human at the end of the day. They're warriors, but there's a human side to every warrior," Blehm explained.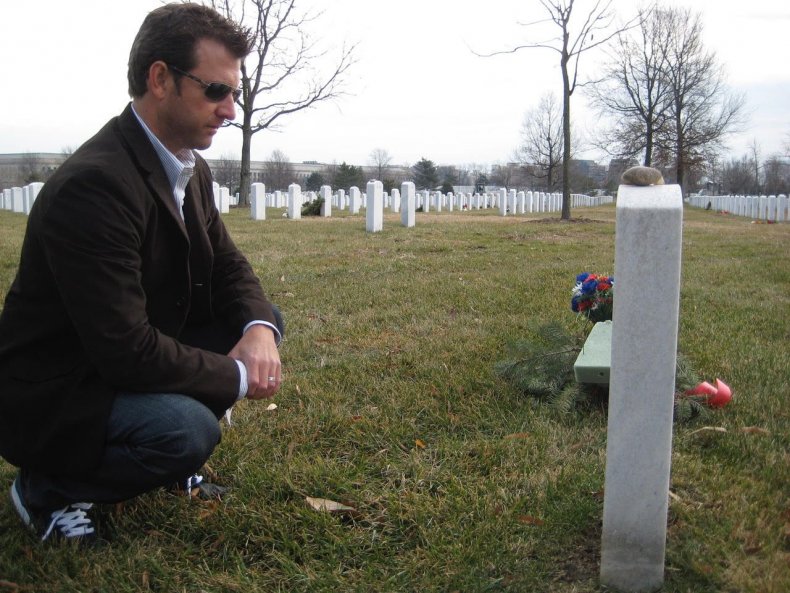 Blehm's spent more than three years researching a book and the journey to publication begins with the person's family. One interview tends to lead to another, which brings him to another person, until, at times, he has an overwhelming amount of information.
As a writer, Blehm admittedly wants to get everything in the book right. If he's uncertain about something, he leaves it out because he would "rather have a hole than fill it with bullshit." However, there's one facet of his books that must be conveyed properly without exception.
"I don't know if I'm going to be very poetic with this but I want to nail who they are and I don't know a better way to say that. I want to nail their heart and soul," Blehm explained.
At the completion of each book, in the back of his mind, Blehm said he knows he's dutifully honored the person. Still, his stories are filled with "harsh realities" and it's impossible to predict with full certainty the reactions. While his contemporaries wait in anticipation for a New York Times review, he's spent at least one sleepless night waiting to hear from the families.
Handing Fearless to Adam's widow, Kelley Brown, and his parents, Larry and Janice, was the "most nail-biting" part of the process and possibly the most nervous he's been in his life. When his phone rang and Larry was on the other end of the line, Blehm weighed the possibility that he either couldn't read it or it was so bad he couldn't continue reading it.
"We absolutely love what you did to honor our son," Blehm said Larry told him in his Arkansas drawl. After a tearful moment between the two men, Janice took up the receiver.
"It was really hard to read about the hard parts, his years of addiction, but you really took it to heart when I told you, you can't see how high Adam rose unless you show how hard he'd fallen," she told Blehm.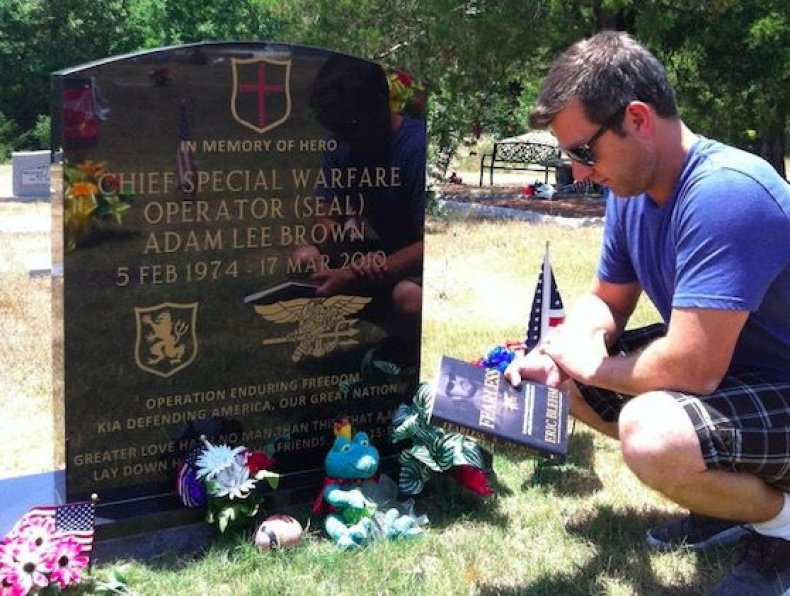 Growing up in Arkansas, Adam's daredevil personality eventually led him down a path splintered with drug addiction and jail time. In pulling himself out of the darkness he immersed himself in the Christian faith and married Kelley. His drug and criminal past required a special recommendation to join the Navy and at the age of 25, he was considered old to be a Navy SEAL candidate.
In his final act of bravery and selflessness, Adam drew fire away from his teammates during a mission to capture a high-ranking Taliban official in Afghanistan in March 2010, costing him his life.
Kelley also read the book, which exceeded her expectations, and decided to read it aloud to her children, Nathan, 10 when his father died, and Savannah, seven. Although, she skipped one part, the pages about her husband's death. It had to be included, Kelley told Newsweek, because it showed how "brave and duty bound" her husband and his teammates were to completing the mission, but it was too much for her and her children.
"I was told by other SEALs the book got it right, and I skipped right past those pages when I saw it was coming," Kelley said. "It's like, you know what's coming, but you wish it could have a different ending."
The book exposed Nathan and Savannah to a side of their father's past they hadn't seen while he was alive. Growing up, he was both a goofy dad who called cupcakes "muffins" so they could eat them for breakfast and a larger-than-life warrior. Fearless showed them the uglier side of his life–the drugs, jail time and felonies–and it wasn't easy for them to accept. Re-reading it as they've grown, Nathan's discovered he's quite similar to his father and Savannah's been able to realize how special and heroic her father was.
"For my kids, I think it shows them they can choose their own path, just do what you love, and follow your heart, and have faith," Kelley explained. "There's so many inspiring messages of redemption and strength. There's a lot of heart in that book, and Adam had a huge heart."
The book isn't just about Adam though, it's about everyone who's sacrificed for their country.
"I like to think our book about Adam honors all of them because his book really shows the humanity in our military," Kelley said. "He was a shining example. God bless them all for their service and their sacrifice."
It's tough to know whether a book will hit home with readers or if you should have hit delete while you still had the chance. After the thousandth time re-reading the same sentences they can lose their effect, but Blehm has a standard of knowing when he's chosen the proper words.
"If you're crying while you're writing it, it's right."