Memorial Day 2019: Google Honors Fallen Service Members With Grey Homepage, 'Taps'
In observance of Memorial Day, a Google programmer memorialized a Marine major that altered the course of his life and the search engine's homepage went grey as a way to remember all of those who have served.
Memorial Day, marked annually on the last Monday of May, is a federal holiday created to honor the military members who gave their lives in service of their country. Some people use the day off from work to visit Arlington National Cemetery, pay tribute to local fallen soldiers or don a red poppy.
On Monday morning, Google's homepage took on a different form. The ordinarily colorful Google logo was instead a light grey against a white background. The white background also transformed into a grey one with a folded American flag at the bottom.
In 2000, then-President Bill Clinton signed the National Moment of Remembrance Act into law. The act, which was approved by Congress, called for people to engage in a "symbolic act of unity" on Memorial Day to remember the men and women who "died in pursuit of freedom and peace."
That "symbolic act of unity" takes places at 3:00 p.m. local time each year on Memorial Day. Those who find themselves on Google's homepage at that time can press the "play" button above the folded American flag and "Taps" will play.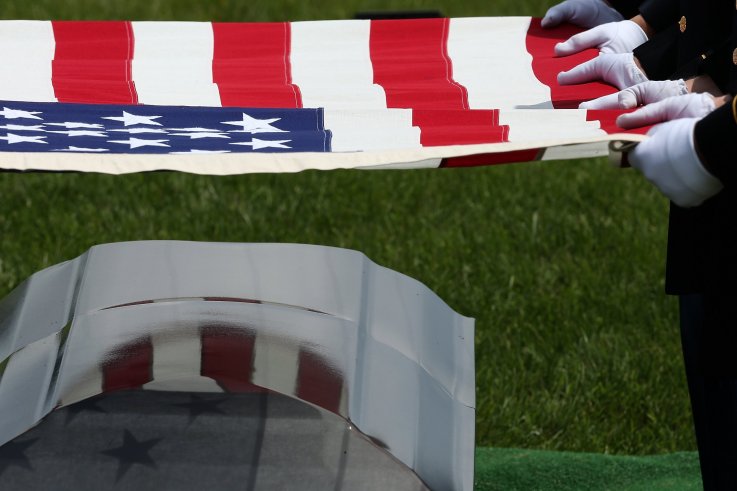 Union General Daniel Adams Butterfield created "Taps," as we know it today, during the Civil War, according to the Department of Veterans Affairs. It was played at the end of each day and was dubbed the official Army bugle call after the war. However, it wasn't until 1874, 12 years after its creation, that it was officially named "Taps."
Over 100 years later, the melody is played at military funerals and when a flag is lowered.
To accompany its homepage's temporary re-design, Google also published a blog, written by veteran Marine Major Nick Ralston. Ralston also works as a program manager and leader of the Veterans Network.
Ralston attended the Naval Academy and always wanted to become a Marine, but it was his rugby coach, Lieutenant Colonel Kevin Shea who convinced him to pursue it during his sophomore year. Shea was killed near Fallujah, Iraq, the following year.
"He was the first person I knew to be killed in action and the first person I think of on Memorial Day, the federal holiday remembering and honoring persons who have died while serving in the Armed Forces," Ralston wrote.
At 3:00 p.m. on Monday, Ralston said he'll listen to Taps and think of Shea and others, noting that the list "never gets smaller." While the moment will be marked with sadness, he said he'll celebrate "in the ways they would have wanted."
"I'll always wonder what Kevin saw in me (it certainly wasn't my haircut), but I take pride in bearing witness to his legacy and that of everyone else who made the ultimate sacrifice for our country," Ralston concluded.
Memorial Day 2019: Google Honors Fallen Service Members With Grey Homepage, 'Taps' | U.S.