What Lake Boat Rentals Are Open For Memorial Day? Texas, Arizona, Tennessee and More
Americans may have to celebrate Memorial Day a little differently this year, but some traditions still stand. As Memorial Day is the unofficial start of summer, it's also the start of the boating season.
Memorial Day weekend is a great opportunity to get out on the lake and spend time with your family. Many lake boat rentals are open across multiple states, including Arizona, Nevada, Texas and Tennessee.
David Callejas, the owner of Float On Boat Rentals in Texas, told KVUE abc: "We've been cooped up in our home for the last couple of months and everybody is trying to find something to do where they can still feel safe and they aren't overstepping their boundaries and if things are okay or not.
"The lake and the boat is a great way to come out and enjoy yourself even for a couple of hours this weekend."
Callejas said the lake boat rental company is providing extra sanitation and encouraging guests to wear face masks in the parking lot.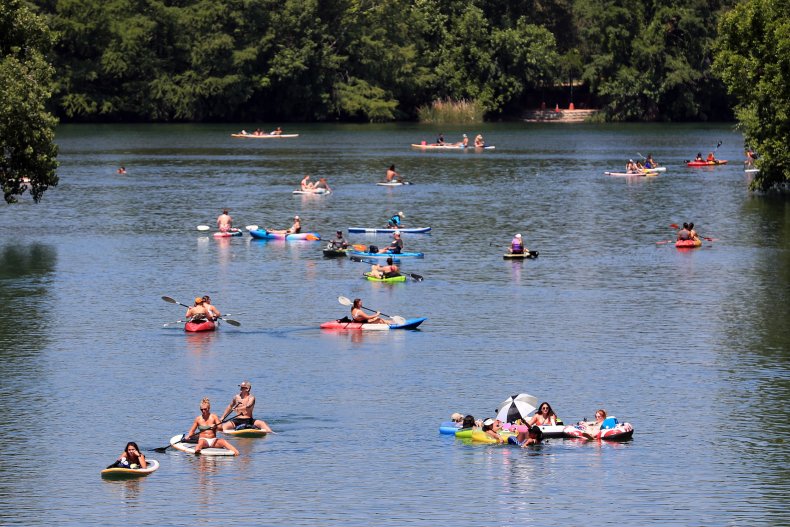 Texas
On Lake Austin, kayaks, canoes, and paddleboards are allowed, but personal watercraft, wet bikes, motorized surfboards are banned until Tuesday morning. The ban is to ensure the safety of those visiting the lake of Memorial Day weekend.
The marinas at Lake Texoma are expecting Memorial Day to be busy and the boat ramps at Canyon Lake are open.
Arizona
Westside Recreation is renting out boats on Lake Pleasant and The Desert Belle began cruising Saguaro Lake on May 23.
Tennessee
For boat rentals on Tennessee River, head to Volunteer Landing Marina in downtown Knoxville or the Volunteer Cove Marina on Maryville Pike. Those looking for paddling rentals can head to the Knoxville Adventure Collective at Volunteer Landing or River Sports Outfitters on Sutherland Avenue.
There are many lake boat rentals on Norris Lake, including Beach Island Marina, Blue Springs Boat Dock, Cedar Grove Marina, Flat Hollow Resort, Hickory Star Marina, Indian River Marina, Lakeview Marina, Lone Mountain Dock, Mountain Lake Marina, Norris Dam Marina, Norris Landing Marina, Powell Valley Resort, Sequoyah Marina, Shanghai Resort, Springs Dock Resort, Stardust Marina, Straight Creek Dock, Sugar Hollow Marina, Twin Cove Marina, Union County Marina, Waterside Marina, and Whitman Hollow.
If you're looking for a boat rental on Douglas Lake, try H2O Sports, Swann's Marina, The Point Resort and Marina, Mountain Cove Marina, Douglas Marina, Smoky Mountain Lake Adventures or Lighthouse Pointe Marina.
On Cherokee Lake, boat rentals are available at Black Oak Marina, Greenlee Campground, and Lakeside Marina.
Nevada
Callville Bay Resort a Marina is offering small boat and houseboat rentals from 8 a.m. to 5 p.m. local time, daily.
Cottonwood Cove Resort and Marina has small boat and kayak rentals available from 8 a.m. to 3 p.m., Thursday through Monday, and from May 29, houseboat rentals will be available too, from 8 a.m. to 5 p.m. every day.
Willow Beach Marina and Campground has small boat and kayak rentals available from 8 a.m. to 3 p.m. every day.