For Memorial Day, One Veteran's Story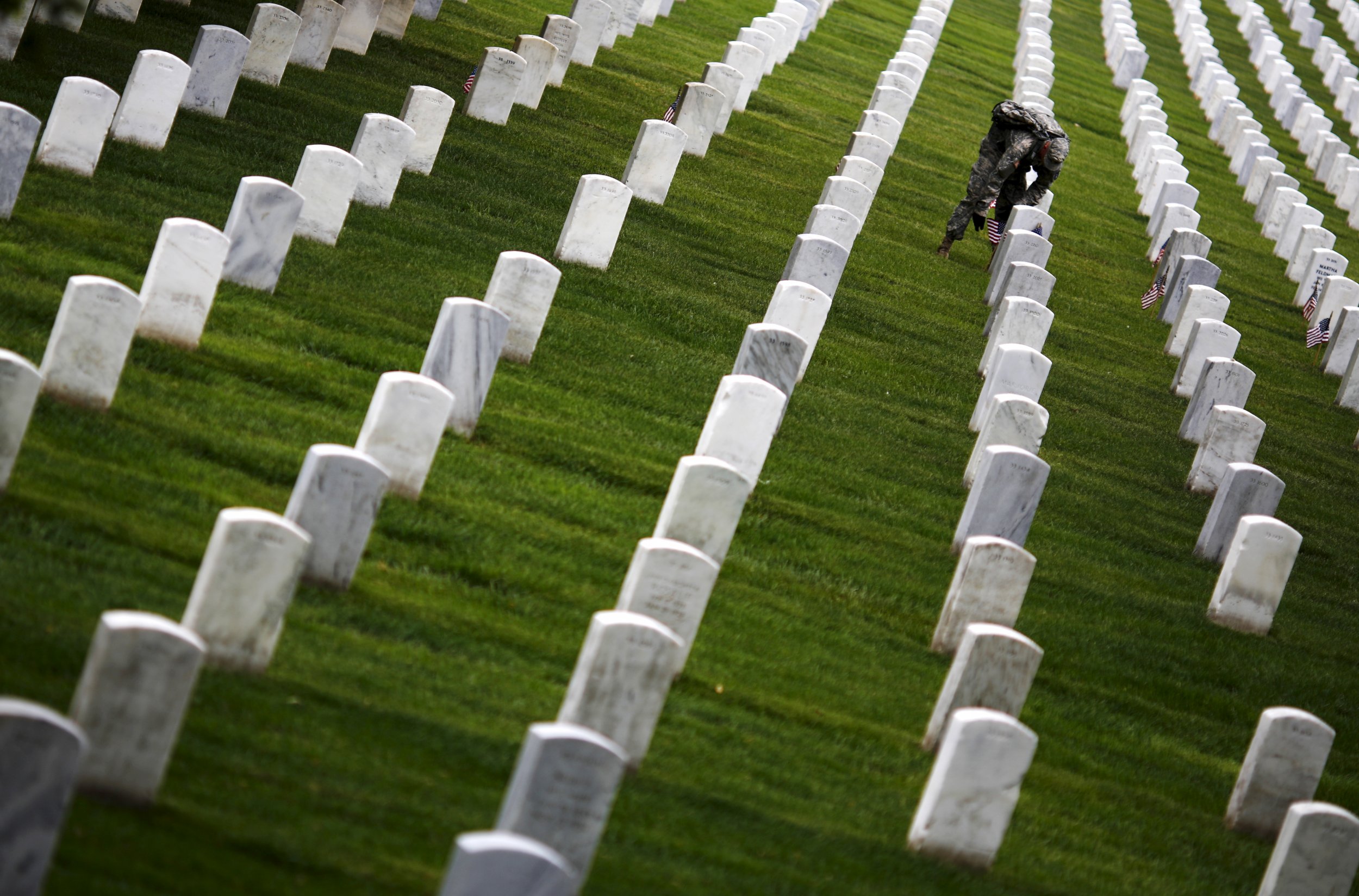 On Memorial Day, we honor those who died while serving their country. But how should those who don't have personal connections to such losses commemorate their sacrifice? The Library of Congress's long-standing Veterans History Project suggests talking to veterans, and paying tribute to the legacy of service and sacrifice by listening to their stories.
The Veterans History Project, created by Congress in 2000, currently holds 97,620 collections of veterans' stories—audio interviews, pictures and documents—ranging from World War I to the more recent conflicts in Iraq and Afghanistan. Nearly 57,000 of the accounts are from those who served in World War II, as Congress mandated that older veterans' stories be gathered first. One of those stories belongs to my grandfather, Eric L. Strauss, who passed away in March 2011.
My grandfather was never forthright with his story—being Jewish in Nazi Germany, escaping to America and fighting a brutal war against his home country. A strong, silent type, he chose to shield his children and grandchildren from the horrors of his experiences and bear the painful memories alone. But when approached by the Veterans History Project, he came to understand that history is not merely a recitation of past events. Rather, it is a collection of thousands of individual stories, each with a unique vantage point. By exploring individual stories like his, future generations can better understand the realities of war.
On Memorial Day, those who made the ultimate sacrifice in battle cannot tell their stories. But we can get closer to understanding their experiences by listening to the stories of veterans whose lives were touched by their service.
Eric was born in Mainz, Germany in 1924 to an affluent family. His father Sigmund, a war hero in World War I, worked for a men's clothing factory and married the boss's daughter. Eric's mother, Anna, stayed home and took care of the children. Eric led a very common German life, one filled with school and soccer matches with his friends. That was until the early 1930s when the Nazi party came to power and being Jewish meant he was no longer a welcome member of German society.
"The students in the high school really started going after me and the situation became intolerable," Eric recalled to an interviewer with the Veterans History Project. One by one his Jewish classmates left the school, and he wound up being the last Jewish student. His parents enrolled him in a Jewish High School instead, but it was many miles away and he had no choice but to move in with another family. It would only be a few months before Eric would leave his German home, as well.
Eric's father decided it was finally time to flee after a harrowing encounter with Nazi officers. They approached Sigmund and offered to buy the family business for a measly sum. When he refused, the officers threw him in jail. Their message was quickly received; Sigmund sold the business, was released and quickly headed to the American consulate to apply for emigration. In October 1938, just weeks before Kristallnacht, the family received their visas and were able to leave the country.
The family arrived in New Jersey and set up shop, literally. His parents opened a small neighborhood general store in Union City to help support their new life. Once the store was up and running, the children were sent off to school. At age 14, and with little English knowledge, Eric was put in the first grade. "If you did well in your class, they would skip you to the next grade level," he said. "I never quite caught up to my age group...I really got bored with school."
In 1941, the U.S. joined the war and so did Eric, at the tender age of 17. He had a week to pack his personal belongings, and then trekked out to New Jersey's Fort Dix. There, he spent a few weeks learning the rules and regulations of Army life, including how to salute, how to make your bed and how to survive. He was then sent off to basic training in Fort McClellan, Alabama. "It became very obvious that we were gearing up for something large," he said. But he missed his shipping orders a few times, once because his Army-issued eyeglasses cracked, another time because his mother was having surgery for cancer. He eventually shipped out to England with the 4th infantry division, and he arrived in January 1944.
After months of training and keeping in shape, all the while awaiting orders, Eric's infantry division crossed the English Channel to France on June 5. The next day happened to be D-Day; Eric was part of the second wave to hit Normandy's Utah Beach. The first wave had arrived hours earlier; the second wave was meant as reinforcement. "My own personal assignment was to carry wire cutters so when we came to the barbed wire put up by the Germans to protect the beach," he said, "I would crawl up to the wire and clip it so the rest of the troops could move through without getting entangled." Fortunately, the fences were left undefended. Once the troops made it beyond the beach, it was their mission to take Cherbourg.
"How did it feel to be a German, to be born and raised in Germany, and then be fighting German troops?" the interviewer asked.
"Being Jewish, there was no love lost," he said. "As far as my fellow soldiers were concerned, they said, 'Oh, we have a German speaking soldier here, so if we capture anybody, he can find out information for us." Over the next few weeks, Eric served as a translator, letting Germans who were captured or surrendered to U.S. forces know that they were prisoners of war.
As the troops moved through French farm country, they found Germans hiding behind hedgerows, which the farmers used to mark off the periphery of their land. "This was ideal for Germans to hide behind with machine guns and wait for the Americans," he said. The U.S. would use tanks to bulldoze the hedgerows and expose German hiding spots.
Despite the American ingenuity, more than half the troops were killed there. Down in numbers and quite disorganized, the troops approached what appeared to be a German stronghold, which they soon got word American planes were about to bomb. Everyone scattered, and that's when Eric got hit in the leg and lower abdomen. "I don't know what hit me, whether it was shrapnel or machine gun fire," he said. "I...wasn't able to walk...so I used my gun as a crutch."
As he staggered alone, fellow American troops spotted him and carried him to safety. He received emergency surgery and was stabilized at a field hospital before he was sent to an American base hospital a week later. After months of rehabilitation, the medical staff decided he was unfit to fight and discharged him.
Like all Americans drafted before graduation, Eric automatically received his high school diploma. He decided that with the money given to him under the Veteran Administration's program for disabled veterans he would go to college to study engineering. "I had an interview with one of the college advisers [who] said I would have some difficulties with the course work because I hadn't completed...the prerequisite courses," Eric said. "I convinced him I could catch up on my own."
Eric caught himself up on chemistry and math and entered Stevens Institute of Technology in Hoboken, New Jersey in 1945. When he graduated in 1949, he accepted a job in Virginia with the National Advisory Committee for Aeronautics, later known as NASA. He would go on to be instrumental in the development of the Space Shuttle heat shield, enabling America to venture into space.