Memorial Day: The Story of a Hero Son, a Dad's Grief and a Hit Song | Opinion
I was in my car on Memorial Day back in 2011. I was running errands in the family SUV when I stumbled across a story on the radio. The kind that's so good, you stay in the car long after you've reached your destination.
It was an interview with the father of a fallen soldier on a show called "Here and Now." His name was Paul Monti, and his son Jared was killed in action in Afghanistan in 2006 while trying to save the life of a fellow soldier. Jared received—posthumously—America's highest honor for heroism: the Medal of Honor.
Monti was being interviewed because he was on a mission. On the Veterans Day after his son was killed, he tried to place a flag near his son's grave at National Massachusetts Cemetery on Cape Cod. Officials said he couldn't. The grave markers were flush with the ground, and flags would make it hard to cut the grass.
Not pleased with that answer, Monti did what any Gold Star parent would do: he fought it. He got the rule changed, and took things a step further: he started an organization called Operation Flag for Vets. On the day he was being interviewed, he'd enlisted over 1,000 volunteers to plant flags at not just his son's grave, but the 55,000 plus graves at the cemetery.
If the story ended there, it would have been a good one. But it got better. Monti told several stories about his son Jared. How he was always helping people, especially people facing tough circumstances. One story centered around a kitchen set Jared and his pals at Fort Bragg had purchased for their home.
"One day his buddies came home and the kitchen set was missing," Monti recalled. "And they asked him where it was and Jared said, 'Well, I was over at one of my soldier's houses, and his kids were eating on the floor, so I figured they needed the kitchen set more than we did.' And so the $700 kitchen set disappeared. That's what he did."
Monti talked about how his son never sought attention or fanfare. "All of his medals went in a sock drawer," Monti said. "No one ever saw them; he didn't want to stand out."
Then came the most emotional part of the interview. The part where Monti talked about his son's truck. He still had it. And he still drove it. When asked why, he had a heartbreaking answer.
"What can I tell you? It's him," Monti said, clearly holding back tears. "It's got his DNA all over it. I love driving it because it reminds me of him, though I don't need the truck to remind me of him. I think about him every hour of every day."
The truck, we learned, was a Dodge 4X4 Ram 1500. The decals were still on it. An 82nd Airborne Division decal, a 10th Mountain Division decal, an American flag decal, and a Go Army decal, too.
As detail upon detail piled up, I began to cry. Really hard. Like a pipe burst. I found myself sitting in my SUV in a Walmart parking lot, all alone, crying like a schoolboy. Crying for Paul Monti. For all the parents and spouses, brothers and sisters, sons and daughters who ever lost a loved one on the battlefield.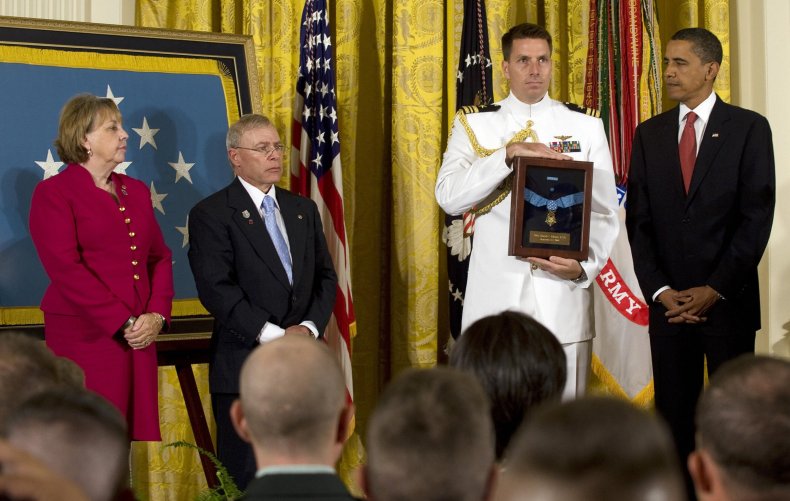 I was also crying because I remembered my mother telling me about the day she found out her brother was killed in World War II. This was back before there were support groups for such things, before we knew what PTSD was, before anyone dared to talk about war, and the carnage it left behind.
It was the summer of 1944. She remembered a black government car pulling up to her apartment building in West New York, New Jersey. The men stepped out of the car and walked up the stairs. A dozen or so families lived in the building, and several had loved ones who'd volunteered to fight. Her brother John was one of them: he signed up when he was 18.
She told me she felt terrible praying that it would be someone else's door those men knocked on. Then she heard the footsteps stop. In front of her door. She was 13. She told me she never heard her mom cry so hard when those men knocked on the door. Her mom didn't need to open the door to comprehend the news.
Her dad barely cried. But she never again saw him enjoy his life. He'd lost not just his son, but his only son, my mom told me. He'd lost his bloodline.
But back to Paul Monti's story. It turns out I wasn't the only one alone in a car crying that day: Connie Harrington, a Nashville songwriter, was in her car, too. She was moved to tears by Monti's story, and pulled over to the side of the road to take notes. When she got home, she couldn't get his story off her mind, especially the story of that truck. With the help of two writers, a newly birthed song found its way to country singer Lee Brice, who recorded it.
The first verse and chorus of "I Drive Your Truck" perfectly captured the detail and emotion of Monti's story.
Eighty-nine cents in the ash tray
Half empty bottle of Gatorade rolling in the floorboard
That dirty Braves cap on the dash
Dog tags hanging from the rear view
Old Skoal can, and cowboy boots and a Go Army Shirt
Folded in the back
This thing burns gas like crazy, but that's alright
People got their ways of coping
Oh, and I've got mine
I drive your truck
I roll every window down and I burn up
Every back road in this town
I find a field, I tear it up
Till all the pain's a cloud of dust
Yeah, sometimes I drive your truck
"I Drive Your Truck" was a hit for Brice, and earned Song of the Year honors at the 2013 CMAs. The YouTube video has amassed almost 30 million views.
If this story ended here, it would be a beauty. But it got better.
Not long after the song was released, Monti was contacted by a woman who'd lost her son in the same firefight as Jared. "She sent me a message that she'd heard the song," Monti told a reporter, "and that I had to listen to it. She knew I drove Jared's truck and she drove her son's truck."
Monti told reporters that he had a hard time making it through the whole song. "I'd get into it a few bars or so and kind of welled up," he said.
What Monti still didn't know was that it was his story on the radio that had inspired the song. The songwriters kept trying to track Monti down: they couldn't enjoy the song's success without him knowing he'd been the source of its inspiration. They eventually tracked him down, and flew him to Nashville to celebrate the song's success.
The only part of the story still worth telling is the most important part. On June 21, 2006 in the Nuristan Province in Afghanistan, Staff Sergeant Jared Monti's 16 man patrol came under fire from 50 enemy fighters. One of his guys, Pvt. Brian Bradbury, was wounded by an RPG and needed help. But there was a problem: he'd fallen just over a ridge in what soldiers who were there described as a "death zone." Another soldier told Jared he was going to try and save Bradbury, but Jared set him straight. "That's my guy," Jared replied, according to Stars and Stripes. "I'm going to get him."
Despite an intense firefight, and bleak odds, Jared tried not once or twice, but three times to save Pvt. Bradbury. The last try—that third try—got him killed.
"One of the last things he said was that he'd made peace," said Staff Sgt. Chris Grzecki. "And to tell his family he loved them."
Those words, and the Medal of Honor itself, couldn't console Monti. The father explained to everyone listening why his life would never be the same. "Your child is your future," he said. "When you lose your child, you've lost your future."
Lee Habeeb is a Vice President of Content at Salem Media Group, and is host of Our American Stories, a nationally syndicated radio show and podcast.
The views expressed in this article are the author's own.​​​