Memorial to Fallen Police Officers Defaced with 'Defund the Police' Graffiti
A police memorial in Little Rock, Arkansas was defaced overnight with graffiti that read "defund the police."
Below, the name of Breonna Taylor, a Black woman killed in a police-involved shooting this past March in Louisville, Kentucky, was written at the foot of the memorial.
In a statement made the following morning, the Little Rock Fraternal Order of Police called the vandalism of the memorial "despicable."
"Last night criminals decided to deface a memorial to officers who gave the ultimate sacrifice in service to the citizens of LR and to the very same freedoms that allow protesters the right to free speech. This despicable act is disrespectful to their families and their memory," the Thursday statement read.
Arkansas Senator Tom Cotton also took to Twitter to condemn the graffiti.
"The vandalism of the Little Rock Police Memorial for Fallen Officers is egregious, and those responsible for this act will be caught and held accountable," he tweeted on Thursday.
"Defund the message" was painted outside the Little Rock District Court building, alongside another that read: "Daniel Prude Say His Name."
Officials said that around 3:20 a.m., officers noticed a fire behind the Rose City substation. One patrol vehicle had been set on fire while other vehicles in the vicinity had their tires slashed, according to a statement sent to Newsweek from the North Little Rock Police Department.
The department said detectives are currently investigating these acts of vandalism.
Thursday morning's incidents come on the heel of other attacks that have targeted the city's law enforcement.
On the morning of August 26, officers found two suspected Molotov cocktails that had not exploded and the tires of four patrol vehicles slashed at a police substation after a night of protests, according to the North Little Rock Police Department.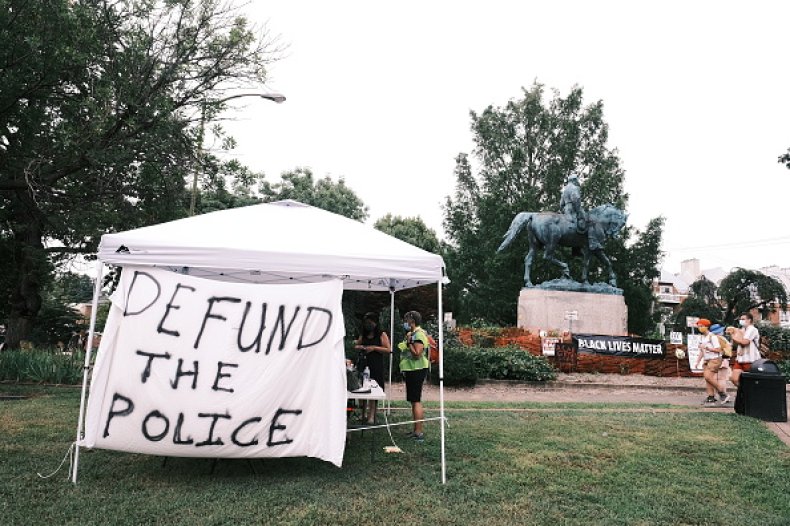 The police union of Little Rock has since pushed for more security surrounding police stations.
"I knew this was going to happen at some point. I knew this was coming," Erik Temple, the vice president of the Little Rock Fraternal Order of Police, told KATV. Temple said these instances could be avoided if security around stations was increased.
In response to the protests against police brutality that have sparked across the nation, a number of cities and police departments have reformed legislation targeting racial injustice.
On July 8, Little Rock announced it was the first city in the state to adopt a hate-crime ordinance after the City Board of Directors unanimously approved the measure, making such crime fineable of up to $1,000.
Update 11:57 a.m. ET: This story was updated with comments from the North Little Rock Police Department.