A mural paying tribute to the victims of the 2016 mass shooting at Orlando, Florida's Pulse nightclub has been vandalized by white supremacists.
The memorial mural was located on an outside wall of The Center, an Orlando LGBTQ advocacy organization. A logo for Pulse nightclub that is featured in the middle of the mural was covered by a sticker from the Patriot Front, a group that the Southern Poverty Law Center (SPLC) categorizes as a "white nationalist hate group."
"'We have shown Orlando before that love is always stronger than hate' is the message I would like to relay," said George A. Wallace, The Center's executive director, in a statement to Newsweek on Friday. "I was made aware of the sticker via a social media post. Upon doing a thorough building check, I discovered a second sticker on the front of the building. While our fiber optic internet lines were also damaged, we are unclear if the incidents are related."
"It saddens me that white supremacist groups exist, especially in Orlando," Wallace added.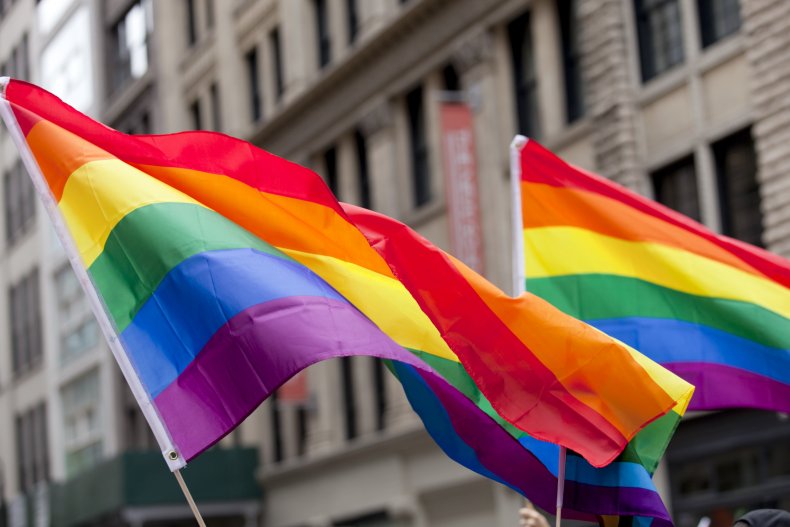 Patriot Front, which has been called "the most active white supremacist group in the nation," is thought to have a membership of around 300, according to the nonprofit news outlet ProPublica. The group was formed in the aftermath of Charlottesville, Virginia's 2017 "Unite the Right" rally. It frequently uses "patriotic" imagery and associated references in propaganda materials promoting the group's goal of transforming the U.S. into a whites-only country.
The hate group has been active recently in Florida, distributing propaganda featuring slogans like "Reclaim America" and "Better Dead than Red" in several locations including Orland's University of Central Florida, according to the Anti-Defamation League.
In a Facebook post earlier in the week, The Center said that their phone lines were down after lines had been cut on Tuesday. The group also said that their building had been defaced with spray-painted tags, although it is unclear whether the incidents are related to the mural vandalism.
The Pulse shooting was at the time America's deadliest-ever mass shooting, surpassed only by the Las Vegas shooting the following year. It remains the deadliest attack targeting LGBTQ people, with 49 being killed and dozens of others injured at the gay nightclub.
In August 2018, a mural memorializing the Pulse victims on the outside wall of a gay bar in Muncie, Indiana was also defaced by vandals. A rainbow mural painted in Houston, Texas in the aftermath of the shooting was defaced months later in 2018, with vandals painting the words "stop your gay agenda."
A permanent memorial and museum is expected to open at the site of the now-closed nightclub in 2022.