How Did Serial Killer Dennis Nilsen Die?
Memories of a Murder: The Nilsen Tapes is the latest true-crime documentary on Netflix you do not want to miss. The documentary features recordings made by Dennis Nilsen from his prison cell, where he details his life and the horrific crimes he committed in the late 1970s and early 1980s.
Between 1978 and 1983, Nilsen, murdered at least 12 young men and potentially many more at two addresses in North London. He was jailed for life in 1983 with a recommendation he serve a minimum of 25 years after being convicted of six counts of murder and two of attempted murder. Nilsen was one of a growing list of British criminals who have received a whole life tariff, meaning he would never be released from prison. He joined the likes of killers Stephen Port, Christopher Halliwell, and Peter Sutcliffe.
How did Dennis Nilsen die?
Dennis Nilsen died in York Hospital on May 12, 2018. He was 72-years-old at the time of his death.
Nilsen had been serving his life sentence at Her Majesty's Prison Full Sutton when he was taken to hospital on May 10, 2018 complaining of severe stomach pains.
He was found to have a ruptured abdominal aortic aneurysm which was repaired but he later suffered a blood clot as a complication of the stomach surgery.
Nilsen died two days later on May 12, 2018, having served 34 years of his full-life sentence.
The post-mortem report detailed Nilsen's cause of death as a pulmonary embolism and retroperitoneal hemorrhage.
He was cremated in June 2018 and his ashes were returned to his next of kin, Mark Austin. In a feature in The Times, Nilsen reportedly told Austin he wanted his ashes to be scatted "at the bottom of the garden" at his former home in Melrose Avenue, the location where he had burnt the remains of his victims. Austin refused Nilsen's request.
"I thought it was an insult," Austin said. "When the time comes, I'm probably going to scatter his ashes in the sea in Fraserburgh."
Who was Dennis Nilsen?
Dennis Nilsen, a former civil servant from Fraserburgh, Aberdeenshire, murdered and dismembered several of his victims at two addresses in Muswell Hill, North London— Melrose Avenue and later Cranley Gardens.
The majority of his victims were vulnerable, gay men who would be lured back to his flat often after Nilsen befriended them at the pub.
After each murder, Nielsen would sit with his victim's lifeless bodies, observing a ritual of bathing and dressing the body.
He would then dissect and dispose of his victim's bodies by burning them or flushing their remains down the toilet. He would often store bodies under his floorboards.
Nilsen was eventually caught when the other tenants living in the same block of flats complained to the landlord about drain blockages.
A Dyno-Rod employee (a London based plumbing company), Michael Cattran, responded to the complaints on February 8, 1983, where he uncovered flesh-like substances in the drains and small bones. He reported the findings to his supervisor, Gary Wheeler and both men returned to the property the following morning at 7.30 a.m.
When they arrived at the property in Cranley Gardens, the drains had been cleared apart from some scraps of flesh and four bones from a pipe which was connected to the top flat of the house—Nilsen's apartment.
The police were called and the bones that had been discovered by Cattran and Wheeler were taken to a mortuary at Hornsey, where pathologist Professor David Bowen advised police that the remains were human.
Detective Chief Inspector Peter Jay and two colleagues waited for Nilsen to return from work that evening so they could enquire about his drains. When inside the apartment, they could smell the odor of bodies decomposing.
As heard in Memories of a Murder: The Nilsen Tapes, Jay immediately asked Nilsen where "the rest of the body" was.
Nilsen reportedly responded calmly, pointing towards a wardrobe that contained two black plastic bags which were later found to be full of human remains.
He was arrested and cautioned on suspicion of murder before being taken to Hornsey police station.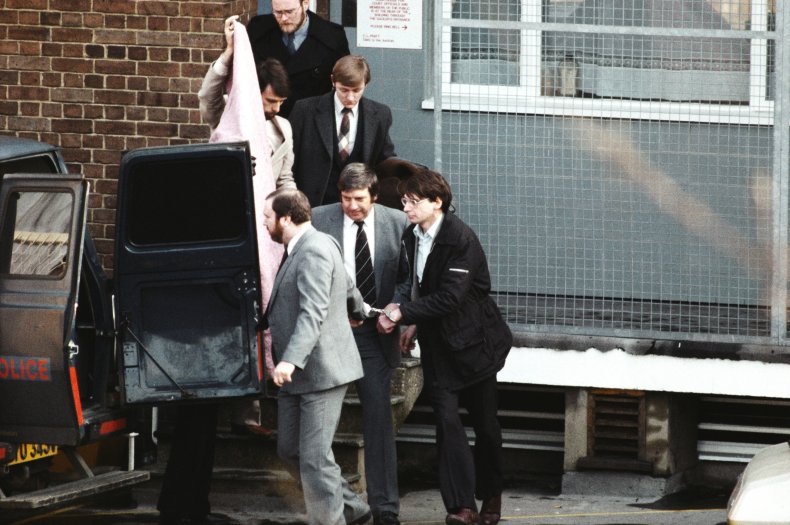 On February 11, 1983, Nilsen was charged with the murder of 20-year-old Stephen Sinclair, his final victim.
During his trial at the Old Bailey, it was revealed three bodies were found at his Muswell Hill address, and bones from eight victims had been uncovered at his address in Melrose, Cricklewood, north-west London.
As heard in the documentary, Nilsen told police immediately after his arrest there were "15 or 16" bodies.
He was convicted of the murders of six men and two attempted murders and sentenced to life imprisonment on November 4, 1983, with a recommendation that he serves a minimum of twenty-five years. This recommendation was later changed to a whole life tarriff.
Memories of a Murder: The Nilsen Tapes is streaming on Netflix now.