'Memories That Won't Stick': Text Messages Show Two Florida Men Allegedly Plotted to Groom, Rape 3-Year-Old, Police Say
Two men were arrested after a mother found text messages allegedly describing a plan to groom her 3-year-old daughter to become comfortable with the men, allowing them to rape the toddler.
Benjamin Worster, 39, was arrested by Volusia County, Florida, police officers in January and on Tuesday, his friend and sexual partner, Lafe Best, 37, was apprehended. The men were on the department's radar after a woman, who was not named, found deeply disturbing text messages on Worster's cell phone one day.
In December, the woman and her 3-year-old daughter moved into Worster's apartment in Ormond Beach, located about six miles from Daytona Beach. Soon after the pair moved in, the toddler told her mother the 39-year-old touched her inappropriately.
Worster was taken to the hospital for an apparent overdose on December 17 and while he was out of the apartment, the woman saw his phone lying on his bed. She looked through his text messages with Best and found a "sickening description of a plan" to groom and rape the 3-year-old. While the men would prefer the toddler to be awake when the alleged rape occurred, the text messages showed they were allegedly willing to knock the toddler out to carry out the dastardly deed, police say.
The Volusia County Sheriff's Office shared a portion of the text messages between Worster and Best to give the public an idea of how predators work to groom young children for sexual abuse in the hopes that it would prevent other children from becoming victims.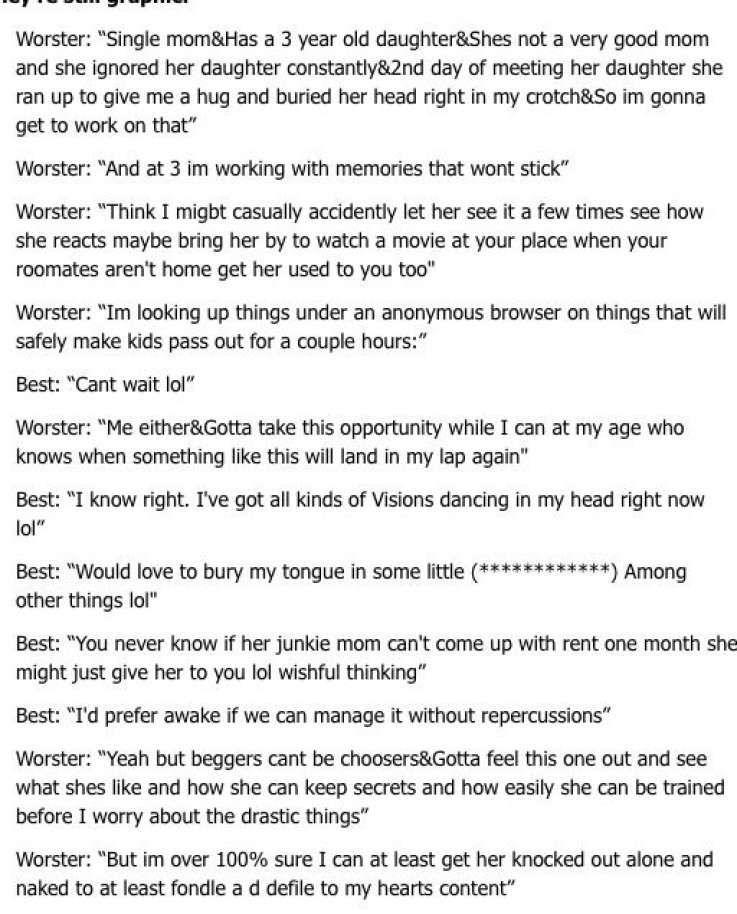 Worster explained that the second day he met the 3-year-old, the young girl gave him a hug and "buried her head" in his crotch. He claimed he would "get to work on that" and added, "At three I'm working with memories that won't stick."
The 39-year-old allegedly planned to feel out the situation by showing his penis to the young girl a few times to gauge her reaction. He also told Best he'd bring her over to his house when his roommates weren't home to "get her used to you, too."
Best said he had "all kinds of visions dancing in my head right now" and speculated that the mom might "just give her to you" if she couldn't pay rent one month. While Worster was searching for ways to safely make a child pass out, Best said he preferred her to be awake if they could manage it.
"Yeah but beggars can't be choosers [and] gotta feel this one out and see what she's like and how she can keep secrets and how easily she can be trained before I worry about the drastic things," Worster said. "But I'm over 100 [percent] sure I can at least get her knocked out alone and naked to at least fondle [and] defile to my heart's content."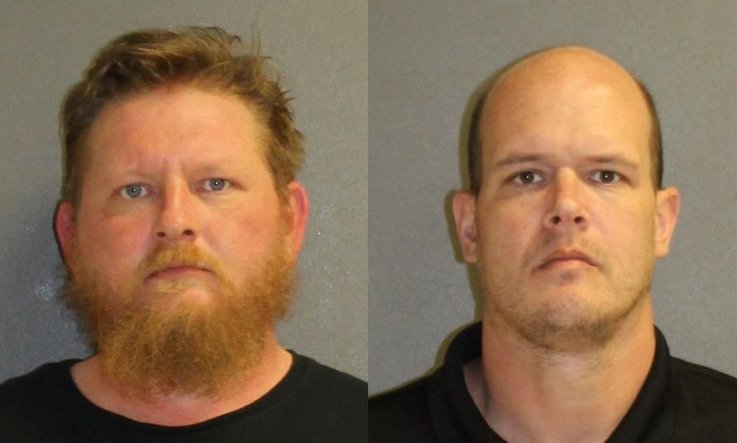 Best's alleged involvement in the plan was discovered when the State Attorney's Office was looking into Worster's case, at which point, the agency notified the Volusia County Sheriff's Office. On Tuesday, detectives executed a search warrant at Best's home and found what appeared to be child pornography on his cell phone. They also found text messages with Worster.
At the time of his arrest, Best was living with two people who have a child that police said was about 20 months old. Authorities are going to continue to follow up with the people who were living with Best as the investigation continues, but they said there wasn't cause to believe the other toddler was a victim of any abuse.
Worster was arrested on charges of lewd or lascivious molestation, lewd or lascivious conduct and 21 counts of possession of child pornography. Best was arrested on charges of conspiracy to commit sexual battery on a child.
Both Worster and Best are still in custody of the Volusia County Sheriff's Office.
'Memories That Won't Stick': Text Messages Show Two Florida Men Allegedly Plotted to Groom, Rape 3-Year-Old, Police Say | U.S.