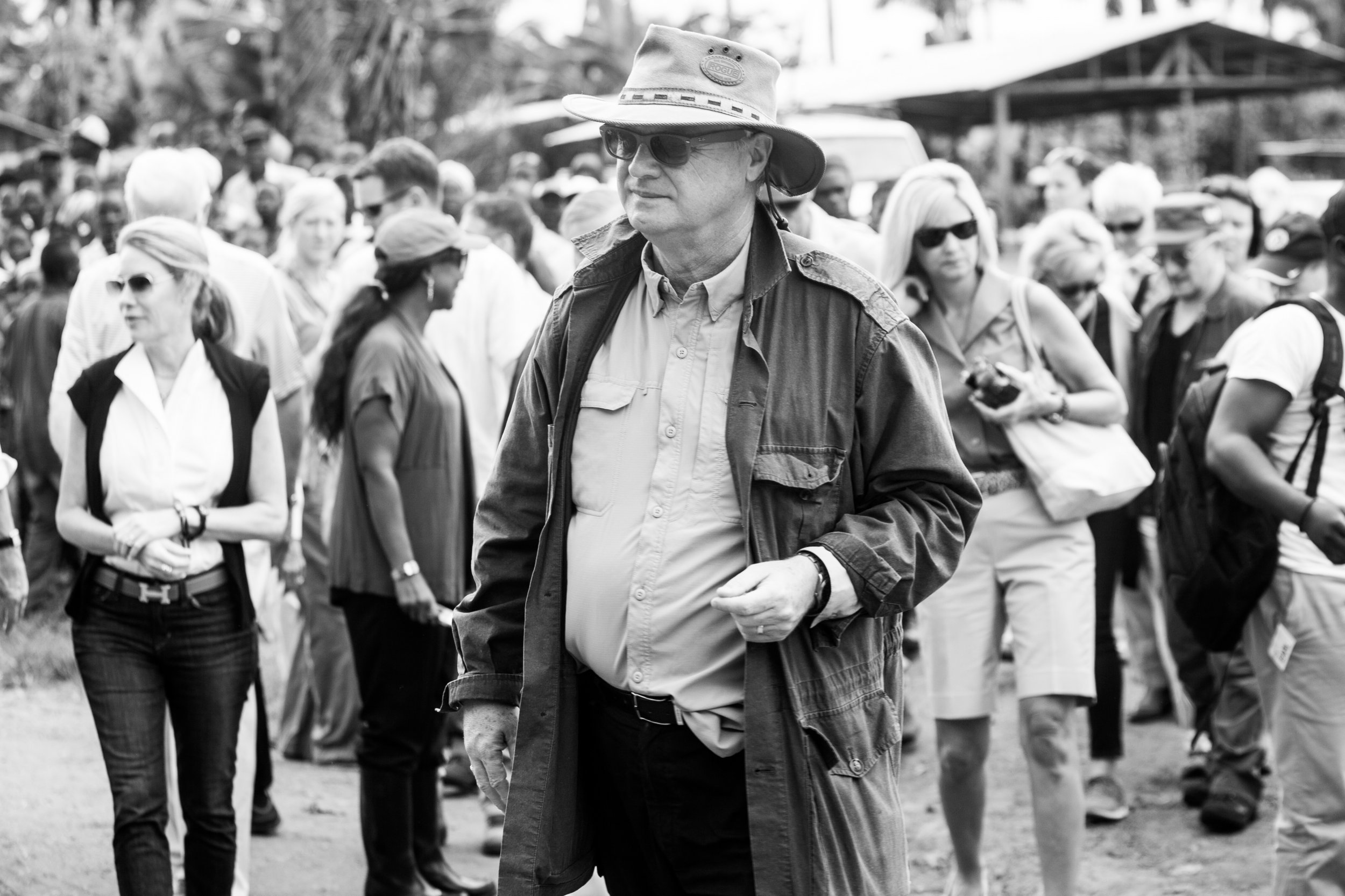 "Mustn't grumble," that catchphrase, borrowed from Winnie-the-Pooh, often passed the lips of the late Newsweek editor Michael Elliott, who died on July 14 after battling cancer. His funeral was held Friday in Washington D.C., where he lived with his family. Famed for his ability to always look on the bright side of life, even in turbulent times, Elliott was a charismatic Liverpudlian who fell into journalism by accident and ended up with top jobs on all three major news magazines, Newsweek, The Economist and Time.
An impressive achievement for a man who began his career in the ivory tower of academia as an economics professor. He was lured away, aged 33, from a lucrative career as a management consultant by his former Economist editor, Andrew Knight, who persuaded him to join the magazine world. "[Knight] told me, 'You will make much less money but you will have much more fun,'" Elliott once told a reporter. In 1986, two years after joining The Economist, he relocated from the U.K. to Washington D.C. to take up the post of political editor, beginning what would be a life-long love affair with America.
His fierce intellect and ability to enthuse his writers marked him out as a talented editor with sharp storytelling instincts and the odd sartorial quirk—he was rarely pictured in later life without his signature Australian bush hat jammed on his head. "Mike loved getting his hands dirty in the field, he had a lot of energy for news and just loved talking about stories," says his former Newsweek colleague, Stryker McGuire, who was the London bureau chief from 1996 to 2008.
Elliott moved to Newsweek as diplomatic editor in 1993, and was soon promoted to international editor—a role which brought him back to London from 1995 to 2001. The British capital was just entering a heady phase of cultural and economic growth, which was captured by a 1996 Newsweek cover story that that some believe coined the notion of "Cool Britannia."
"We avoided that phrase quite deliberately, but that's what it became known as," says McGuire. "The cover line was 'London Rules' and it was about London being the coolest city on the planet—politically you had Tony Blair and all the excitement of New Labour, there was lots going on in the arts, and immigration had created a terrific restaurant scene. As a Brit, Mike was keen to do these stories, and he was absolutely right."
Michael John Elliott was born in Liverpool, England in 1951. His father William was the headmaster of a secondary school. He was raised in a home where, he recalled, "the 'Messiah' was considered light entertainment." Elliott began his travels by taking trips across the Mersey to engage with Liverpool's swinging pop scene, becoming an authority on one of his hometown's biggest global exports: the Beatles.
A voracious reader from a young age, he went on to secure a place at Oxford University. After graduating in 1974 with two degrees—one in jurisprudence and another in law—he taught for a year at Northwestern University's law school in Illinois, moving from there to the University of Warwick in England and later to the London School of Economics and Political Science.
Despite spending most of the past 30 years in the U.S., Elliott never lost his English accent although it became tinged with a Transatlantic drawl. He became a U.S. citizen in 2006, but his fascination with his adopted homeland was laid bare a decade earlier when he penned his first, and most influential book, The Day Before Yesterday (1996), an acclaimed history of post-1945 America. "[Mike] had a tremendous intellectual curiosity and didn't have a political agenda to flog, as is so common now in the mainstream media. He was always open to new ideas, and… was also a great friend, and a great collector of people," says his former Newsweek and Time colleague, Bill Powell, who spent over a decade working alongside Elliott.
Elliott veered away from journalism toward humanitarianism in later life. The move was inspired by a now legendary Newsweek interview with Bono that he conducted in 2000, which first cast the rock star in the role of global do-gooder. When Bono confessed his ambition to move into activism, he initially insisted it be off the record but Elliott persuaded him to go public with his campaign to combat third world debt. Their friendship evolved, until in 2011 Bono, in turn, persuaded Elliott to take up the post of CEO and chief executive of One Campaign— the charitable organization co-founded by the U2 star.
"The last stop of his professional career spoke to Mike's decision to try to make a difference in the world on an issue he cares about: economic development in poorer countries," says Powell. "From what I understand they didn't do grand wooly headed projects but more practical stuff that was focused. And that captures Mike: a smart, big-hearted, very warm soul. His passing at just 65 is a tremendous loss for us all."