Memphis Reporter Breaks Down on Camera While Reporting on Mass Shooting
Memphis reporter Joyce Peterson, an anchor and correspondent for Action News 5, broke down on the air while reporting on the mass shooting on Wednesday that left four people dead, and three others injured.
"Memphis is tired right now," Peterson said.
"The Eliza Fletcher kidnapping and abduction and murder, the other crimes we had this year leading up to this. It's difficult right now. Bear with me.
"It's a very nerve-wracking night, and it's been a very difficult week for those who know the Fletcher family, for those who know the family of that minister who was shot and killed in her driveway during a carjacking, who know the community advocate from Whitehaven who were shot and killed. It's been difficult in Memphis," the reporter concluded.
In a press conference attended by Peterson, Memphis Police Chief Cerelyn (CJ) Davis said the rash of crime last week in Memphis is an "anomaly."
On Wednesday, Tennessee's second largest city almost came to a halt as residents were asked to shelter while police were on the hunt for the suspect of the shootings around town.
"If you do not need to be out, please stay home!" wrote Memphis city authorities on Twitter.
Late on Wednesday night, Memphis police announced they had captured 19-year-old Ezekiel Kelly.
Authorities say that Kelly opened fire in at least eight locations on Wednesday. According to the police's timeline, the 19-year-old first opened fire against a 24-year-old man who was shot and killed in his driveway in the 3100 block of Lyndale Avenue just before 1 a.m.
Around 4:30 p.m., two shootings at separate locations were reported by Memphis Police a few minutes apart. A man was shot dead inside his car on East Parkway South, while a woman was shot in the leg on Norris Road and was taken to a hospital in noncritical condition.
Police reported that Kelly was on Facebook Live streaming his shooting spree.
At about 6 p.m., the 19-year-old critically wounded a man in an AutoZone store and later carjacked and shot dead a woman at Poplar Avenue and North Evergreen Street. Kelly shot another woman dead and injured a man before being stopped by police.
Memphis Mayor Jim Strickland said that the 19-year-old suspect had previously been charged with two counts of attempted first-degree murder, possession of firearm and reckless endangerment with a deadly weapon when he was 17. He was then sentenced to three years in prison after pleading guilty to aggravated assault in an adult court in April 2021 but served only 11 months and was released from prison in March this year.
In a statement following the announcement that Kelly was in custody, Strickland called the shootings a "senseless murder rampage."
"I want to first, express my deepest sympathy and condolences to the victims and their families who are suffering from this senseless murder rampage," he wrote. "I'm angry for them, and I'm angry that our citizens had to shelter in place for their own safety until the suspect was caught. This is no way for us to live and it is not acceptable."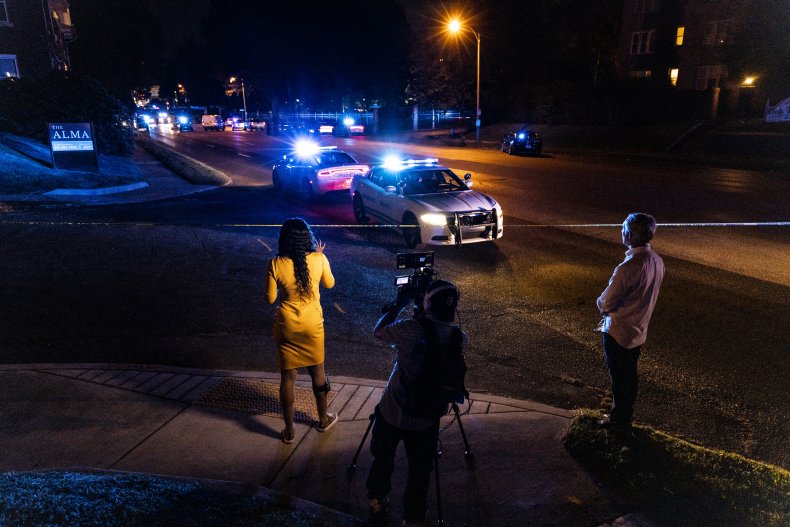 The city of Memphis was already shaken by the abduction and killing of 34-year-old Eliza Fletcher, a well-loved pre-kindergarten teacher and mother of two who was attacked while jogging early in the morning of Friday, September 2. Her body was found on Monday, September 5 and suspect Cleotha Abston, 38, was arrested and charged with first-degree murder and first-degree murder in perpetration of kidnapping.
On August 31, a Memphis police officer was shot and critically wounded while patrolling for stolen vehicles.
"This has been a painful week in our city, but I have hope for Memphis, I have love for Memphis, I know that united .....we will endure," said Strickland.