Men Accused Of Killing Ahmaud Arbery Indicted On Murder Charges
A grand jury indicted three men accused in the killing of Ahmaud Arbery, Cobb District Attorney Joyette Holmes announced Wednesday while standing in front of the Glynn County Courthouse in Brunswick, Georgia.
Each of the three men, Travis McMichael, Gregory McMichael and William Bryan, have been charged with nine counts including felony murder and aggravated assault, according to the indictment.
"This is another positive step, another great step for finding justice for Ahmaud, for finding justice for this family and the community beyond," Holmes said. She said Arbery's family was "ecstatic" about the development due to early delays caused in part by the coronavirus pandemic and because of the multiple times the case changed hands before Holmes was assigned as its prosecutor.
The news came as racial tensions throughout the U.S. remained high amid protests demanding an end to systemic racism and violence against Black Americans throughout the country.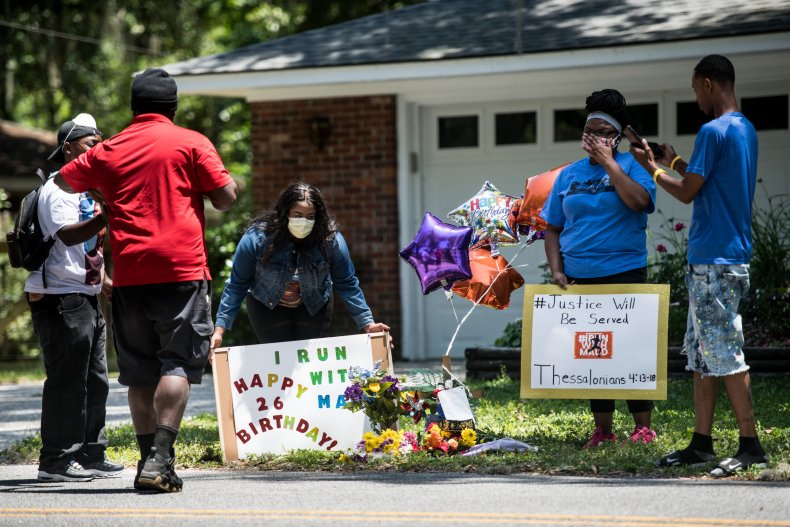 Though Arbery, a 25-year-old Black man, was fatally shot in late February, the widespread public outcry in response to his death came more than two months later, after a video showing his final moments began spreading on social media.
In the video, Arbery was seen jogging through a neighborhood in Glynn County when two white men began following him in a white pickup truck. Though Arbery tried to move around the truck, the men inside confronted him instead. One man, later identified as Travis McMichael, shot Arbery when the confrontation escalated. Travis McMichael's father, Gregory McMichael, was the other man in the truck and was later arrested with his son.
Both the McMichaels and Bryan, who was also arrested after authorities determined he was the one who filmed the incident, face the same nine charges announced in Wednesday's grand jury indictment. Each man has been charged with one count of malice murder, four counts of felony murder, two counts of aggravated assault, one count of false imprisonment and one count of a criminal intent to commit a felony.
Ben Crump, a civil rights attorney who represents Arbery's family, said the indictment was a "monumental" development in the case.
"The Grand jury looked at the facts and found compelling evidence to bring malice and felony murder, aggravated assault and false imprisonment charges against Ahmaud Arbery's killers," Crump said in a statement shared with Newsweek.
"This confirms what Ahmaud's father has been saying for months—that this was a lynching," Crump said.
As Arbery's story and those of other Black Americans who have died as a result of violent confrontations with police and white Americans spread across the U.S., Crump has taken a pivotal role in defending the families the victims left behind. In addition to Arbery's family, Crump represents the families of Breonna Taylor, George Floyd and a handful of others who are demanding action to stop the repeated cycle of violence.
"This is a significant step on the road to justice and while nothing will bring back Ahmaud's life, it is important that a Grand jury recognized his life had value and was wrongly and ruthlessly ended," Crump's statement read. "We expect a trial will lead to successful prosecution and sentences that reflect the heinous nature of this crime."
This story has been updated with additional information, background and a statement from attorney Ben Crump.