Men Can Prevent Memory Loss By Eating These Four Foods, Study Suggests
Scientists have identified four foods that could cut the risk of men losing their memory in a study.
Green leafy vegetables (like spinach, kale, lettuce), foods rich in carotenoid (such as tomatoes, tomato juice, tomato sauce, carrots, yams, sweet potatoes, squash, kale and spinach) and berry fruits (like strawberries and blueberries) were associated with preserved memory skills in the paper published in the journal Neurology.
Researchers at the Harvard T.H. Chan School of Public Health arrived at their conclusion by analyzing data on 27,842 men. The participants had an average age of 51 at the study's launch, and all worked in healthcare.
The volunteers completed a questionnaire detailing the servings of vegetables, fruits and other foods they ate each day. They did this again every four years for a total of 20 years. The team defined a serving of vegetables as one cup of raw vegetables or two cups of leafy greens, while one cup of fruit or a half cup of juice was considered a portion.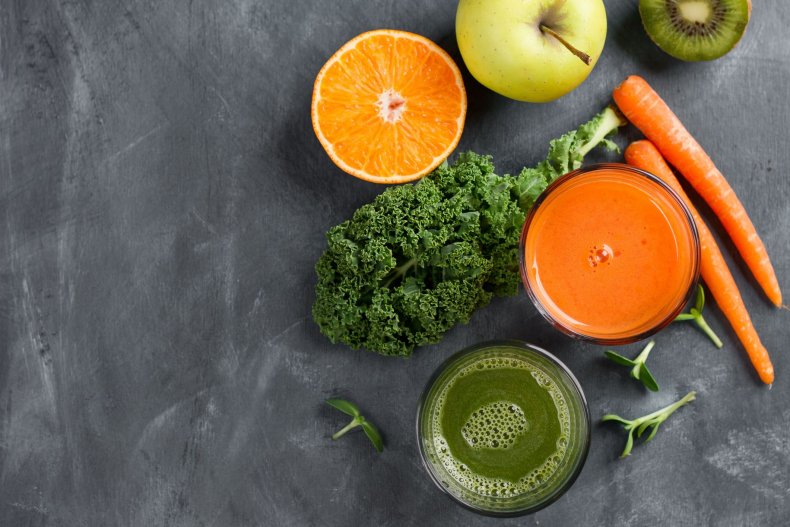 Read more: Why being skinny fat could be just as dangerous as being obese
As well as noting their food intake, the participants completed tests to measure their cognitive abilities four years prior to the study's closure. On average, the men were aged 73 at this stage of the test. The tests were subjective, and measured how the men perceived their memory to be changing, before this could be objectively measured. Questions included "Do you have more trouble than usual following a group conversation or a plot in a TV program due to your memory?" and "Do you have more trouble than usual remembering a short list of items, such as a shopping list?".
Dr. Changzheng Yuan, author of the study, told Newsweek: "Importantly, we observed that participants with higher consumption of vegetables and fruits 18 to 22 years earlier were less likely to develop cognitive problems, whether or not they kept eating larger amounts of vegetables and fruits about six years before their subjective cognitive assessment."
However, she acknowledged the study was limited because the participants' memory and thinking skills were not tested at the beginning of the project. That would have helped the team to see how they changed over the course of the study. Although she argued it can be safely assumed they had high cognitive function due to their jobs in healthcare. Due to the narrow sample of male healthcare professionals, the results may not apply to women and other groups of me, she added.
More research is needed to confirm whether eating certain fruits and vegetables directly prevents memory loss, or if something else is at play.
Yuan also warned "since fruit juice is usually high in calories from concentrated fruit sugars, it's generally best to consume no more than a small glass (four to six ounces) per day. Even better is choosing the whole piece of fruit instead, which contains the added benefit of fiber."
The research comes after a study published in the journal Molecular Psychiatry conclude the Mediterranean diet could protect against depression.
The diet, which is packed with foods like vegetables, fruits, legumes, olive oil and nuts, as well as fish, was associated with a lower risk of developing the mental illness.