Men Have to Be Very Careful, Sean Spicer Says After Matt Lauer's Firing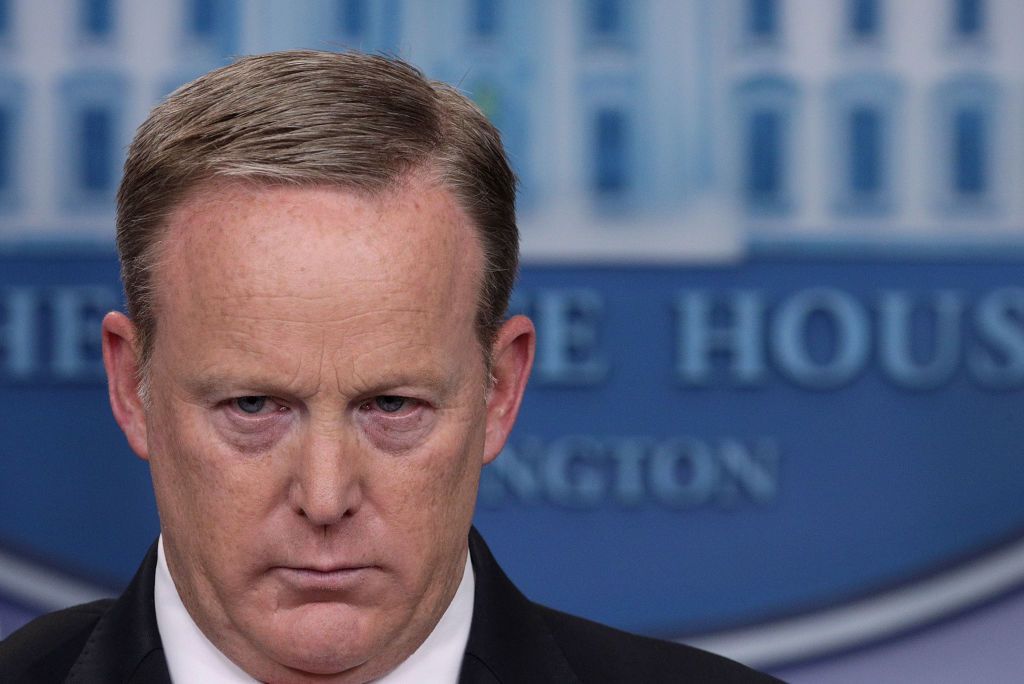 Sean Spicer is no longer the press secretary for President Donald Trump or the White House, but he hasn't stopped responding to the news of the day. On Wednesday, that meant sharing his thoughts about NBC's firing of longtime Today show host Matt Lauer after an employee complained of "inappropriate sexual behavior in the workplace."
"I think considering Matt Lauer's stature both within NBC News and within the news media, this is a huge deal because it really shows that there is a fundamental paradigm shift in how these issues are going to be handled," Spicer told FOX Business on Wednesday. He added that it demonstrates "that the tolerance level for inappropriate behavior is continuing to become a place where men in particular in this case have to be very careful."
This seems to call for engaging in one of Trump's favorite strategies, which John Oliver has called "what about-ism." But what about Trump?
Spicer made no mention of Trump in his remarks about Lauer. Before the 2016 election, a tape was relased The president was caught . A month before the 2016 presidential election, an Access Hollywood recording from 2005 surfaced of Trump bragging about about sexually assaulting women. When you're a star, you can treat women however you want, he said. You can "grab 'em by the pussy. You can do anything." (Trump apologized for making those statements soon after the tape was released. But this week, he said the tape was "fake.")
In the wake of the Access Hollywood tape, several women came forward to say that Trump had indeed behaved toward them in a manner similar to what he boasted about. Trump threatened to sue them. "I think frankly he feels aggrieved, that he wants to protect his good name," Spicer told Wolf Blitzer on CNN at the time, just weeks before the election. Trump was "making sure that people understand that he's not just sort of letting it go, that he's going to fight to be proven innocent on this."
After the Access Hollywood tape was released, John McCormack of the Weekly Standard reportedly asked Spicer, then the spokesman for the Republican National Committee, whether the kind of actions Trump described on the Access Hollywood tape would be considered sexual assault. "I don't know. I'm not a lawyer," Spicer replied. The Washington Post reported that Spicer later denied making the statement. The Post eventually obtained audio of Spicer's statement, and he said that "while I was asked question about a matter of law, it is never appropriate to touch anyone in an unwelcome manner."
In recent years, Spicer has taken to Twitter several times to point to sexual assault and harassment claims that he believes have not garnered a strong enough response. Not surprisingly, his missives focus on men who are Democratic politicians or liberal figures such as Harvey Weinstein.
NBC said that the complaint that led the network to fire Lauer was the first against him, but NBC News chairman Andrew Lack said in a memo to staff that "we were also presented with reason to believe this may not have been an isolated incident." The New York Times and Variety have reportedly both been pursuing investigations into Lauer.
"I think that the idea that NBC News in particular is taking this seriously shows how big of a deal it's become," Spicer said on Wednesday following news of Lauer's ouster. "If you remember initially they were the outlet that had the Weinstein story and then stories circulated that they did everything they could to not air that story, and actually had their correspondent Ronan Farrow go to another publication to put it out," he added, referring to the investigations that were published by The New Yorker. "So for NBC News to be taking this kind of a drastic step with one of the principal anchors of NBC News shows how serious this issue has become, not just at NBC News but throughout our country."
But the "level of tolerance" to inappropriate behavior seems to depend on who is behaving that way. The White House, for its part, has continued to skirt the allegations against Trump.
"We've been clear on that in the beginning, and the President's spoken on that," Spicer's successor as press secretary, Sarah Huckabee Sanders, said in October when asked if the women who have accused Trump are, as the president has claimed, liars. But after questioning the authenticity of the Access Hollywood tape, the show had a blunt response to the president.
"Let us make this perfectly clear," Natalie Morales, an Access Hollywood host, said, "the tape is very real."