Men Posing as UPS Steal Over $7,000 From Grandparents, Kids During Home Invasion: Police
Police in New York City are searching for two men who they say posed as delivery workers and robbed a family at gunpoint on Monday evening.
The two suspects, according to the New York City Police Department (NYPD), arrived at the Morris Heights apartment in the Bronx at around 5 p.m. At the time, the tenants were with their two grandchildren, according to PIX 11 News.
Security footage from the apartment complex shows that the men were wearing brown jackets and brown winter hats, the latter of which appeared to have "UPS" handwritten on them. One of the men, who was holding a box, announced that they were UPS workers with a delivery for the family.
The grandmother, 60, opened the door and was pushed aside by the man holding the box, from which he produced a revolver. The second man followed him inside the apartment. The pair then threatened the woman, her husband, 63, their grandson, 8, and granddaughter, 6, telling them to bind themselves with zip ties.
"Don't say anything, don't do anything so we can get done quick," one of the thieves reportedly told the family.
After that, the pair allegedly took two iPhones, an iPad, and several documents, and then crack the couples' personal safe and empty the children's piggy banks, making off with roughly $7,500 in cash. Security footage shows the men leaving with the property. None of the victims were injured during the incident.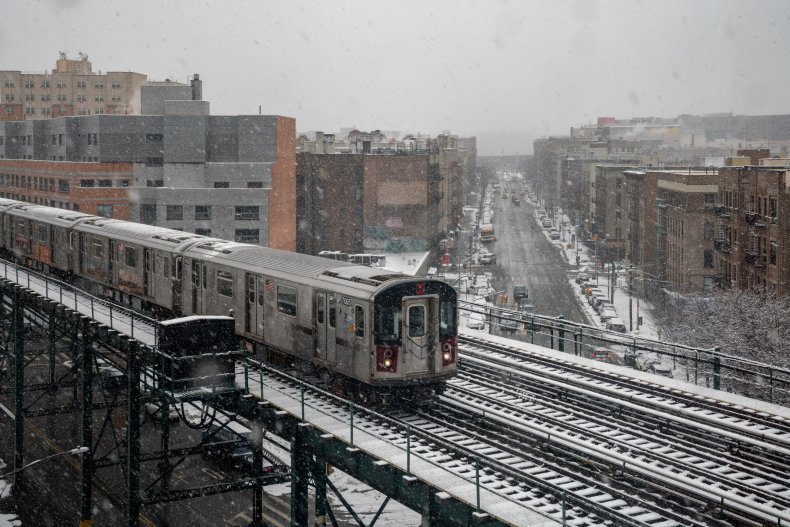 The NYPD is calling on the public to report any information relevant to the crime. The first man was last seen wearing a brown winter hat, a brown face mask, a brown jacket, a green hooded sweatshirt, black pants, and black shoes. The second man was seen wearing a black face mask, a black hooded sweatshirt, blue jeans and black shoes. Both are reported to have a medium build.
Anyone with information on these suspects or their whereabouts is urged to report to Crime Stoppers by calling 1-800-577-TIPS (8477), visiting crimestoppers.nypdonline.org, downloading the NYPD Crime Stoppers mobile app, or texting 274637 (CRIMES) and entering TIP577. Callers who speak Spanish can call 1-888-57-PISTA (74782).
Newsweek reached out to the NYPD for a comment on this story but did not hear back in time for publication.
A similar incident occurred last month in the Bronx. Two men posing as police officers reportedly made their way into a home in the upscale Country Club neighborhood. Once inside, the men allegedly tied up the homeowners and stole roughly $180,000 worth of goods, including $100,000 worth of jewelry, a homeowner's phone, a white BMW and $30,000 in cash.