Men Throw Hotel Manager in Pool After He Tries To Kick Them Out
A video of a group of men throwing a hotel manager into a swimming pool after he allegedly tried to kick them out has gone viral, enraging social media users.
The video sees a group of young adults walking away from the pool area, carrying their towels, as the hotel manager, wearing a suit, walks alongside the pool. Suddenly, two men in the group drop their things, turn to face the manager, and grab him.
The manager falls to the ground and is grabbed by his arms and legs and taken towards the pool. Two other men from the group then rush to the manager and help push him in.
In a video filmed from a different angle, the original two men are then seen climbing out of the pool and running away with the rest of the group, before the manager eventually climbs out, his suit soaking wet.
TikTok user Brian Kieth, 19, shared the video with the caption, "the hotel manager tried to kick us out," on TikTok where it has amassed 3.7 million views in two days. It appears as though Kieth, from St Louis, is one of the men who threw the manager in the pool.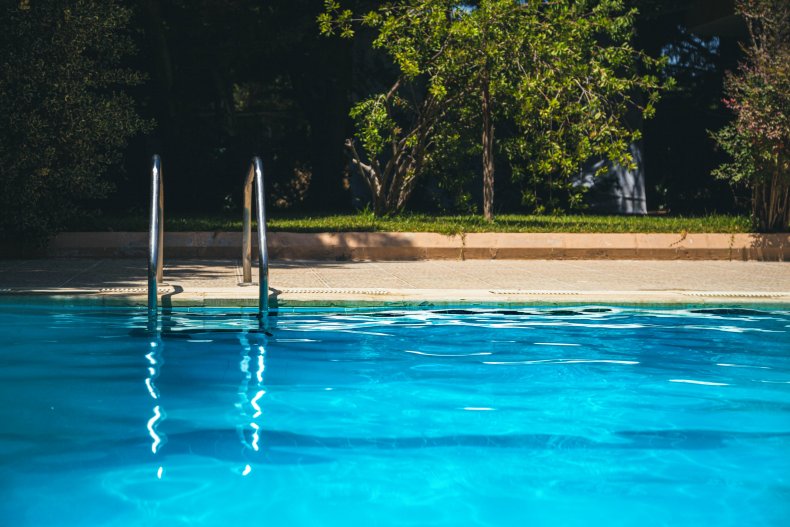 Despite the video being liked more than 400,000 times, TikTok viewers are generally not very impressed by the stunt, commenting: "tell me you weren't raised right..." and "yeah no wonder y'all got kicked out."
One viewer commented: "He was just doing his job. That was so unnecessary," while another said: "Poor guy probably had his cell and wallet destroyed. Trying to make an honest living."
However, Kieth appears to stand by his actions. He agreed with a comment that said: "this comment section just shows this is the softest generation on this earth," by adding, "literally."
In response to a comment that said: "This isn't okay [nor] funny, you did too much for no reason," Kieth said, "that's what you believe, if you think that was done for no reason or for fun I just wanna let it be known that it wasn't."
And to someone asking for an explanation, he said: "We were getting harassed from the second we got to the pool, nothing else to explain."
Kieth has not elaborated on the harassment but a video was posted on Reddit with the caption: "Kids throw hotel manager in the pool because he told them non-guests couldn't use the pool."
Some social media users have wondered if the video was staged, questioning why they were filming the group leaving the pool.
Newsweek has contacted Brian Kieth for comment.