Mendocino Complex Fire Update: Largest Wildfire in California's History Continues to Grow
California firefighters continue to work to contain the destructive Mendocino Complex Fire, which has scorched more than 300,000 acres in less than three weeks. The Mendocino Complex Fire, which is composed of the Ranch Fire and the River Fire, was 67 percent contained as of Sunday.
The Ranch Fire, which has burned 295,970 acres, is officially the largest in California's history, Cal Fire confirmed on Sunday. The wildfire surpassed the previous record holder, the Thomas Fire, which burned 281,893 acres in December, Cal Fire spokeswoman Lynne Tolmachoff told The Sacramento Bee.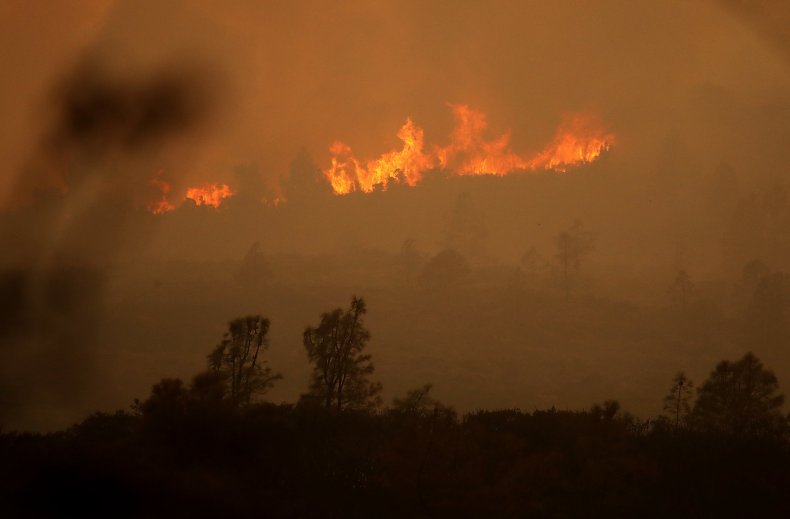 Since igniting on July 27, the Ranch Fire has destroyed 146 residences and 118 other structures and has threatened 1,025 structures. Two people have been injured by the fire, which is 59 percent contained. More than 3,000 fire personnel are working on the Ranch Fire, including 281 engines, 61 fire crews, 20 helicopters, 76 dozers and 87 water tenders.
The Ranch Fire's northern corners have challenged firefighters, with the northwest corner "very active" on Sunday. Cal Fire noted in an update that the hot weather and wind helped move the fire further north in both directions.
"The heavy smoke from active fire and terrain limit the ability to find access points for direct attack on the fire front," Cal Fire said on Sunday. "The northern fire front will continue to be a priority for fire suppression resources."
Meanwhile, the much smaller River Fire is close to being squelched. According to a report by Cal Fire on Monday morning, the River Fire has burned 48,920 acres and is 93 percent contained. Like the Ranch Fire, the River Fire began on July 27 and is affecting Colusa County, Lake County and Mendocino County. Cal Fire said the River Fire "had no movement" on Sunday.
Mandatory evacuations for both fires remain in effect in parts of Lake County, Mendocino County and Colusa County. Evacuation centers are opened at Twin Pine Casino in Middletown, California, and the Colusa County Veterans Hall in Colusa, California.
In Mendocino County, an evacuation warning is in effect north of Mid Mountain Road, south of the Eel River, west of the 10500 block of Mid Mountain Road and east of East Potters Valley/Eel River Roads. There is also an evacuation advisory in Glenn County for both of the Glenn County-Colussa County Line, west of County Road 306, south of County Road 308 and east of the Mendocino National Forest boundary.
The Mendocino Complex Fire is just one of several fires affecting California during a particularly active fire season.
Mendocino Complex Fire Update: Largest Wildfire in California's History Continues to Grow | U.S.