4 Reasons Why California Wildfires Are Worst Ever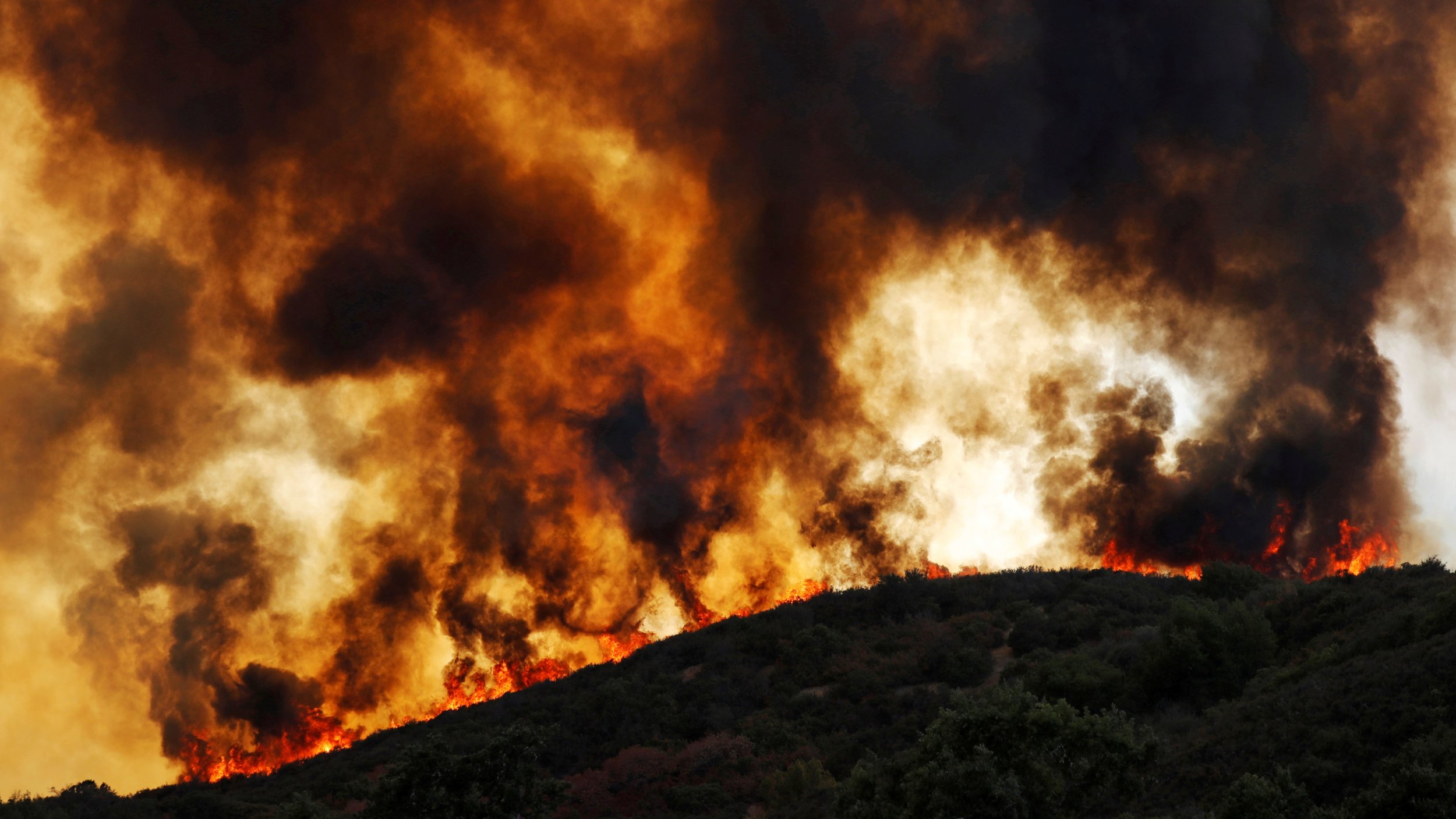 California's Mendocino Complex fires have become the state's largest ever, a scorching blaze that has nearly doubled in size in 72 hours.
By Tuesday, the Mendocino Complex fires—including the Ranch Fire near Ukiah and the River Fire north of Hopland—had officially torched 290,692 acres, an area two times bigger than Chicago. The raging fire, combined with other wildfires in California currently burning, is so big that one official said there's ample evidence piling up more than an hour away.
"I live in Chico, a significant distance away from the Mendocino Complex Fire and about an hour south of the Carr Fire," said Scott McLean, a spokesman for Cal Fire, the state's firefighting agency, according to The Mercury News. "Nothing but ash all over my vehicles each day."
An army of more than 14,000 firefighters is battling some 16 fires burning in the state, managing grueling conditions expected to worsen with a heat wave forecast to arrive along with gustier winds.
The Ranch Fire is the biggest of the Mendocino Complex fires and it has burned for 11 days, keeping almost 4,000 firefighters busy and causing new evacuations for residents southeast of Potter Valley.
The reason California is experiencing a rash of wildfires, and such large wildfires, including its biggest on record with the Mendocino Complex fires, can be attributed to multiple factors that have come together in a perfect storm:
Four reasons why:
1. California experienced a five-year drought that left dead brush and other dried up vegetation as a sort of fire kindling across tens of thousands of acres. Heavy rains two years ago filled up reservoirs and turned vegetation a lush green, but that has provided a sort of double-edged sword since that vegetation dried up and became ripe fuel for fires.
"Folks believe the rains came and took care of the problem," said McLean. "They exacerbated the problem by promoting growth. Our grass growth has been very significant in recent years and that has added fuel to these fires. It just takes a spark. We need several years of significant winters to get us back to the place we were before."
2. More people have moved into rural areas in recent years, disturbing the firefighting pattern. The Mercury News reports that even a recent surge in subdivisions in high-risk wildlands is putting more people in harm's way, experts say. This makes it more difficult to do controlled burns, for instance, because of more houses where there were once trees.
3. Warmer temperatures from climate change pose multiple risks. Here's what the Union of Concerned Scientists said: "Higher spring and summer temperatures and earlier spring snowmelt typically cause soils to be drier for longer, increasing the likelihood of drought and a longer wildfire season, particularly in the western United States.
"These hot, dry conditions also increase the likelihood that wildfires will be more intense and long-burning once they are started by lightning strikes or human error."
4. Wildfires have evolved, taking on new behaviors that make them more dangerous and unpredictable. For example, California wildfires that typically ran uphill in mountainous terrain now also run downhill. Also, wildfire burning used to slow at night but now they are more active when the sun is down.
"Many times now in the evening fires are burning at night almost as active as they are in the day," Scott L. Stephens, a professor of fire science at the University of California, Berkeley, told The New York Times. "Things are happening here in California that 10 years ago I never heard about."
In other words, these aren't your grandparents' California wildfires. It's as if they have mutated to become more dangerous.
"What we thought was normal or average isn't normal anymore," said Chris Anthony, a division chief at the California Department of Forestry and Fire Protection, according to the Times. "We have to change our thinking."
The raging wildfires fit with other climate changes the U.S. is currently experiencing.