Menendez Murders: Revisiting the Gruesome Family Murder Before New 'Law & Order' Series Airs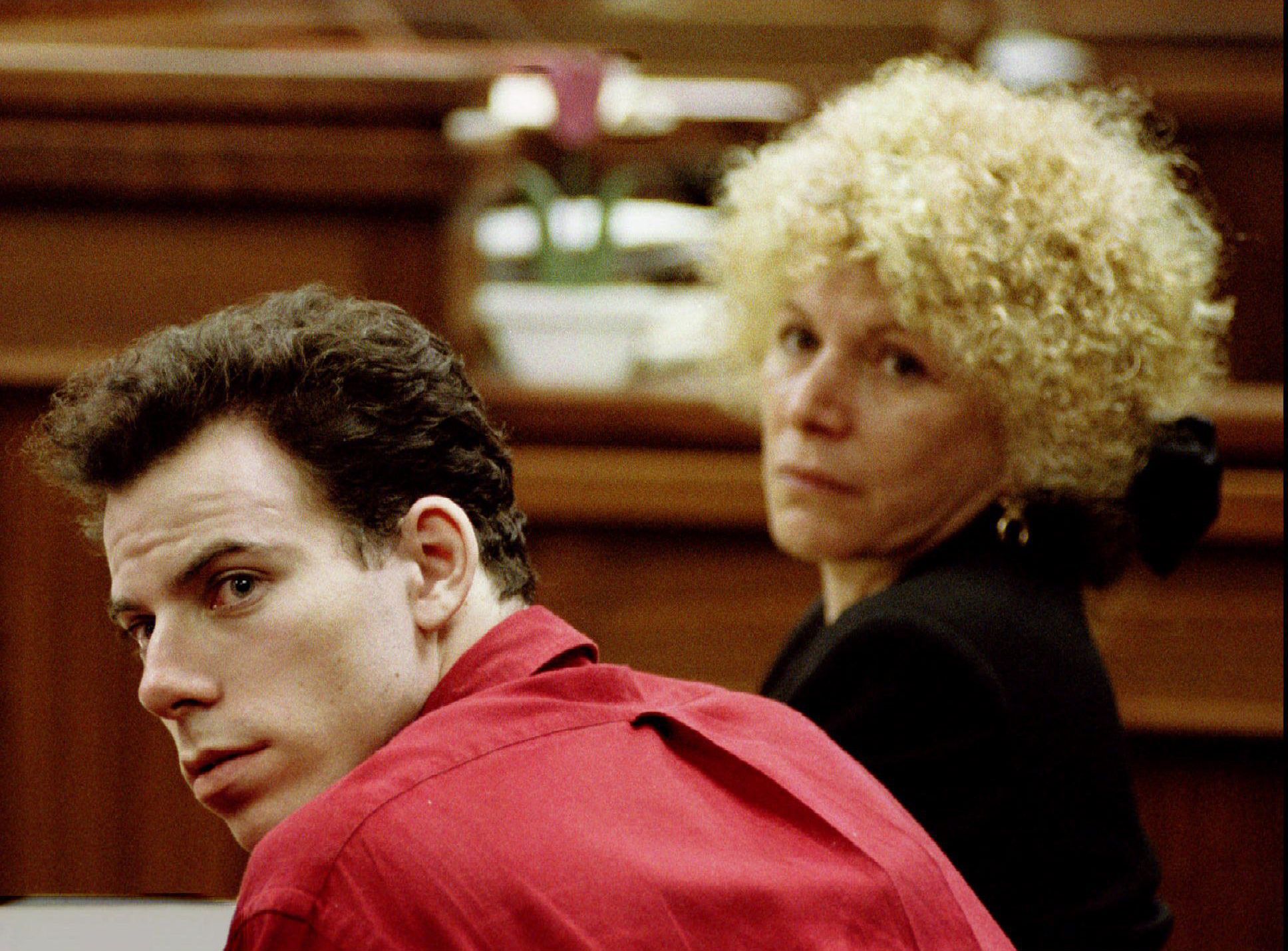 Next week, Dick Wolf, the man behind the longest-running, scripted, non-animated prime-time TV show in America (that would be Law & Order: Special Victims Unit ), adds a sixth crime series to his repertoire with Law & Order True Crime: The Menendez Murders. The infamous case is based on two California brothers who killed their parents in their Beverly Hills mansion in 1989. Their trial captivated the nation, as much for the heinous nature of the crime as for the brothers' defense: that their entertainment executive father had been abusing them for years.
If this '90s crime-turned-circus-trial-turned-TV-show sounds familiar, it is. Last year, FX launched its Emmy-gobbling true crime anthology with The People v. O.J. Simpson: American Crime Story. And like that show, Wolf's offering, which stars Edie Falco (The Sopranos, Nurse Jackie), Heather Graham (Boogie Nights, The Hangover) and Josh Charles (The Good Wife), retells one of the most gruesome, troubling murder cases in history. You can see what attracted Wolfe, the creator of ripped-from-the-headlines TV: The details are riveting.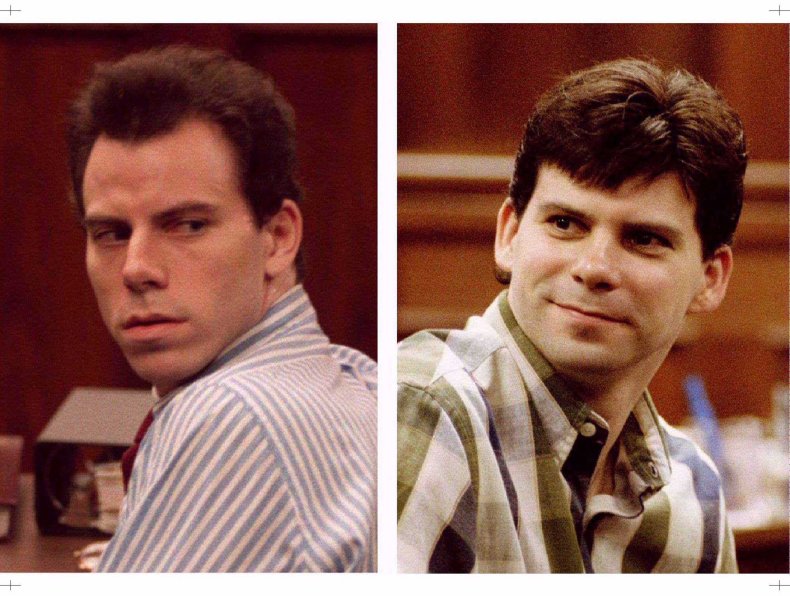 Who were the Menendez brothers?
Lyle and Erik Menendez grew up in a million-dollar home in Princeton, New Jersey, where they attended the prestigious Princeton Day School and played competitive tennis and soccer. When the family moved to Los Angeles, into a $5 million mansion once rented by Elton John, then Prince, Lyle was already a freshman at Princeton University. Erik transferred to Beverly Hills High, later made famous in Aaron Spelling's '90s teen drama Beverly Hills, 90210.
Newsweek subscription offers >
Lyle and Erik were gifted and good-looking troublemakers, at one point stealing more than $100,000 in jewels and cash from two neighbors' houses. Erik and a close friend, Craig Cignarelli, another son of a wealthy entertainment executive, once wrote a screenplay, Friends, about a son who murders his parents for his inheritance. Lyle faced probation for failing grades and was ultimately suspended from Princeton for plagiarism.
Who were the parents they murdered?
Jose Menendez, a classic American success story, grew up in Cuba. When Fidel Castro came to power, Jose was 16, and his parents sent him to live with relatives in Hazelton, Pennsylvania. A star high school athlete, he won a swimming scholarship to Southern Illinois University, where he met his wife, Mary Louise Andersen, a blond beauty who went by the nickname Kitty. They married in 1963, when Jose was 19, and moved to New York City, where he transferred to Queens College and paid the bills washing dishes at the 21 Club. The ambitious Jose eventually landed at RCA, where he signed Duran Duran, the Eurythmics and Menudo. Later he became CEO of Live Entertainment. Thus, the Menendez lifestyle.
In a 1990 Vanity Fair feature by Dominick Dunne, some friends of the Menendez family described them as "extraordinarily close-knit" and "one big happy family." The day before Lyle and Erik murdered their parents, they went shark fishing together. But Dunne reported another side to Jose—a philandering bully obsessed with success. Kitty, according to friends, tried to end her life three times.
The crime
On the evening of August 20, 1989, Lyle and Erik, 21 and 18, respectively, went to see the new James Bond movie, License to Kill. They couldn't get in, so they saw Batman instead. Two days earlier, the boys had bought two 12-gauge shotguns, which they turned on their parents when they got home, firing more than a dozen pellets into Jose and Kitty, who were watching TV in the family room and eating ice cream and strawberries. Then the brothers called 911.
Newsweek subscription offers >
"Someone killed my parents," Lyle screamed at the dispatcher. Between sobs, he tried answering questions about what happened: "I don't know. I wasn't here. I just came home. Erik! Get away from them!"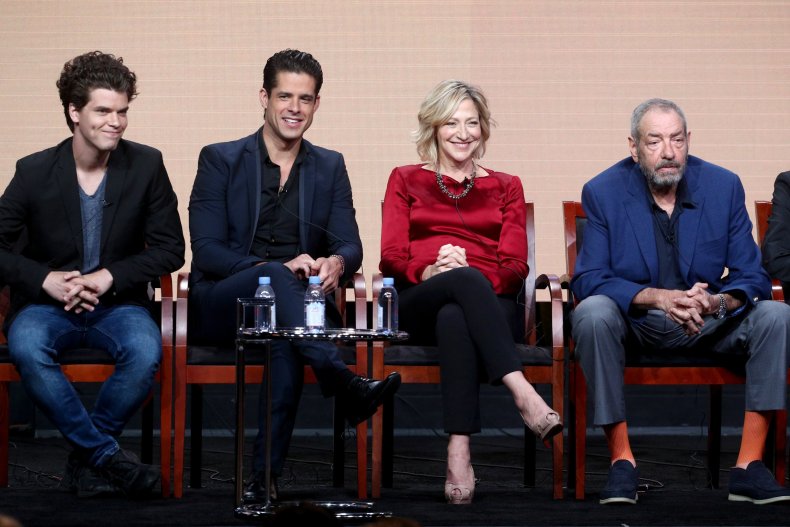 The aftermath
At first, the brothers blamed the mob, but the grisly scene indicated a murder that was intimate and emotionally charged. Jose was shot half a dozen times, including once in the back of the head, nearly decapitating him; Kitty was shot in her chest, arm, hip and leg, with a final, disfiguring blow to her face. "I've seen a lot of homicides but nothing quite that brutal," retired police detective Dan Stewart told Vanity Fair in 1990. "Blood, flesh, skulls. It would be hard to describe, especially Jose, as resembling a human that you would recognize."
Lyle and Erik played the grieving sons like award-winning actors (Erik had actually won an acting prize in high school). A neighbor remembered one of them curled on the front lawn, crying with grief on the night of the murders. Police on the scene were so convinced by their performances that they never tested Lyle's or Erik's hands for gunshot residue.
In the weeks that followed, the brothers went on a spending spree, dropping close to $700,000 on trips, cars, Rolex watches and neighboring high-end condos.
The confessions
About two months after the killing, in late October 1989, Erik confessed to murdering his parents to his psychologist, Dr. L. Jerome Oziel (Josh Charles). Lyle found out and threatened to kill Oziel. Five months later, Oziel's mistress, Judalon Smyth (Heather Graham), alerted authorities, pointing them to taped conversations between Oziel and the brothers. Police arrested Lyle on March 8, 1990; Erik turned himself in days later, after returning from a professional tennis tournament in Israel.
The lawyers
Facing first-degree murder charges, Erik hired Leslie Abramson (Edie Falco) to represent him. Standing 4 feet, 11 inches tall, with a halo of frizzy blond hair, she'd made her name as one of the toughest and most brilliant criminal lawyers in Los Angeles, twice named trial lawyer of the year by the L.A. Criminal Courts Bar Association.
Lyle was represented by two lawyers: Jill Lansing (Julianne Nicholson), whom Vanity Fair described as being "quiet, controlled—totally the opposite of Abramson," and Gerald Chaleff (Michael B. Silver), who once defended Angelo Buono, one of the Hillside Stranglers, in the 1970s. "Everybody is entitled to a defense, even those charged with the most heinous of crimes," Chaleff told the Los Angeles Times in 2002.
The trial
It began in July 1993 with a separate jury for each brother and millions watching on Court TV. Abramson, known for flamboyant courtroom theatrics, ripped into the reputations of the parents, describing Jose as a pedophile who subjected his family to years of emotional and physical abuse, and Kitty as an alcoholic and drug addict who didn't protect her children. The prosecution argued the brothers were motivated by pure greed (they would have inherited $14 million).
By January 1994, the juries were deadlocked, and the judge declared a mistrial. The brothers we retried in 1995, this time with one jury and no cameras. Lyle, then 28, and Erik, 26, were found guilty the following year and sentenced to life without parole.
How common is parricide?
It's extremely rare for children to kill their own parents. In the U.S., about five parents are murdered by their biological children every week, which sounds like a lot but adds up to about 1 percent of all homicides where the victim-offender relationship is known to police.
Where are the Menendez brothers now?
Lyle is serving his life sentence in Mule Creek State Prison near Sacramento, California. "It's shocking to think...that I could have been involved in taking anyone's life—and my parents' life…. It seems unimaginable because it's so far removed from who I am," he told ABC News last January. "But I found that my own childhood prepared me surprisingly well for the chaos of prison life." He has been married twice, once in 1996 to former model Anna Erikkson, then again in 2003 to Rebecca Sneed, whom he'd known for a decade. This despite California law prohibiting conjugal visits for anyone sentenced to life in prison.
Erik is serving his life sentence at Richard J. Donovan Correctional Facility in San Diego. He married his prison pen pal, Tammi Saccoman, in a ceremony in the prison visiting room in 1997. Their wedding cake: a Twinkie.
Law & Order True Crime: The Menendez Murders premieres Tuesday, September 26, on NBC.
Menendez Murders: Revisiting the Gruesome Family Murder Before New 'Law & Order' Series Airs | Culture