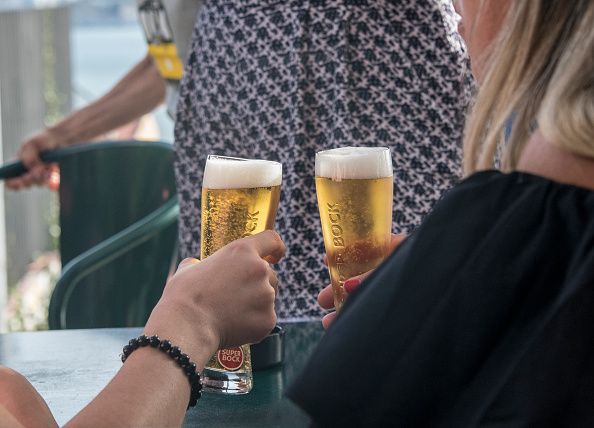 A New Hampshire brewery owner claims this beer could be the beverage of choice for women who are dealing with menopause.
"Libeeration," is a limited-edition craft beer now being sold at The Portsmouth Brewery in New Hampshire. Joanne Francis is a co-creator of the beer. She is also creative director and co-owner of the brewery, whose motto, she told WCSH, was to serve people from all walks of life. But Francis found that she was not serving women her age.
Francis, who is 57-years-old, said it took her years to produce the beer, after her employees were skeptical of the product.
"The idea of simply putting herbs into a beer that would be favorable for a woman experiencing menopausal symptoms was simply just a no-brainer," she said.
The gruit style ale, as it is described on the company's Facebook event page, is designed specifically for women who are experiencing menopausal symptoms and to celebrate this new phase in a woman's life.
"Fun, crazy, wildly different: That was our goal to reach women who truly know what it means to be hot!" said a statement from the Facebook page.
The event page says the frothy beverage is made out of fruity, spicy and earthy flavors and combines herbs like motherwort, lemon balm, chamomile, stinging nettle, mugwort, rose, chickweed and damiana. The combination of the herbs and flavors are supposed to relieve the symptoms that come with menopause like sleepiness, hot flashes, anxiety and irritability.
Matt Gallagher, the head brewer who collaborated with Francis, said he replaced the hops, a flower traditionally used to produce the brew, with herbs to add balance and bitterness to the beer.
If a beer that can solve the symptoms that come with menopause sounds too good to be true, it is.
A North American Menopause Society 2015 study shows that women who are currently experiencing menopause and hot flashes should stay away from symptom triggers like spicy food or alcohol. Hot flashes can be easily triggered by small core body temperature elevations, the study says, and adjusting a diet or clothing can help prevent those symptoms.
"None of these products and herbs have been proven to work," said Dr. Stephanie S. Faubion, director of the Women's Health Clinic and Office of Women's Health at the Mayo Clinic, in Rochester, Minnesota. "It's a cute little gimmick, but alcohol could actually worsen menopausal symptoms like hot flashes."