Children have PTSD as a Result of COVID-19, Charities Warn
The impact of the COVID-19 lockdown on the mental health of children should not be underestimated with a "significant number suffering from PTSD" because of COVID-19, charities have warned.
Children are suffering from "increasing levels of worry, fear, anxiety, depression, and post-traumatic stress" due to the nature and duration of lockdown, with a significant number suffering from PTSD after falling ill or being hospitalized with COVID-19, the Anna Freud National Centre for Children and Families said.
It is calling on schools to be prepared to help pupils on their return.
Professor Jessica Deighton, of the Anna Freud Centre, told Newsweek: "There's definitely a psychological impact across the world in terms of increased worry, stress, isolation, low mood, irritability as well as diminished coping with the pandemic and day-to-day life."
A recent report authored by Prof Deighton highlighted that the impact on children's mental health.*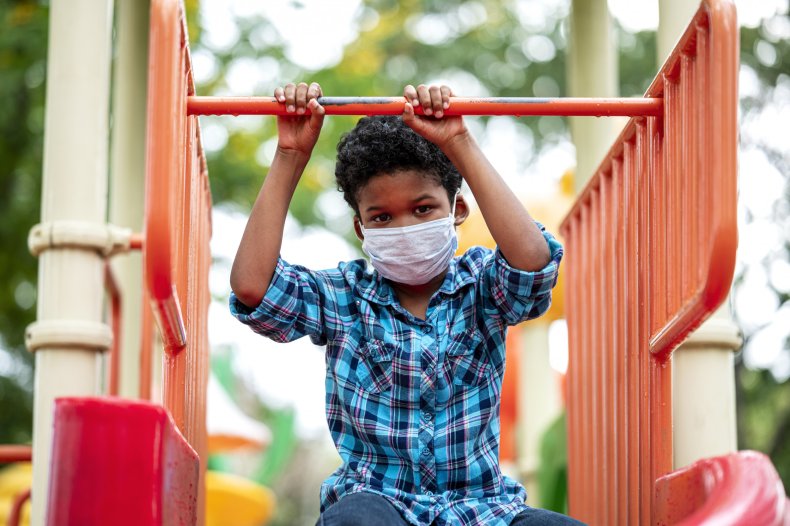 The impact of school closures, increased time away from their peers and worries about their health was not only likely to impact them in the short term but also have "longer-term consequences for their mental health" even after the immediate COVID-19 pandemic.
"It's about lost opportunities: making the transition from primary to secondary school, graduating, those milestones are being sucked up along the way," Deighton said.
"Some of those things are critical to development and mental health. There is the possibility those issues may endure if support isn't in place, particularly for vulnerable groups."
The study found that vulnerable groups who had their routine disrupted were particularly impacted including young people with autism or ADHD. Those with pre-existing mental health conditions were also likely to be disproportionately affected.
The report estimates that there are currently 1.27 billion children worldwide currently out of school or childcare, with school closures affecting 72 percent of the world's student population.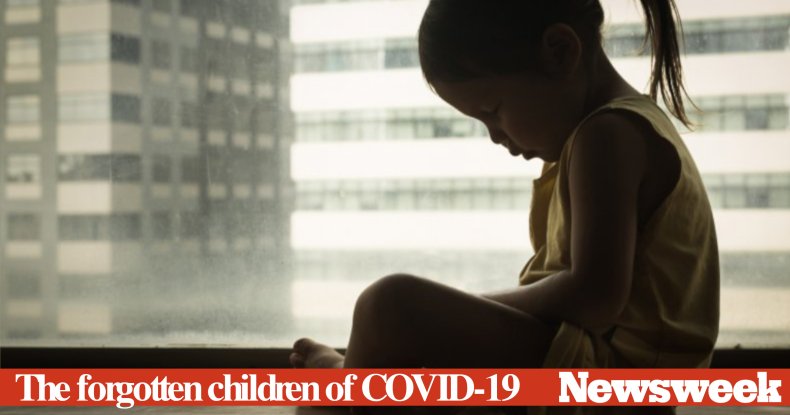 A COVID-19 research group led by the University of Sheffield,* which looked at the impact of the pandemic on young people in the U.K. in mid-April, found that among 13 to 24-year-olds surveyed, 40 to 50 percent reported feeling significantly more anxious than before the pandemic and 50 to 60 percent reported feeling worried about their parents or family.
It is not just in the U.K. where surveys show a negative impact on the mental health of children.
As previously reported by Newsweek just before COVID-19 lockdowns, stress really does make you sick.
A study looking at anxiety and depression across China during the coronavirus outbreak, published in Nature Public Health Emergency Collection, found rates of 43.7 percent for depression and 37.4 percent for anxiety in adolescents; with 31.3 percent having both anxiety and depression in self-report measures of symptom severity.*
Prof Deighton said a significant proportion of children who had contracted COVID-19 have subsequently experienced symptoms of PTSD.
"The psychological fallout from actually contracting COVID-19, and what that means, particularly if young people have been in intensive care which can be a traumatic experience, there is increased incidence of PTSD in those groups," she said.
The report from Anna Freud also states that difficulties are likely to persist when children return to education and that schools had to be prepared to support children with their mental health.
That call was echoed by Jo Holmes, children, young people and families lead at The British Association for Counselling and Psychotherapy (BACP).
Holmes told Newsweek that councilors had reported young people talking about heightened levels of stress, fear and anxiety as well as being worried about parent's employment and finances.
"Children are worried about the school closures, the disruption to their routines, there's been a period of maybe trying to adapt as the "new normal" has settled in but now there's the added uncertainty about when they're going to back and what it's going to be like when they go back to school."
Holmes is calling on the government to make a national commitment to counseling provision for all children in England's secondary schools.
She said: "We wrote to the Education Secretary Gavin Williamson and said there's no time like the present to fund a national school-based counseling roll out in England, like we have in Wales, Northern Ireland and Scotland.
"The government needs to invest in school counseling that can be delivered remotely, in community settings, in alternative places, because that's where young people identify with counselors and they know they can have that time to look at some of the things they are struggling with.
"Schools also want counselors, but at the moment they have to fund that through their tight budgets."
The letter to Williamson from the BACP states: "As we move out of COVID-19 lockdown with schools beginning to open, this is a critical time to respond consistently to the rising mental health needs of children and young people in England. Evidence highlights that the earlier the help, the more effective the intervention.
"We would, therefore, welcome a national commitment to counseling provision for all children in England's secondary schools, bringing us into line with the other nations of the UK. Access to counseling must also be extended to our further education colleges [for students working on A-level exams]."
Child psychotherapist Natalie Phillips has seen a clear impact on the mental health of children.
She said: "I think there's been a lack of available services for children to get the support they need, because many are not used to it, especially for those starting to seek help online."
Phillips said there were three groups of children who had been affected by the lockdown:
Those who already had pre-existing mental health difficulties already seeing a therapist but were feeling more anxious because their services had changed
A group struggling because of social isolation and not being able to see their peers
Young people who have been "O.K. during lockdown" who like being at home but who are anxious about going back to school.
"They have social anxiety and actually being at home has been really really positive for them, so they're now becoming more anxious," she said.
"That third group is one that hasn't been thought about, especially with some schools starting to reopen and talk about people going back."
Phillips said a really important part of a school counselor's job is going to be helping kids come back to school.
"Primary schools and secondary schools desperately need somebody focusing on the reintegration of children in all three of those groups and doing lots of work on routine and reassurance and resettling and communication about how schools are different.
"Because children are not going to back to school on the 1st of September in the same way they left those schools at the end of March, schools will be different.
"They've all been away from each other, their friendships might change, their teachers will have changed, some kids are in new schools, kids who have been to private schools maybe their parents can't afford it anymore and maybe now are in different schools, a whole raft of change is coming in September alongside the anxiety of the virus.
"I also think parent anxiety is huge as well, which is also the role of a school therapist."
Phillips said a lot of her role was with parents and parental groups, an often neglected area, with school counselors having a huge role to play.
"Probably the biggest role a school counselor has had is coming," she said
The Department for Education and Department of Health and Social Care says it is "absolutely committed" to supporting everyone's mental wellbeing.
A government spokesperson said: "We are absolutely committed to supporting everyone's mental wellbeing.
"Those who need support can continue accessing mental health services, including virtually.
"We recently provided £5 million for charities to fund additional services for people struggling with their mental health as a result of the pandemic. This is on top of a UK-wide £750 million package of support for the voluntary sector."
*Study methodology
The Anna Freud National Centre for Children and Families carried out a rapid review of research published in academic articles or "grey literature" that were identified in searches over the period May 5 – 24 2020.
"As this was a rapid search, a small number of search terms were used that were about coronavirus, children and young people, and mental health. We limited searches to reports available in the existing literature on the topic. English-language only articles were chosen for efficiency. No evidence was quality assessed and no studies were excluded on the basis of quality."
The University of Sheffield-led study from the COVID-19 Psychological Research Consortium, "surveyed a UK representative group of 2,000 13-24-year-olds to examine the impact of the pandemic on young people at different stages of development, and identify the factors influencing their mental resilience." This research was conducted from April 22 for two weeks.
The study of China in the Nature Public Health Emergency Collection conducted a cross-sectional study using an online survey to assess mental health problems from March 8 to March 15, 2020. "Junior and senior high school students in China aged 12–18 years were invited to participate in the online survey through the Wenjuanxing platform. In total, 8,140 participants took part in the survey.
"After removing the data of participants with incomplete questionnaires, 8,079 participants from 21 provinces and autonomous regions were included in the analysis. These regions can represent the overall conditions of China. There is no significant difference in the infection rate of COVID-19 in other regions except Hubei. We divided the participants into from Hubei region and from other regions. The province of Hubei has a population of 59,270,000 and includes the city of Wuhan; Hubei province incurred the highest rate of infections and deaths in China."