The Mental Health Effects of the Oil Spill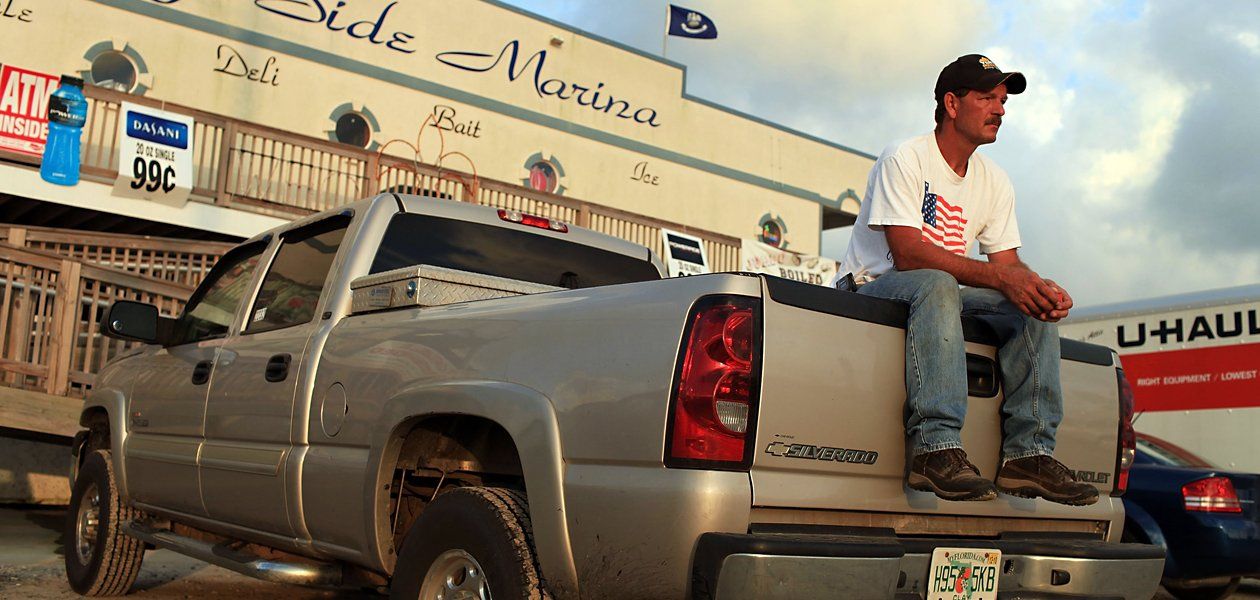 Despite recent reports that the oil spill is clearing up faster than expected, anxiety and depression still linger among residents of the gulf coast. A survey of 406 Gulf coast residents indicated the far-reaching emotional toll of the spill, with younger residents and low income citizens showing the most distress.
18 percent of respondants in Louisiana showed signs of "probable serious mental illness" -- double the rate of 2007, two years after Katrina hit. The other gulf states showed a lesser amount, but still all higher than 2007 levels: 14 percent of Florida respondents, 12 percent of Mississippi respondents, and 10 percent of Alabama respondents showed signs of probable serious mental illness. Those surveyed in the lowest income category had a 32 percent chance of suffering from serious mental illness, compared to only 2 percent of those who made over $100,000.
The survey, commissioned by Ochsner Health System, a non-profit healthcare company in New Orleans, asked residents to rate how often they felt negative emotions like nervousness or restlessness. Their responses were ranked according to the Kessler Psychological Distress Scale, a common tool used to quantify mental health.
"We lived through Katrina here, we knew the devastation that could occur: both the short term and long term effects," says Joseph E. Bisordi, MD, chief medical officer at Ochsner. He says his company commissioned the survey to show the need for expanded mental health resources -- some of which his hospitals provide -- in Louisiana and other gulf coast areas.
The poll comes as concerns mount that the mental health effects of the spill are not being properly addressed. Louisiana Spirit, a state-run mental health support system started in the wake of hurricane Katrina, has reported an increase in demand, and earlier this month, the state's Secretary of Health and Hospitals petitioned the federal government, requesting more funding for mental health services from BP. In a letter to Screteary of Health and Human Services Kathleen Sebelius, Alan Levine wrote,
Our Louisiana Spirit crisis counseling teams have already engaged and counseled more than 2,000 individuals and are reporting increases in anxiety, depression, stress, grief, excessive and earlier drinking and suicide ideation. Community-based organizations report similar findings. We know that, left untreated, these symptoms can quickly develop into behavioral health problems that lead to the breakdown of the familial structures, domestic violence, abuse and neglect.
The letter also noted that previous requests to BP for mental health funding had gone unanswered.
The main source of the strain appears to be financial: over 30 percent of respondents to the Oshner survey reported having financial problems, though whether those problems were exacerbated or caused by the spill is unclear. Ten percent of all respondents said their life had been changed forever due to the spill, with higher rates in those still working. In fact, it was those under 55 who were mostly likely to report changes in health and well-being overall.
Bisordi said that while he expected to see that the spill was causing mental distress, the the disporportionate effects between young and old, rich and poor. "Often, we're talking about folks who don't have a lot of resources to begin with," he said, noting that the initial economic impacts of the spill could lead to a chain reaction of unemployment and debt, and with that added mental health strain. "You worry about the long term effects of that," he says. "Recover doesn't happen overnight, even though the spill is capped."