Mental Health Experts Assail John Cox's Plan to 'Force' Homeless into Treatment
Republican John Cox said Monday he intends to "force" homeless individuals to get mental health treatment by using "the power of the courts" if his bid to become California's next governor is successful.
Legal experts on homelessness and mental health said Cox's comments "distract from the real issues" that cause homelessness while the proposal he unveiled to combat the issue in California presents other legal and financial problems.
"This is essentially criminalization under the guise of providing compassionate services," said attorney Ron Hochbaum, a professor at the University of the Pacific's Homeless Advocacy Clinic. "It's important to acknowledge that it would never work."
Melissa Brown, a clinical professor of law at University of the Pacific, said California's existing Lanterman-Petris-Short Act provides involuntary commitment protections for individuals.
An "overhaul" of the current system would be need to expedite the process of placing people in mental health treatment centers, Brown said, and would also likely require California to expand its law enforcement and judicial resources.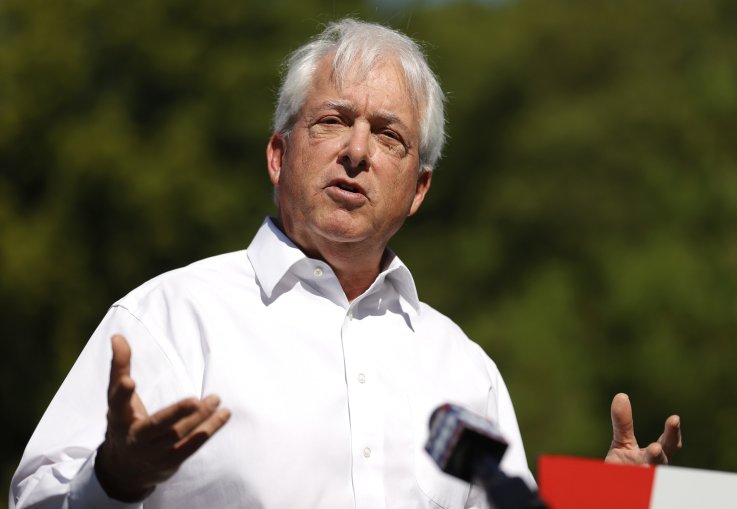 "I'll use the power of the courts to force homeless people to receive mental health treatment," California Republican gubernatorial candidate John Cox tweeted Monday. In the photo above, Cox speaks during a campaign rally at Miller Regional Park on May 4, 2021 in Sacramento, California.
Justin Sullivan/Getty Images
"His proposal would require, in my view, an entire overhaul of our existing system," Brown told Newsweek. "It would require an influx of judges to hear these cases, it would require an influx of law enforcement who are trained to analyze whether someone is gravely disabled."
"I think it shows a real lack of understanding of our current system and our current behavioral and social service and mental health system," Brown added.
Cox is campaigning against the state's current governor, Democrat Gavin Newsom, who defeated him in 2018. Newsom is expected to face a recall election later this year.
Cox on Monday unveiled his plan to address homelessness while at a campaign stop in Los Angeles. He spoke with reporters while standing in front of an eight-foot ball that had trash attached to it. The ball represented "the damage done by homelessness in California," and Cox said he will carry it with him for the duration of his campaign, according to a Monday news release.
"There are homeless living on our streets," Cox said in a Monday tweet. "Many are dangerously mentally ill and need treatment. Yet, @GavinNewsom allows dangerous homeless to rule our city streets. I'll use the power of the courts to force homeless people to receive mental health treatment."
Mónica Ramírez Almadani, the president and CEO of the pro bono Los Angeles-based law firm Public Counsel, told Newsweek statements like the one Cox made about forcing homeless individuals to receive mental health treatment "distract from the real issues that contribute to homelessness" in the state.
"Our organization works closely with hundreds of individuals and families who are experiencing homelessness or are at risk of becoming unhoused," Ramírez Almadani said. "The communities we serve need more affordable housing, better tenant protections, access to legal counsel when facing eviction, and more supportive services. Only when these root issues are addressed will we be able to see meaningful progress on this issue."
In an interview The Associated Press quoted on Monday, Cox suggested some of California's homeless choose to live on the streets.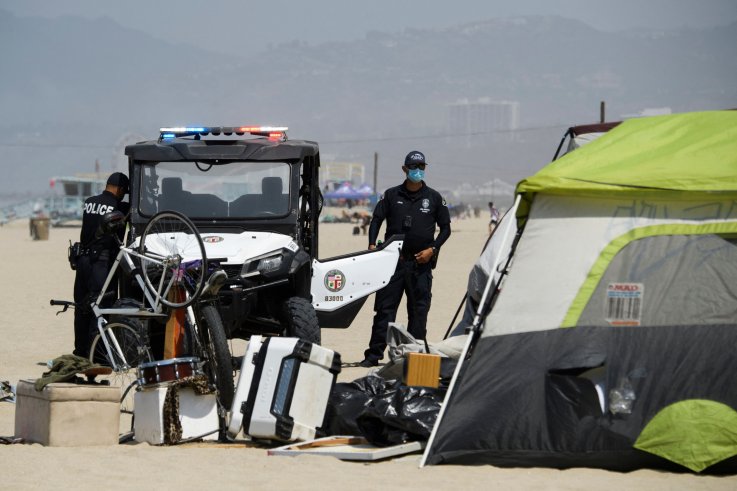 Los Angeles Police Department officers look at an encampment on the beach where a homeless person is living by the Pacific Ocean on June 16, 2021 at Venice Beach in Los Angeles, California.
PATRICK T. FALLON/AFP via Getty Images
"If someone is just insisting that they can live on the street, they either have to be arrested and put in jail or they have to be arrested and put into a place where they can get the treatment they need," Cox said.
Tristia Bauman, a senior attorney at the National Homelessness Law Center, told Newsweek Cox's comments suggesting living in public spaces is a choice shows "a fundamental misunderstanding" of homelessness.
"People who are living outside are not doing so because they are mentally ill or because they are addicted, although some people do suffer from mental illness and addiction while living outside," Bauman said. "They live outside because they can't afford housing—and the research overwhelmingly supports that."
Homelessness is a key issue for politicians seeking office across the country. According to a report published earlier this year by the U.S. Department of Housing and Urban Development (HUD), California has at least 70,000 more homeless individuals than any other state, with an estimated 161,548 homeless Californians reported in early 2020.
But California also has 12 million more residents than Texas, the second-most populous state.
The state's homeless population increased 6.8% between early 2019 and early 2020, while the nationwide homeless population increased by about 2% during the same time period, the report said.
Cox's 24-page plan to address homelessness in California claims his strategy will "cut homelessness in half" over the next decade. It includes statistics from the HUD report, and, in a clear swipe at Newsom, said "pretty politicians" have "refused to take beastly action to actually solve the problem" of homelessness.
Cox's plan proposes "putting treatment first" as an alternative to directing money toward expanding shelter capacity.
"In short, politicians have treated homelessness as a housing problem," Cox's plan states. "but as almost any regular Californian can tell you it's a mental health and addiction problem first."
The next step in Cox's plan is to focus on enforcement to prevent "public camping, drug consumption or fighting." The third and fourth steps include prioritizing funding for treatment-first approaches and lowering the cost of housing in the state.
Cox's plan specifically calls out Newsom's May 2021 revised budget proposal, which suggested spending $11.87 billion over the next two fiscal years toward addressing homelessness.
At least $7 billion was designated for Project Homekey, which uses grants to help homeless individuals stay in hotels, apartments and other available temporary living spaces.
"Meanwhile, the revised budget only allocates $750 million to build behavioral health treatment facilities," Cox's plan says.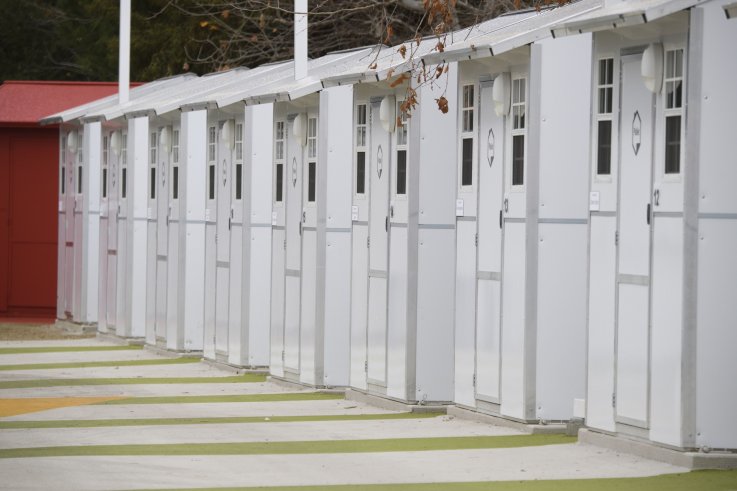 A row of shelters at the Chandler Street Tiny Home Village is photographed on February 1, 2021 in the North Hollywood neighborhood of Los Angeles, California. The community of 39 homes built to house 75 people is designed to offer services from the city and Hope of the Valley Rescue Mission to homeless people.
PATRICK T. FALLON/AFP via Getty Images
In a separate tweet on Monday, Cox said Newsom has "failed" in addressing homelessness in California.
"We need to get the homeless into treatment and off the streets. That's where @GavinNewsom has failed," Cox's tweet said. "He has spent billions of dollars and the problem has only gotten worse, that's not compassion."
Though Cox emphasized mental health treatment over housing in his plan, experts told Newsweek research suggests the strategy won't work.
In a statement shared with Newsweek, Shayla Myers, a senior attorney with the Legal Aid Foundation of Los Angeles, described proposals like the one Cox introduced as "incredibly ineffective."
"Throwing unhoused people in jail or forcing them to receive mental health treatment is not only constitutionally suspect, but also incredibly ineffective," Myers said. "Mental health and substance abuse are exacerbated by a lack of housing, and treatment is often far less effective for people who are living on the streets."
She said Cox's plan takes the focus away from the real problem.
Focusing the discussion on forced mental health treatment and jail distracts from the root cause of California's homelessness crisis, which is the lack of affordable housing," she said.
Legal experts with the Judge David L. Bazelon Center for Mental Health Law told Newsweek plans like Cox's also risk creating "further mistrust" of mental health treatment.
"Proposals to address homelessness by forcing individuals to receive mental health treatment miss the mark," the Bazelon Center's legal director, Ira Burnim, and legal deputy director, Jennifer Mathis, said in a shared statement. "Most individuals with psychiatric disabilities who are homeless are in that situation because they have not received needed services and housing assistance. Many if not most have already received involuntary treatment."
Instead of turning to an involuntary treatment strategy that Burnim and Mathis said "has failed," they advised offering support to homeless individuals.
"Building relationships and offering desired services and financial and other help in obtaining housing would go a long way toward alleviating homelessness among people with psychiatric disabilities," they said. "Forced treatment will not solve homelessness, but it will sow further mistrust, pushing people away from the mental health system."