One Young World: Watch Hussain Manawer's Moving Performance on Mental Health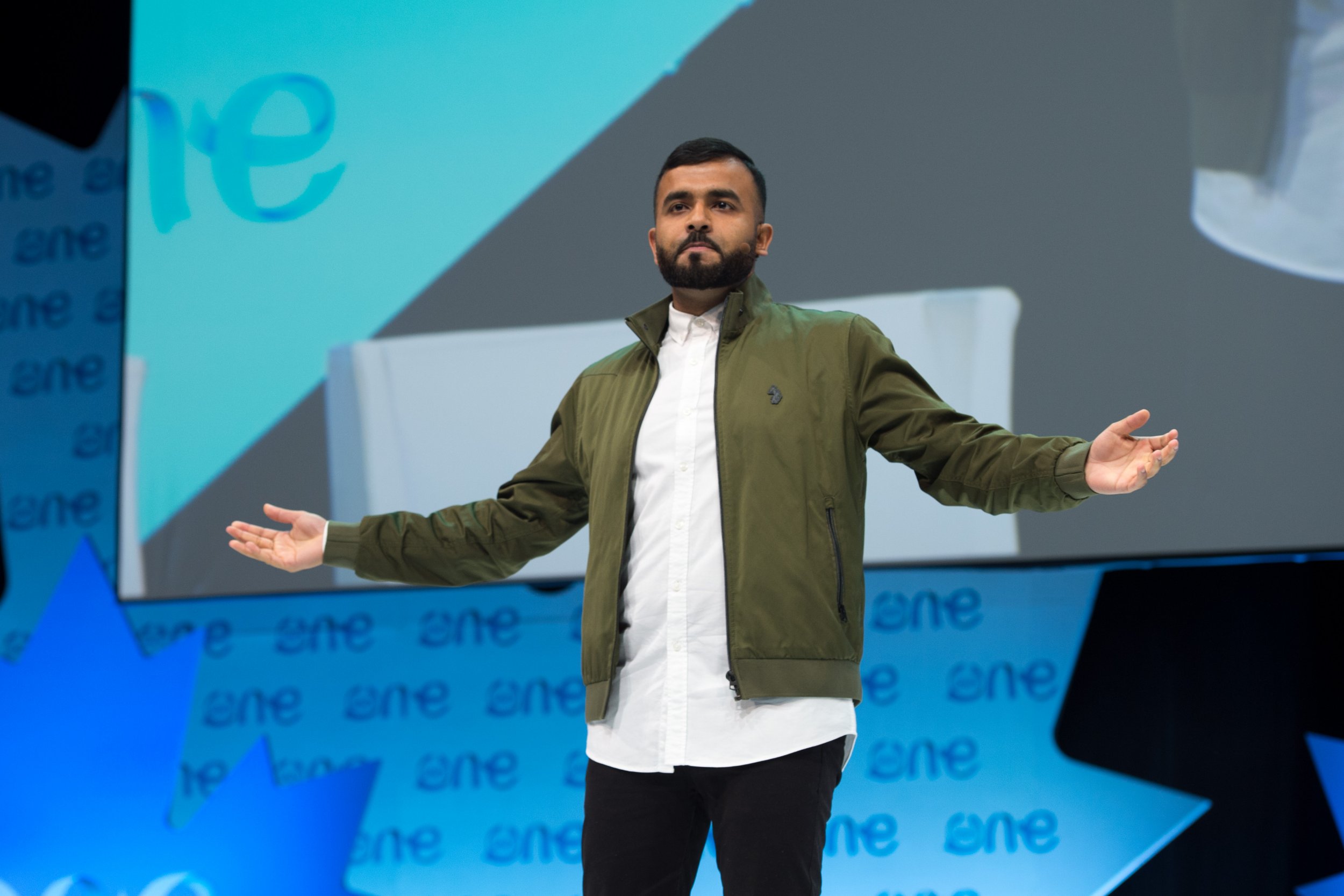 A year ago, Hussain Manawer was just an ordinary East London guy, working in marketing and making occasional Youtube videos for his online channel, Hussain's House. Now, the 25-year-old is set to be the first British Muslim to go to space.
A talented poet from Ilford in east London, Manawer is passionate about helping other young people with mental health issues. His journey began last November, after delivering a powerful spoken-word performance about his struggle with depression and anxiety at the One Young World summit in Bangkok, Thailand—and won the Rising Star program, a global competition to go to space. Manawer has spent the past year as an astronaut-in-training as part of the program, sponsored by talent agency Kruger Cowne, and will travel 60 miles into space in 2018.
Speaking on October 1 at this year's One Young World in Ottawa, Canada, Manawer gave another moving performance, entitled Mother Tongue, in front of the 1,300 delegates from around the world. (See the video above). After he spoke, a young delegate from Aleppo, Syria, came up to him shaking, saying how much the poem affected him—a reminder to Manawer that speaking about depression has universal reach.
"I feel like I've come out of a boxing match," says Manawer, speaking to Newsweek immediately after coming off stage. "I feel like I'm in a great position to be able to influence and have an impact and I want to do justice to that. Because what I'm talking about is so real and so raw that I have to do what needs to be done for the cause."
Manawer, whose grandparents were born in Pakistan, says it's particularly difficult for young men in ethnic minority communities to discuss issues of mental health—and that's why suicide is one of the biggest killers. "Men take it upon themselves to have this dominant superiority. They think, I'm the man so I have to be strong. That's why male suicide is so high because men can't hack it, and that's fine. We should be able to say, 'I can't hack this right now, I need help.'"
"But I can't sit here and say: It's my culture's fault, they didn't have the opportunity of education that I have. If they turn around and say 'What's depression?', we can't just expect them to know. The vocabulary is more restricted.
"There's this sociologist Basil Bernstein who did a study on speech codes, and it was about how people from working-class people from ethnic minority backgrounds have these restricted codes. So when we talk, we use our hands, and I'll hope that you would gauge what I'm saying and finish the sentence for me, whereas people from a middle-class background would sit here and articulate themselves. It's nothing to do with the intelligence of our people, but going back in the day, it's always been happening. We've never been able to articulate ourselves."
Manawer is optimistic about the progress being made on mental health issues. "I think people are much more open. Of course, there's always more that could be done but that's true for everything. A lot is happening, institutionally. That's why I said on the stage, if you take anything away from this, just tell somebody that you love them." And, he jokes, "follow me on Instagram."
One Young World is a global movement that hosts an annual summit to offer a unique platform for young leaders to network with peers from every country and sector, sharing ideas to develop solutions to address urgent global issues.