Mercedes Pushes Electricity, Sustainability to New Limits With Vision EQXX Concept Car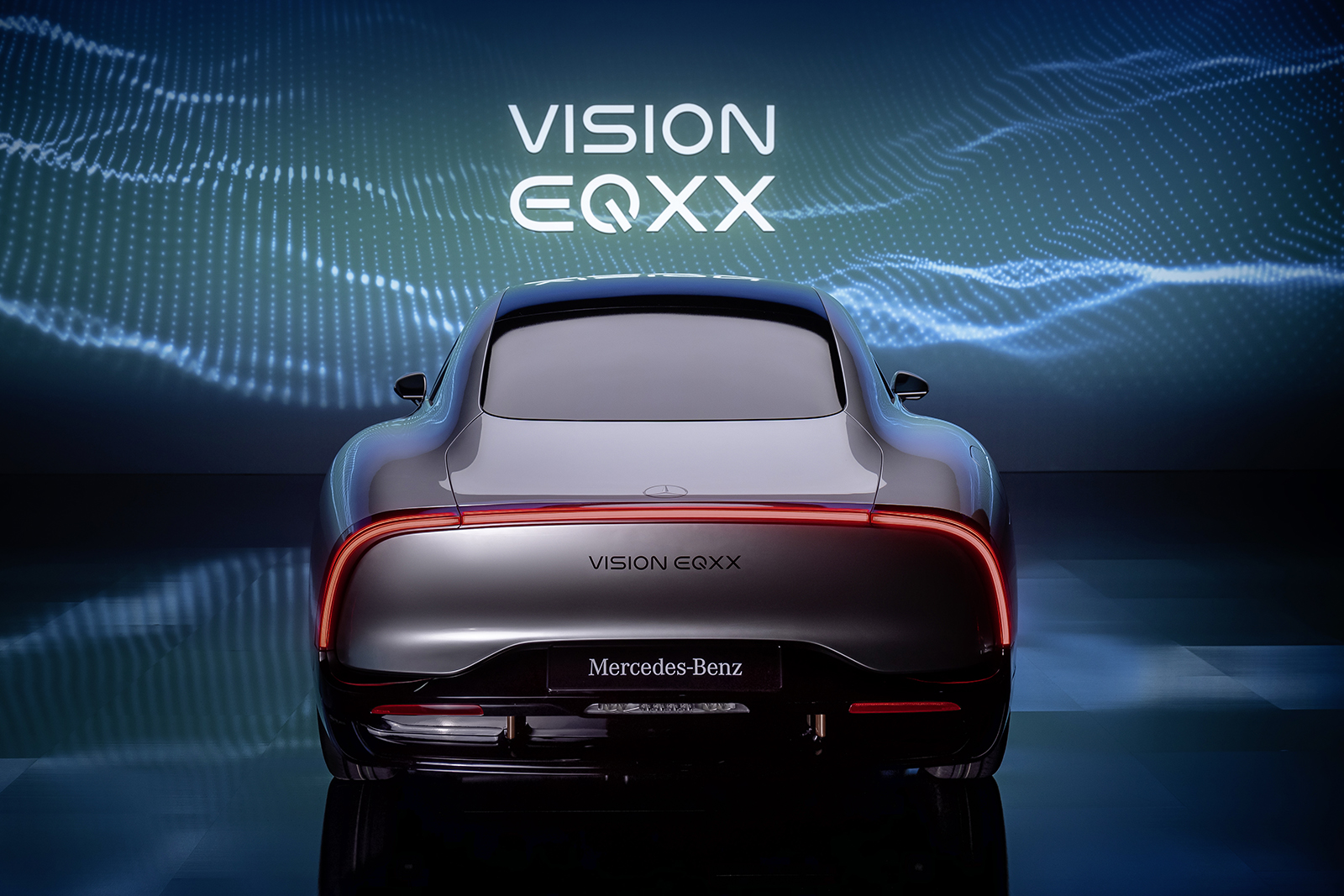 The Vision EQXX concept car is a look at the transformative engineering process Mercedes-Benz is undergoing in its bid to become a more sustainable company. It will serve as the company's new halo model.
Vision EQXX advances the company's all-electric drivetrain capability and makes full use of lightweighing possibilities and sustainable materials. The physical combines with fresh efficiency technology that includes advanced software to set new highs.
Its design and engineering are courtesy of the minds behind the Mercedes's Formula 1 and Formula E programs. Its body is made of 100-percent low-carbon recycled steel. EQXX has a F1 subframe, which helps it keep its weight down.
Dimensions information provided by Mercedes shows the car as having a wheelbase 16 inches shorter than the EQS all-electric sedan and about two-thirds the power output (150 kilowatts).
At front of the model is a band of gloss black with rose gold highlights above the lights - one housing each per side for high and low beams. The automaker says that this design is a preview of the looks of future front ends.
Mercedes-Benz Alubeam Silver paint covers the exterior.
A rear diffuser deploys only under ideal conditions and retracts in the event of a rear-end collision.
The 3,800-pound model is slippery, having just a 0.17 coefficient of drag, which is better than any Tesla on the market today.
Mercedes has developed a new system that allows it to achieve benchmark efficiency of 95 percent from battery to wheels. The average internal combustion engine vehicle has just 30 percent efficiency, at best.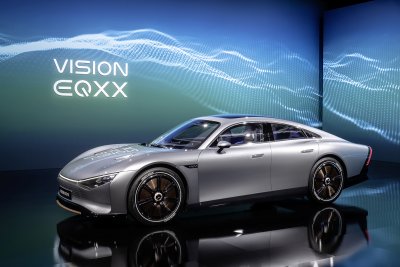 The company's engineers have designed a drivetrain that consists of an electric motor, transmission and power electronics that feature a new generation of silicon carbides. The unit is based on the upcoming Mercedes-AMG Project ONE hypercar.
EQXX uses just 10 kilowatt-hours of energy for every 100 kilometers traveled. It can go over 1,000 kilometers (620 miles) on a single charge using a battery that would fit into a vehicle far smaller than the EQXX's proportions.
Engineers have put 117 solar cells on the roof that allow the car to achieve up to 25 kilometers (15 miles) of added range.
Vision EQXX's low weight was achieved by 3D printing parts, ensuring no waste.
It rides on ultra-low-rolling resistance Bridgestone's Turanza Eco tires that are wrapped around 20-inch magnesium wheels. Aluminum alloy disc brakes provide stopping power.
The cabin features a one-piece infotainment/gauge cluster display that runs the length of the dashboard. Mercedes says that the screen features "responsive real-time graphics" that come courtesy of neuromorphic computing, a type of computing that only responds when certain information request spikes occur, optimizing software and battery life efficiency.
Mercedes designers have used recycled and plant-based materials to lower the car's carbon footprint. Mushrooms and vegan silk are among the materials that make up the animal product-free interior. Door pulls are make of AMsilk's Biosteel fiber. The EQXX is the biofabricated silk's first use in the automotive sector.
MyloTM, a leather alternative, is made predominantly of renewable ingredients found in nature. Deserttex, a supple material also featured on the interior of the vehicle, is made of cactus. The carpets are constructed from a bamboo fiber.
The shimmering finish of cabin surfaces is courtesy of recycled PET bottles.
The Vision EQXX will not be arriving on dealership lots, however its technology and drivetrain are considered a blueprint for the company's road ahead.