Merck COVID Pill vs. Ivermectin: What to Know About Approval, Effectiveness, Usage
Ivermectin, a pill used to treat parasites in humans, isn't approved for treating COVID-19, but that hasn't stopped some doctors from using it to combat the virus. However, a new outpatient oral treatment specifically designed to treat COVID-19 could be on the way.
On Monday, Merck asked the Food and Drug Administration (FDA) to grant an Emergency Use Authorization for molnupiravir, a pill the company developed in collaboration with Ridgeback Biotherapeutics that's shown to help reduce the chances a person is hospitalized with COVID-19. If authorized, it would be the first COVID-19 treatment that doesn't require a health care professional to administer and could help relieve strains on America's health care systems.
"I'm cautiously optimistic," Dr. Andrew Bradley, head of the Mayo Clinic's Coronavirus Task Force, previously told Newsweek. "It's too early to say confident, but an effective oral antiviral would make treating COVID in the outpatient setting much easier."
Effectiveness
In a phase 3 clinical trial, researchers found molnupiravir reduced a person's risk of hospitalization or death by about 50 percent. About 7.3 percent of patients were hospitalized or died through day 29 of the study, nearly half of those who received the placebo. After day 29, no deaths were reported with those who received molnupiravir, but eight people who were given the placebo died. All patients in the study were unvaccinated.
While ivermectin has shown to be very effective at treating parasitic ailments, that same effectiveness hasn't been seen with COVID-19, according to the FDA. Anecdotally, people have claimed to have improved after taking ivermectin, but the drug has been plagued by flawed studies and Research Square, a preprint publication, withdrew a paper that found ivermectin could reduce death rates by 90 percent because of "ethical concerns."
Both the World Health Organization and the FDA advise against the use of ivermectin to treat COVID-19.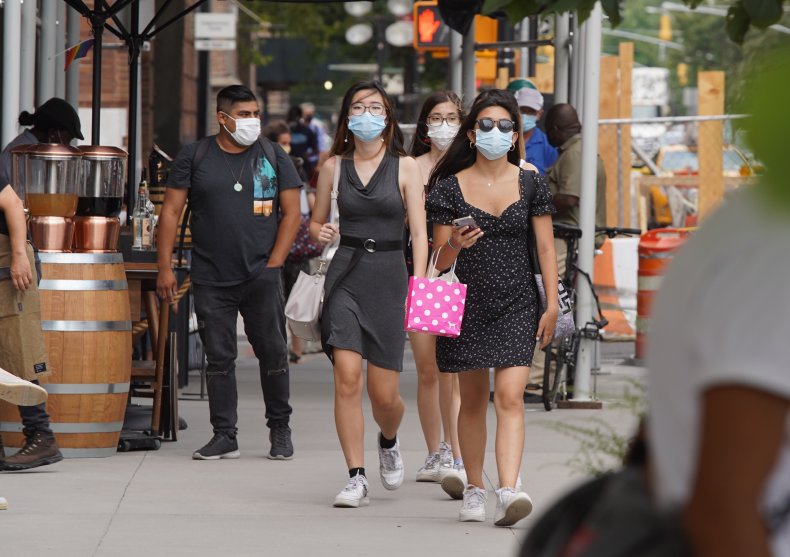 Usage
Dr. Adarsh Bhimraj, a physician at the Cleveland Clinic's infectious disease department, previously told Newsweek that antivirals are often most effective against infectious disease when they're given early on in the process. Given that pills are often easy to store and transport, molnupiravir could be widely available and administered soon after a person tests positive. That could help prevent the virus from replicating, therefore preventing a person from developing a serious disease that lands them in the hospital.
If authorized, molnupiravir will likely only be available for use in American adults, as the study only used adult participants. It also could be restricted to those who have yet to be hospitalized after contracting COVID-19, but are at a higher risk of dying from the disease.
Ivermectin isn't recommended for use in COVID-19 patients under any circumstance, but some doctors have still been prescribing it. Some physicians disagree with the FDA and Dr. Joseph Varon, a Houston doctor, told KTRK "a few thousand" of his patients at the hospital have taken ivermectin. He defended its use because you "have no choice" when people are dying in the "middle of a pandemic."
Several people have taken the battle to use ivermectin as a COVID-19 treatment to court. Families pushing for the administering of the drug to their hospitalized loved ones have cited it as a last-ditch effort.
"My husband is on death's doorstep; he has no other options," Julie Smith, who was in a legal battle to get an Ohio hospital to administer the drug to her husband, said in a lawsuit.
Doctors, however, have warned against the side effects of ivermectin and the FDA and Centers for Disease Control (CDC) maintain that it should not be used to treat COVID-19.
Approval
Since ivermectin is approved for usage in certain cases, doctors have been using it "off-label" to treat COVID-19. That means the medication is being used to treat something not specified in the way the FDA approved it to be administered. It is not approved to treat COVID-19.
Molnupiravir is also not approved by the FDA, but Merck is hoping to receive an Emergency Use Authorization. Under a EUA, a drug or vaccine can be administered to the general public despite not having FDA approval because of a health crisis.
This article has been updated to reflect Merck's collaboration with Ridgeback Biotherapeutics.