Meriam Ibrahim, Sudanese Woman Spared Death, Arrives in the U.S.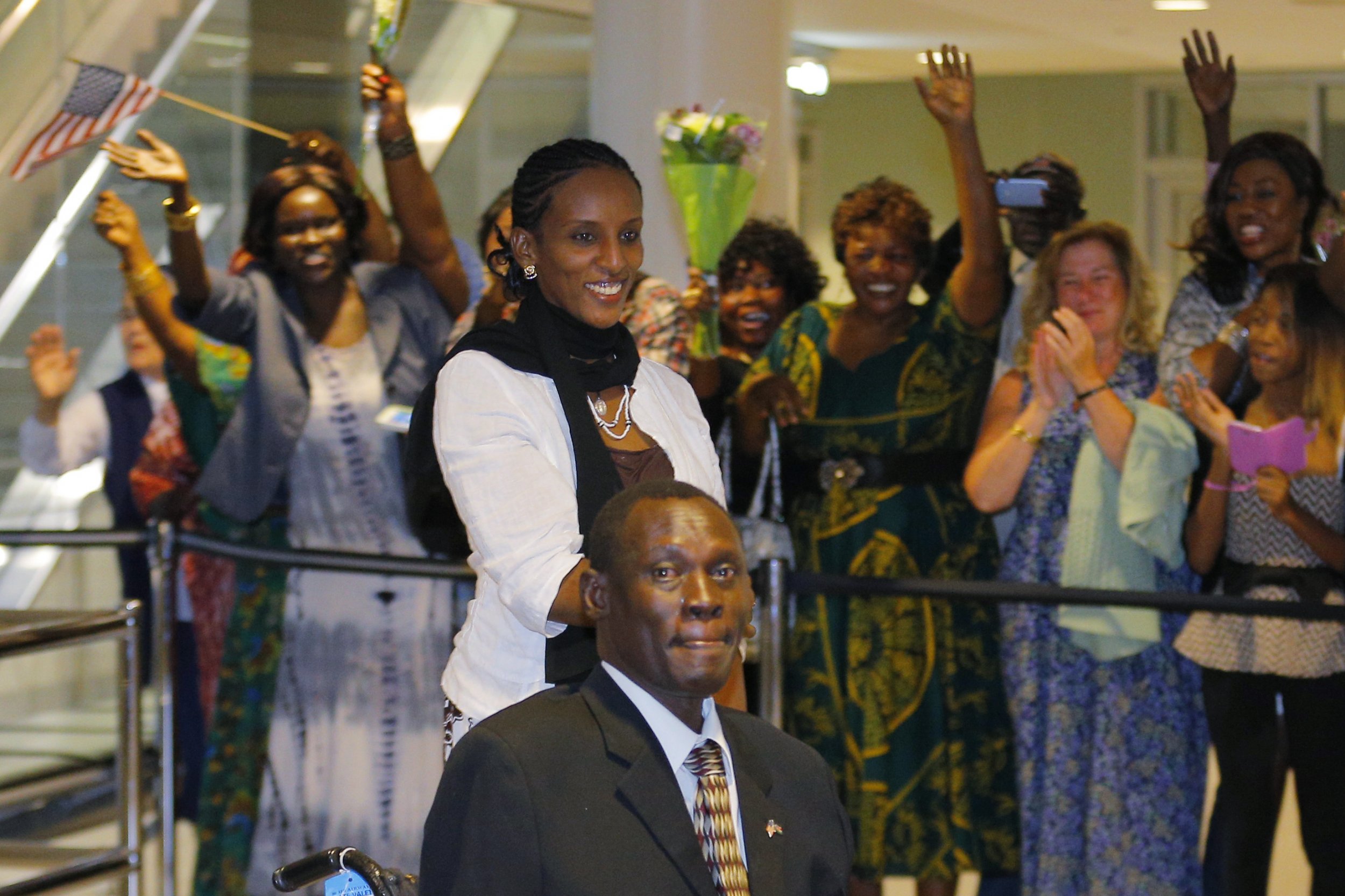 Meriam Yahia Ibrahim, the Sudanese woman who came close to being executed by hanging after being sentenced to death for converting to Christianity from Islam, arrived in New Hampshire on Thursday night ready to begin a new life with her husband and children.
A crowd of supporters, including cheering and singing members of the town's Sudanese community, greeted Ibrahim at the Manchester-Boston Regional Airport in New Hampshire, reports the New Hampshire Union Leader. Ibrahim's brother-in-law, Gabriel Wani, said Ibrahim had been granted asylum by the U.S. government. "I am so relieved," Daniel Wani, Ibrahim's husband, said when tearfully speaking with reporters at the airport.
Ibrahim was sentenced to death in May after being sentenced for apostasy. She was charged with adultery after marrying Daniel Wani, a Christian Sudanese man who has been an American citizen since 2005. Under Sharia law, Muslim women are not permitted to marry Christian men. As Ibrahim's father is a Muslim, she was not allowed to convert to Christianity under Sudan's version of Islamic law, the BBC reports. Her father left the family when she was young, so Ibrahim maintains she is a Christian as she was raised by her Christian mother, Reuters reports.
Ibrahim said she was kidnapped by a Sudanese Muslim family, who denied her claims, filed a lawsuit to stop her from leaving the country, and attempted to annul her marriage. Ibrahim gave birth to her daughter, Maya, while she was shackled in a prison in Sudan, The Telegraph reports. She and Wani also have a son, Martin, who is almost two.
Ibrahim went through a legal labyrinth earlier this year after being freed but subsequently rearrested as she tried to leave Sudan after authorities said she had falsified papers. After finally leaving Sudan, Ibrahim first flew to Italy where she was blessed by Pope Francis on July 24.
On their way to New Hampshire, Ibrahim and her family had a brief stop in Philadelphia where she was called a "world freedom fighter" by Philadelphia Mayor Michael Nutter, who also compared her to the American civil rights heroine Rosa Parks, the BBC reports.