Merkel and Hollande Meet to Discuss Migrant Crisis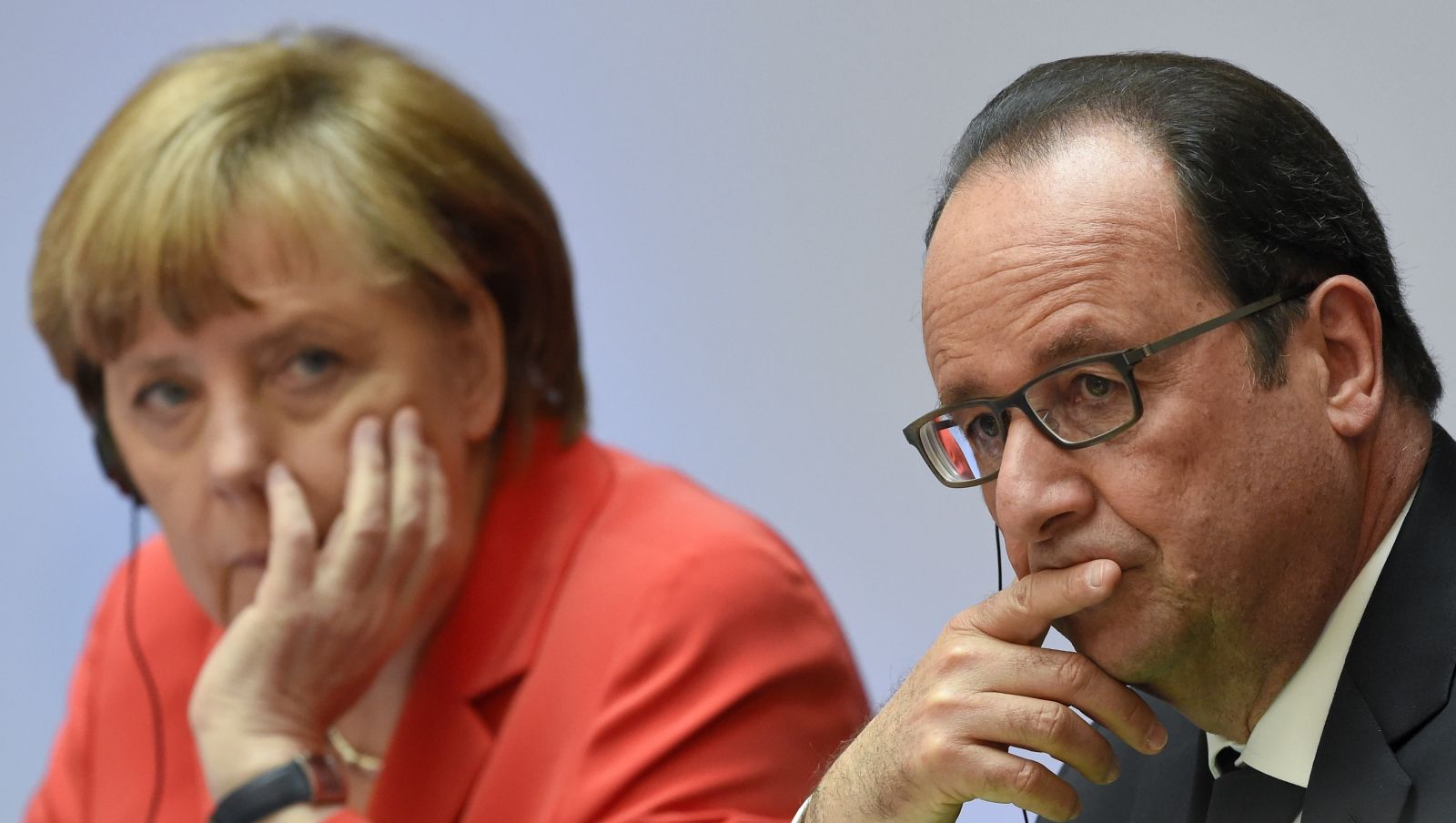 Germany's chancellor Angela Merkel and the French president Franois Hollande are today meeting in Berlin to discuss Europe's growing migrant crisis—the biggest in 50 years according to EU officials—and a resurgence of fighting in Ukraine.
EU officials have described the migrant crisis as the worst since World War II. Official figures produced by Frontex show a record 107,500 migrants crossed into the EU last month alone, surpassing the 100,000 mark for the first time since Frontex began keeping records in 2008.
On Saturday, the Italian coastguard said that 4,400 migrants were rescued from boats off the coast of Libya, after receiving distress calls from more than 20 vessels, in what was one of the biggest single-day operations mounted to date, according to the BBC.
"The situation is not resolving itself," a source in the French presidency told AFP, adding that the decisions made by the EU so far to tackle the crisis "are not sufficient, not quick enough and not up to the task."
Syrians and Afghans fleeing conflict, persecution and instability account for the record numbers attempting to enter the EU. Most of them enter Greece via Turkey, before making their way through the Balkans to reach countries like Germany, the UK and Sweden. According to the UN's refugee agency, the "vast majority" of those coming to Greece are from Syria, Afghanistan and Iraq, with Syrians accounting for 63 percent of all arrivals since the beginning of the year.
"This is an emergency situation for Europe that requires all EU member states to step in to support the national authorities who are taking on a massive number of migrants at its borders," Frontex's executive director, Fabrice Leggeri, said in a statement last week.
One the the key areas of discussion between the French and German leaders will be quotas for migrants, which has been a continual thorny issue for European leaders, who have failed to reach agreement on how many migrants each country should have to accept. In June, several EU member states rejected a proposal by the European Commission chief, Jean-Claude Juncker, to set mandatory national quotas for refugees.
The two leaders are also expected to begin compiling a list of countries whose nationals would not be considered asylum seekers except in exceptional personal circumstances, reports AFP. They will also discuss the urgent need to establish reception centers in Greece and Italy to help these overburdened countries identify asylum seekers and migrants.
Germany announced last week that it expects to receive a record 800,000 asylum seekers this year, roughly 1 percent of the country's population. Government officials have warned that Germany might have to reimpose border controls unless other EU countries agree to do more to share the burden.
The German vice chancellor, Sigmar Gabriel, has said the record numbers expected to enter the country represent its biggest challenge since Germany's reunification in 1990, and is also the greatest challenge facing Europe, more so than the Greek financial crisis.
Merkel and Hollande will be joined later in the day by the Ukrainian president Petro Poroshenko to discuss a resurgence in fighting in Ukraine. The death toll of the conflict is approaching 6,900, according to AFP. In February, Russian president Vladimir Putin joined Poroshenko, Merkel and Hollande in Belarus to hammer out a peace deal, which since then has been broken by both sides. Putin will not be present at today's talks.