Angela Merkel Blasts Far-Right Violence, Use of Nazi Slogans: 'There's No Excuse'
German Chancellor Angela Merkel has strongly condemned the growing prominence of the far right, saying there's "no excuse or explanation" for recent violence.
In a passionate address at the European nation's parliament, Merkel criticized the groups' use of Nazi slogans as well as far right members' opposition to people who "look different," The Guardian reported.
Her remarks came as she went head to head with the leader of the right-wing anti-immigrant Alternative for Germany party (AfD), Alexander Gauland, who accused the German leader of dividing the country with her immigration policy. He also claimed she was promoting controversial evidence that far-right protesters were attacking foreigners in the streets.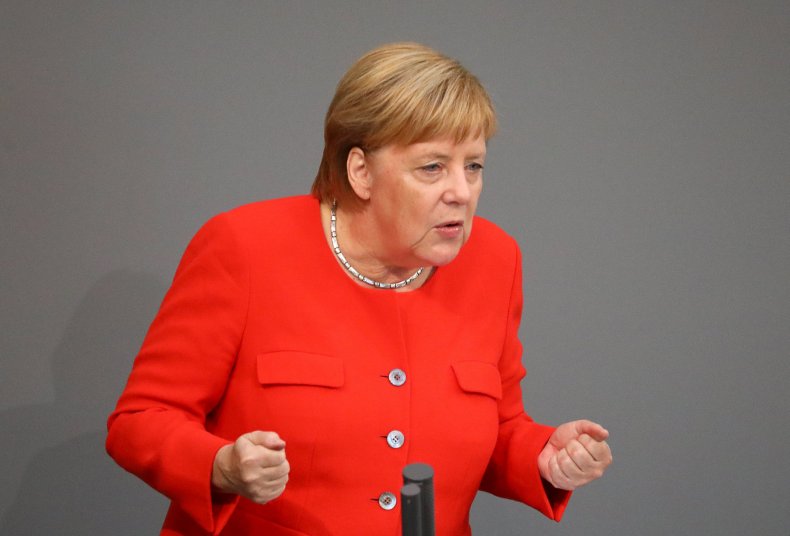 "There is no excuse or explanation for rabble-rousing, in some cases the use of violence, Nazi slogans, hostility towards people who look different, to the [attack on an] owner of a Jewish restaurant, [and] attacking police," the chancellor responded.
"We won't accept that, surreptitiously, entire groups—Jews, Muslims—be excluded from society," she said, according to Politico. "They belong to our society, just like Christians and atheists."
Martin Schulz, the former leader of the Social Democrats party, harshly criticized Gauland for his far right's defense. He referred to the AfD head as "belonging to the dung heap of German history."
Large anti-immigrant demonstrations have taken place throughout Germany in recent weeks, with violence in the city of Chemnitz drawing significant attention. Demonstrations erupted after a resident was stabbed, allegedly by migrants. However, reports and videos have also appeared to show right-wing demonstrators chasing down and attacking immigrants in the streets.
"I can understand anyone who is outraged when it emerges after a crime that the perpetrator has a criminal record or is under legal obligation to leave the country," Merkel said of the tensions in Chemnitz. But the chancellor added that individuals must be punished according to the law, condemning "inhuman" demonstrations. "We are resolutely against this," she said, Politico reported.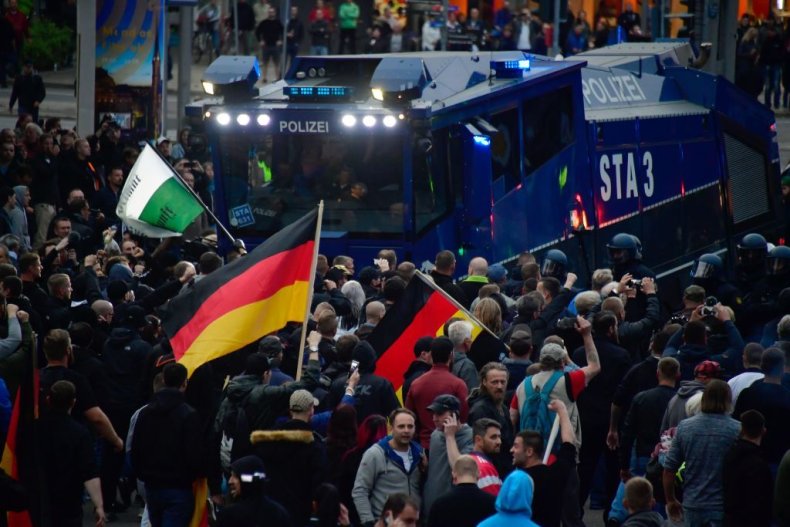 Merkel's open-doors policy has allowed well over 1 million refugees to enter Germany since 2015. With the dramatic rise in asylum seekers, far-right and neo-Nazi groups have played on xenophobic fears to grow their movements.
In July, Merkel was forced to agree to a new deal on immigration as she faced backlash from within her own coalition government. Horst Seehofer, the government's interior minister, was pushing for greater restrictions along Germany's southern border with Austria and the expulsion of asylum seekers who had previously been registered in other European Union countries.
German leaders agreed to introduce transit procedures in police centers where asylum seekers can be held and processed. Under new regulations, refugees who have already registered in another EU state will be returned to that country if possible. If not, they will be sent back to Austria.